Sunday, January 1, 2006-Final Day
Happy New Year!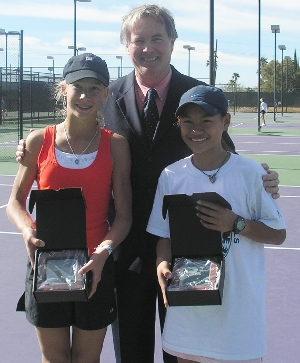 The weather couldn't have been more perfect for the final day of the USTA National Winter Championships at the Hilton El Conquistador. After days of rain last year, everyone was thrilled to see the sun shine in Tucson.
A number of players left with multiple wins, the most noticeable being Jordan Cox, last year's 12s singles finalist who this year won both singles and doubles in the 14s. In the 12s, Emmett Egger and Lauren Herring (right) both took Gold Balls in singles and doubles. Second-seeded Lauren easily defeated Kyle McPhillips, 6-2,6-1. I was impressed with Kyle's volleying -- something you don't see much of in the 12s singles -- but Lauren's added height of nearly a foot helped tremendously. It also gave her an edge in the doubles where she teamed with Chantelle Van Nguyen (far right) to repeat her previous score over Caroline Chupa & Ellen Tsay.
Emmett Egger (far left) was thrilled to pick up his very first Gold Ball so you can only imagine how he felt when he got a second in the same day! The top seed in both draws quickly dismissed Mika DeCoster (left) 6-0,6-1, but there were no hard feelings when the two teamed to defeated Andrew Korninek & Shane Vinsant in the best doubles match I have seen in this age group.

I was very anxious to meet and congratulate Blair Shankle who just won a remarkable four Little Mo National Championships. Blair came to this tournament in hopes of picking up her first USTA National title and she left with the 3rd place doubles and the consolation singles. I'm sure we will be seeing a lot more of this talented 11 year old. Other notables for today were Ellen Tsay-Doubles finalist & 3rd Place singles winner; Raymond Sarmiento- 3rd Place doubles winner, 4th Place singles winner and Sportsmanship winner; Joseph Digiulio-Northwest singles winner and 3rd Place doubles winner; and Andrew Korinek-West singles draw winner & doubles finalist. Last year's girls 12 singles winner, Christina McHale, has made a nice transition into the 14s, winning the consolation draw in that event this year.

The decision by Tournament Director Don Dickinson (above center in photos) to only play doubles in the Copper Bowl today made everyone's life a little easier. As usual on the final day, I didn't get to see as much play as I would have liked since I was taking presentation photos, but I've got a whole week to see lots more.

Until Next Year*,
Marcia Frost

Unfortunately, the 14 & 12s National Winter Championships will not be at this location this year so I'm not sure if I'll be back for this tournament again.

Boys 14 Singles Finalist & Doubles Winner Evan King, Singles & Doubles Winner Jordan Cox, Tournament Director Don Dickinson, Doubles Finalists Denis Kudla & Junior Ore

Girls 12 3rd Place Singles Winner & Doubles Finalist Ellen Tsay & 4th Place Singles Winner Gabrielle Desimone

Boys 12 4th Place Winner Bert Vancura

Boys 12 3rd Place Doubles Winners Joseph Digiulio & Jeff Vongman and 4th Place Winners Calvin Mark & Eric Johnson

Girls 14 Singles Winner & Doubles 3rd Place Winner Kristie Ahn

Girls 14 4th Place Singles Winner Cierra Gaytan-Leach & 3rd Place Winner Nicole Gibbs

Girls 12 Doubles 3rd Place & Singles Consolation Finalist Blair Shankle with Singles Finalist & Partner Kyle McPhillip

Girls 14 Singles Finalist Beatrice Capra

Boys 12 Singles Consolation Winner & Doubles Finalist Shane Vinsant

Girls 12 Doubles Winner Carolyn Chupa

Girls 14 Doubles Finalists Lilly Kimbell & Zoe DeBruycker and Winners Taylor Davis & Cierra Gaytan-Leach

Boys 14 3rd Place Doubles Winner Chris Cammillone

Boys 12 Doubles Finalist Andrew Korinek

Girls 14 Consolation Winner Christina McHale & Finalist Brett Ellen Keeler

Girls 14 3rd Place Doubles Winner Jennifer Kellner

Boys 14 Doubles 4th Place Winners Alexander De Chatellus & Will Oliver

Boys 14 Consolation Winner Shaun Bernstein & Finalist Tennys Sandgren

Boys 14 Umpire Tom Skeen, 4th Place Singles Winner & 3rd Place Doubles Winner Raymond Sarmiento, 3rd Place Singles Winner Sekou Coker Bangoura, Tournament Referee Stan Smith

Boys 12 Consolation Finalist Bjorn Fratangelo

Girls 12 Doubles and Consolation Singles Finalist Whitney Kay