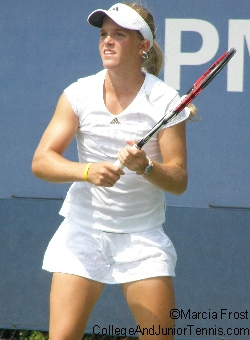 When is it alright for an athlete to turn professional? As I huge supporter of going the college tennis route, it is rare I advocate foregoing the opportunity to become a student-athlete, but there are exceptions. One of these just created an incredible upset at Wimbledon.
It was August of 2005 when I met a 13 year old Melanie Oudin while I was covering the Girls' 16 Nationals. She had upset five seeds on her way to a fifth place finish. I was intrigued by the young Georgian and sat down with her for a Talking With column. The first question I asked was, "Did you feel at all intimidated during this tournament since you are only 13?" Her answer was quick, "Well, it's always been like that. I don't give that consideration. It doesn't matter how big you are, it's who is the better player." In the third round of Wimbledon, Melanie Oudin proved that she was the better player -- over Jelena Jankovic, the No. 6 player in the world.
A year after that, Melanie Oudin would be in the quarterfinals of the next age group, the Girls' 18 Nationals, losing to eventual winner Lauren Albanese. She would make it to third place the following year while winning the doubles event with Jamie Hampton. By 2008, Melanie increased her dominance of junior tennis. She made it up to No. 2 in the world in the ITF Junior Rankings.
Melanie Oudin turned professional in February of 2008 at the age of 16. I usually sigh when I hear of girls that age giving up their opportunities for college scholarships and heading out to the tour. The statistics are not good. For every Tracy Austin and Jennifer Capriati, there is Ally Baker, Cory Ann Avants, Robert Yim, Jamea Jackson, Brendan Evans. Bethanie Mattek, and a host of other teens who turned pro in the early years of the new millennium. Though a few are still around struggling on the tour years later, most have succumbed to pressures and injuries before coming near stardom.
I wasn't so worried about Melanie, though. Like Andy Roddick, she had made it to the top of the world of juniors. She had tried out a few Professional Circuit events, but never gave up junior tennis. Even though she dominated the amateur set in the final months of her play there, she remained to gain the experience and think clearly about her decision. I am sure level-headed parents played a big part in her choices, however, I know Melanie enough to be sure that she was never one to make a choice without considering all of the consequences.
Melanie, who will turn 18 after the U.S. Open Championships in September, fought her way through Wimbledon. With a WTA ranking of 124, she needed to make it through the Qualifying event. There she first had to get by three sets over Sophie Ferguson of Australia. It was an easier win over Italy's Karin Knapp, and then she qualified after a defeat of Kristina Kucova of the Slovak Republic. But that just got her into the main draw. Her first round opponent there was 29th-seeded Sybille Bammer and she just got through with a 4-6,6-4,6-2 win. The second round brought yet another close one, with Melanie once again pulling it out in the third, 3-6,6-2,6-4 over Yaroslava Shvedova.
There didn't seem to be a moment of faltering or lack of confidence for Melanie Oudin on Saturday. After giving up four set points in the first set, she defeated Jelena Jankovic, 6-7(8),7-5,6-2 on Saturday. Her journey at the All England Club will continue to the fourth round with the winner of Agnieszka Radwanska (11) vs. Na Li (19). And she will remain in history as one of the exceptions who had every reason to turn pro at 16.
Big changes coming soon
at TripAdvisor
Join Fabletics & Get
2 Pairs High Quality Leggings for $24
Cash Back Shopping at your Favorite Stores
Return to:
College And Junior Tennis