ROLEX NATIONAL INDOOR
INTERCOLLEGIATE CHAMPIONSHIPS
Brookhaven Country Club - Farmers Branch, Texas - February 1-4, 2001
FEBRUARY 4, 2001-DAY FOUR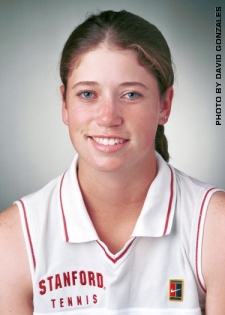 Stanford dominated the Rolex National Intercollegiate Indoor Championships as Alex Kim and Laura Granville led the group of trophies the Cardinals picked up.
In her 54th straight win, Laura Granville defeated Duke freshman Ansley Cargill, 6-3,6-7(4),6-3 for the women's singles title. Granville became the first woman to ever win back to back Rolex titles. She is also a NCAA singles champ.
Alex Kim, also of Stanford, added a Rolex crown to his NCAA singles trophy. Kim overwhelmed Arkansas' Oskar Johansson, 6-7(5),6-3,6-4 for the title.
Stanford picked up another title as Lauren Barnikow and Lauren Kalvaria won the Consolation doubles (their teammates Granville and Gabriela Lastra has won the main draw doubles title the night before).
Men
Singles
Finals-Alex Kim/Stanford (5-8) defeated Oskar Johansson/Arkansas (4), 6-7(5),6-3,6-4
Consolation Finals-Bo Hodge/Georgia defeated Jean Julien Rojer-UCLA, 6-3,6-1
DOUBLES
Consolation Finals-Jean-Noel Grinda/Jean Julien Rojer-UCLA defeated Rodrigo Echagaray/Eleazar Magellan-Kansas, 6-7(3),6-4,6-3
Women
Singles
Finals-Laura Granville/Stanford (1) defeated Ansley Cargill/Duke (2), 6-3,6-7(4),6-3
Consolation Finals-Martina Nedelkova/VCU defeated Marlene Mejia/UNC, 6-1,6-3
DOUBLES
Consolation Finals-Lauren Barnikow/Lauren Kalvaria-Stanford defeated Lori Grey/Aarthi Venkatesan-Georgia, 3-6,6-4,6-3
---