U.S. OPEN TENNIS CHAMPIONSHIPS
USTA Tennis Center - Flushing, New York
Qualifying: August 22-26, 2000
Main Draw: August 28-September 10, 2000
Junior: September 3-10, 2000
Alyssa Cohen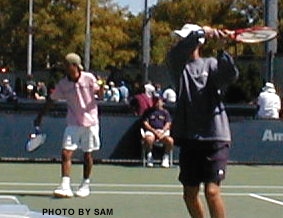 Josh Cohen & Brian Baker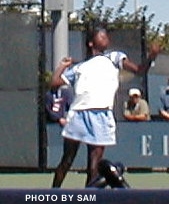 Jamea Jackson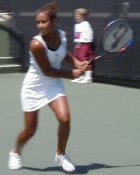 Meghan Bradley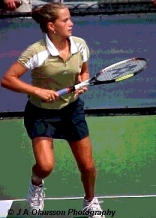 Ashley Harkleroad
At The Open With Marcia Frost...
Tuesday, September 5th-Junior Singles, Day Three
Today's play was full of upsets and it was mostly Americans creating upsets. The one exception to the day's rule was Alyssa Cohen. The No. 12 seed, who is currently ranked fourth in the USTA Girls' 18s, couldn't hold it against Ema Janaskova of the Czech Republic.
Janaskova, though petite, was fast and hard hitting. She broke Cohen's serve in just the second game and continued dominating until she took the set, 6-0. Cohen looked more on her game in the second set, breaking Janaskova's serve at the beginning. She held her pretty close, but finally succumbed at 6-4.
A very close, very exciting doubles match followed Cohen/Janaskova. Americans Brian Baker & Josh Cohen, who had both won their first round singles matches, fought it out against Jacobo Hernandez & Arnaud Segodo of Mexico. The two teams stayed hit hard and stayed even throughout the first set. Though Baker/Cohen broke serve at 2-2, the Mexicans quickly broke back. It went through to a tiebreaker which, again, was one to one. Hernandez/Segodo finally squeaked by and one the breaker (9/7).
The second set was pretty much a repeat of the first, with the Americans not giving an inch until the end. Unfortunately, they could not prevail and Hernandez/Segodo took the second, 7-5.
At the same time Baker/Cohen were battling, Jamea Jackson of Atlanta, Georgia, was shocking third seeded Iona Gaspar of Romania. The Girls' 16 Super National winner -- in singles and doubles -- overpowered Gaspar and took the match, 6-3,6-4. Jackson will next face Tanner Cochran, who beat Erin Burdette, 7-6(6),6-3.
Matthew Emery & Jesse Witten stunned Great Britain's Matthew Smith & Robin Soderling in an exciting match. The American duo dominated the first set which featured Emery's aces and Witten's incredible volleys. The second set was a bit tougher for them, but they pulled it out for a 6-3,7-5 win. It was an especially good win for Emery who lost in two tie-break sets to Philippe Gubenco the other day. (After the Open, he will be finishing high school and joining his father's University of Kentucky team in January.)
Heading onto Court 13 just after John Newcombe finished his Super Senior Doubles match to a cheering crowd, were the confident duo of Megan Bradley & Ashley Harkleroad. The team had been finalists at the Girls' 18 Super Nationals. When Harkleroad wasn't serving up aces, Bradley was hitting incredible volleys. (Not that Bradley's serve isn't worth noting. At one point she won a game with three aces and one serve that couldn't be returned!) Though they certainly gave it their all, Aiko Nakamura of Japan and Maria Penkova of Bulgaria were just overpowered. In just 50 minutes, Harkleroad/Bradley took the match, 6-3,6-2. They will next face Australia's Melissa Dowse & Joslyn Hewitt.
Earlier in the day, Harkleroad had used that incredible serve and volley to take No. 9 seeded Eva Birnerova of the Czech Republic, 6-3,6-2. Among the other upsets of the day was Florida's Bethanie Mattek (who turned pro this year) over No. 7 seed Kaia Kanepi of Estonia, 7-6(2),6-4. The American's will continue their run at the Open today, sometimes against each other. What will probably be a tough battle will take place today between Josh Cohen and Sam Warburg.
Here's a complete rundown of the U.S. Open Junior results for September 5th:
Boys' Singles
James Nelson defeated Yeu Tzuoo Wang (16), 3-6,6-2,6-0; Ivan Stelko defeated Roman Valent (6), 4-6,6-4,6-4; Stephen Mitchell defeated Phil Sheng, 4-6,7-5,6-3; Yen Hsun Lu (7) defeated Philipp Kohlschreiber, 6-3,6-1
Girls' Singles
Maria Emilia Salerni (1) defeated Monika Schneider, 6-1,6-2; Virag Nemeth defeated Melanie Marois, 6-73),6-4,7-5; Sofia Arvidsson defeated Yulia Beygelzimer (1), 5-7,6-4,7-5; Su-Wei Hsieh defeated Angelique Widjaja, 2-6,6-3,7-6(9); Bethanie Mattek defeated Kaia Kanepi (7), 7-6(2),6-4; Jamea Jackson defeated Iona Gaspar (3), 6-3,6-4; Tanner Cochran defeated Erin Burdette, 7-6(6),6-3; Matea Mezak (13) defeated Dorottya Magas, 7-6(4),6-7(3),6-2; Edina Gallovits defeated Jenny Lindstrom, 6-4,6-2; Ema Janaskova defeated Alyssa Cohen (12), 6-0,6-4; Lauren Barnikow defeated Maria Penkova, 6-3,4-6,6-1; Samantha Stosur defeated Gisela Dulko (8), 6-2,2-6,6-2; Annette Kolb defeated Melissa Torres, 6-3,6-3; Stephanie Cohen Aloro defeated Sunitha Rao, 6-3,6-4; Ashley Harkleroad defeated Eva Birnerova (9), 6-3,6-2; Christina Wheeler (16) defeated Jelena Jankovic, 3-6,6-4,6-1; Meghan Bradley defeated Anne Keothavong, 4-6,7-6(6),6-1; Melinda Czink defeated Amiella Mojzis, 2-6,7-5,6-3; Aniko Kapros (2) defeated Ivana Abramovic, 6-2,3-0 retired
Boys' Doubles
Childs/Nelson (1) defeated Harboe/Medina, 6-3,6-3; Bogomolov/Vlasov defeated Mirnegg/Schweizer, 2-6,7-5,6-4; Emery/Witten defeated Smith/Soderling, 6-3,7-5; Kennedy/Reid (4) defeated Echagaray/Gonzalez (4), 6-4,6-7(3),6-4; Petschner/Stadler defeated Abougzir/Sheng, 6-7(4),7-5,6-3; Hernandez/Segodo defeated Baker/Cohen, 7-6(7),7-5; Klaasen/Nomdo defeated Amritraj/Roddick (6), 7-6(5),6-4; Suissa/Srugo (5) defeated Gronefeld/Kohlschbreiber, 6-3,6-2; Kondo/Munoz defeated Gubser/Warburg, 4-6,6-4,6-2; Ram/Stokke defeated Kollerer/Linda, 7-5,6-3; Lu/Wang (3) defeated Balleret/Capuccio, 6-4,6-1; Madjarovski/Valent defeated Felder/Posada, 6-2,6-7(4),6-0; Davis/Ginepri defeated Jurman/Zgaga, 6-2,7-6(4), Karanusic/Stelko defeated Richman/Wiespeiner, 6-2,7-6(3); Karanusic/Stelko defeated Richman/Wiespeiner, 6-2,7-6(3); Enev/Johansson (2) defeated Abel/Nunez, 7-6(1),7-6(7)
Girls' Doubles
Gaspar/Perebiynis (1) over Abramovic/Rao by default; Kanepi/Voskoboeva defeated Cochran/Schlukebir, 6-2,6-3; Nemeth/Nemeth over Ardivsson/Lindstrom by default; Fuchs/Jackson defeated Birnerova/Mezak (7), 2-6,6-3,7-6(5); Dulko/Salerni (4) defeated Schaul/Werner, 6-2,6-4; Torres/Valdes defeated Barnes/O'Donoghue, 4-6,6-1,6-0; Bradley/Harkleroad defeated Nakamura/Penkova, 6-3,6-2; Dowse/Hewitt defeated Mattek/Mojzis (5), 6-3,6-2; Iijima/Widjaja (6) defeated Hsieh/Peng, 7-5,7-5; Marois/Pelletier defeated Liu/Matias, 6-0,6-0; Cetkovska/Janaskova defeated McCain/O'Connor, 2-6,7-6(4),7-6(5); Lopez/Voracova (3) defeated Gallovits/Jankovic, 6-4,6-2; Beygelzimer/Fokina (8) defeated Etienne/Reyes, 6-1,3-6,7-65); Bernshtein/Zvonareva defeated Cohen/Czink, 7-5,7-5; Keothavong/Magas defeated Ljukovan/Stosur, 6-7(5),6-1,6-4
Kapros/Wheeler (2) defeated Barnikow/Burdette, 7-6(4),6-2
PAST WINNERS OF U.S. OPEN JUNIOR CHAMPIONSHIPS WINNERS
---