At Wimbledon With Marcia Frost...
Tuesday, July 3rd
There wasn't a lot of tennis played today between seven rain delays, but I did finally get to see a few juniors play. It wasn't as much as I'd like, but at this point three was better than none.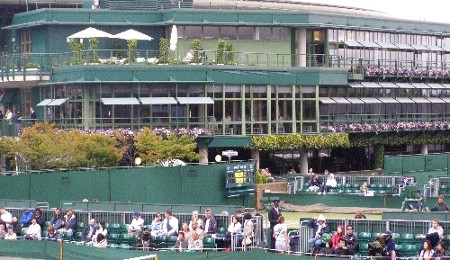 There were actually a total of 18 matches completed today in junior singles out of 64 needed to finish the first round. The rain came and went -- heavy at times -- with actual sun in between. I think those bits of sun gave us all a bit of false hope, but I tried to be optomistic, even sitting down and circling all the matches I was planning on watching today.
First up was one that I was anxious to see. It had been awhile since I'd seen Reka Zsilinszka play and we always had a running joke that she didn't lose a match when I was there. Today was not an exception. There was just one brief rain delay during her match and she did complain that grass did not suit her "moon ball" game, however, she got it done against British qualifier Jessica Jackson with little problem and a 6-4,6-2.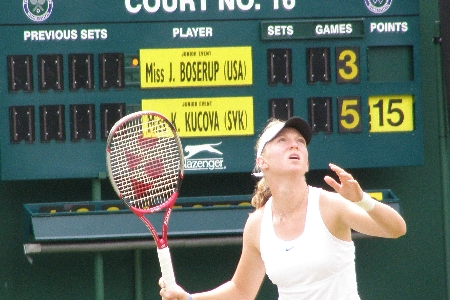 I didn't get to see all of Julia Boserup vs. Kristina Kockova of the Slovak Republic, missing Kristina's break in the first set. It was a break that Julia couldn't get back and the rain delays didn't help the momentum. The second set was also just separated by one break through short points and Julia fell 7-5.
It was hard to concentrate on matches with the constant breaks for rain. I don't know how the players did it. I did try to give my best attention wshen Melanie Oudin was on the court with local Anna Fitzpatrick. It was a rare grasscourt match that included a number of long, exciting points. They remained on serve until 5-4 in the first and that break helped Anna to the 7-5 set. The second was rather interesting as the Brit was actually at 5-1, having a rather easy time of it when Melanie took the game. An incredible winner down the line followed by the American, followed by Anna's failed match point and Melanie's break. Suddenly her 5-1 lead got smaller and smaller until it was 5-4, but two more match points came and Anna Fitzgerald was in the second round.
The number one seed, Anastasia Pavlyuchenkova of Russia celebrated her 16th birthday by beating Michelle Larcher de Brito of Portugal, 4-6,7-5,1-0 (they've gone to a third-set tiebreaker to make up for some time). Also winning matches today in the girls draw was Arantxa Rus, Tatiana Bua, Naomi Cavaday, Oxana Kalashnikova, Urszula Radwanska, Cindy Chala, Alison Bai, Kai-Chen Chang, Bojana Jovanaski, Veronica Li, Lenka Juricova, Anastasia Pivovarova and Ksenia Milevskaya. There were no upsets. Only No. 15 Thomas Fabbiano (over Niall Angus, 6-3,6-1), got to finish in the boys.
There is once again a dreary forecast for tomorrow. With any luck, we will get through the first round of singles, but how we are going to finish the rest (or the doubles) is anyone's guess.
Until Tomorrow,
Marcia Frost

Story & Photos from July 2nd
Story & Photos from June 30th
Story & Photos from June 29th
Story from June 28th
The Official Wimbledon site is one of the best around and also has coverage of the junior events. Be sure to check it out at http://www.Wimbledon.org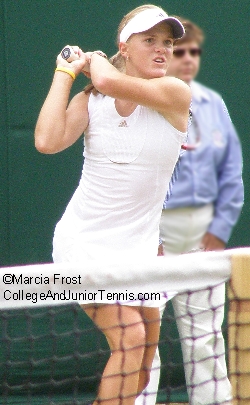 Melanie Oudin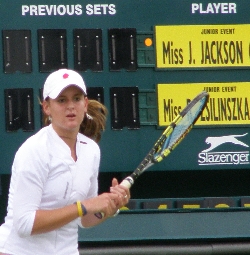 Reka Zsilinszka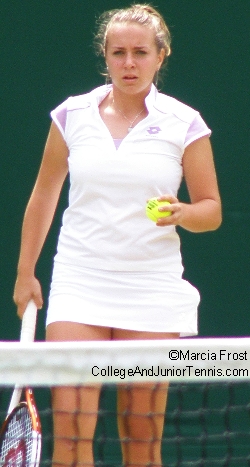 Kristina Kuckova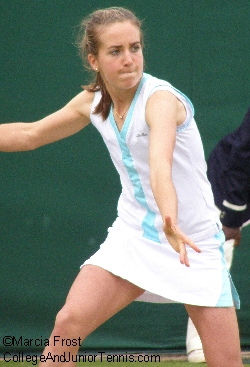 Jessica Jackson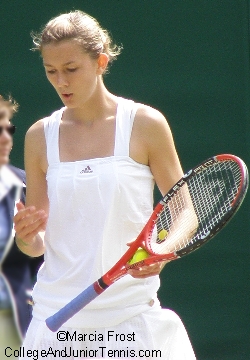 Anna Fitzpatrick