May 25, 2006-Singles, Day Two; Doubles Day One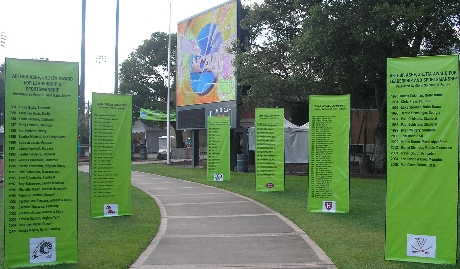 It wasn't an easy day for anyone as players struggled to stay in the draw and a few top ones did not survive.
William & Mary's Megan Moulton-Levy continued to impress, today taking out Federica van Adrichem, 6-4,6-2. I have always loved watching Megan play and today was no different. She is a terrific athlete on and off the court and has certainly proven that she is deserving of the ITA/Arthur Ashe Award for Leadership and Sportsmanship she picked up this week. Next up for Megan will be seventh-seeded Alice Barnes and I think she is up for the challenge.
While there were no upsets in the women's singles today, top-seeded Audra Cohen had a struggle to get past Whitney Deason, 4-6,6-4,6-0, and Theresa Logar (9-16) also needed three sets to defeat Helena Besovic. The real upsets were in the doubles. The most notable being the elimination of the third-seeded Thompson Twins, who lost a nail-biting, 6-3,6-7(4),7-6(2). And top-seeded defending champs Alice Barnes & Anne Yelsey survived a scare from Ashley Bentley & Robin Stephenson of Alabama, 2-6,7-5,6-1.
The men's doubles also proved today to be a ground for upsets starting at the top where Duke's Joey Atas & Jonathan Stokke defeated Scott Green & Ross Wilson, 7-5,3-6,6-3. Also falling in the men's doubles was (5-8) John Isner & Antonio Ruiz of Georgia to Konstantin Haerle & Robert Searle. of Rice. John, seeded two in the singles, had also fallen earlier in the day to Arizona's Roger Matalonga, 7-6(5),6-4. Georgia's top player had difficulty controlling his temper and it cost him some crucial points. No other high seeds fell in that event today, however, Stanford's Matt Bruch (9-16) was just topped by Erling Tveit, 7-6,7-5, while teammate KC Corkery upset Arnaud Lecloerec. Another seed, Ryler DeHeart, fought his way back to defeat Wake Forest's Todd Paul, 5-7,7-5,6-3. I saw some of that match and the play was top-level from both.
I know I promised to make some predictions, but I've been staring at the draws and honestly do not see any jumping out at me. Much like the men's team event, the individuals are loaded with any number of players who could take their events. I will give an edge to last year's winners Alice Barnes & Anne Yelsey to repeat in women's doubles and I wouldn't be surprised to see a repeat of the number ones in the team final with Audra Cohen and Amber Liu in the women's final. As for the men's doubles... Illinois' Ryan Rowe & Kevin Anderson have a good shot at the finals with the Ohio State duo gone and the second-seeded Andre Begemann & Scott Doerner will probably clear the bottom. Men's singles is the real tough one. Can Ryler DeHeart avenge the (very close) loss in the team event to top-seeded Ben Kohlloeffel? Will No. 5 Ludovic Walter have a clear field now that John Isner is gone? Or, will KC Corkery end an outstanding career at Stanford with another trophy? I think we're all going to have to stay tuned to see how that event plays out.

I wish I could stay longer at this first NCAA Men's & Women's Championship, but the tournament desk at the Port Washington Tennis Academy is awaiting my return. I will miss what I'm sure will be terrific tennis ahead, though I will watch the live video of the matches. It won't be the same as being in a pressroom full of College And Junior Tennis issues to make me feel at home.

Until Next Year,
Marcia Frost
Full Men's Singles Results Full Men's Doubles Results

Full Women's Singles Results Full Women's Doubles Results

And... For some more insight into the 2006 NCAA Division I Championships, check out Colette Lewis' Blog at http://www.zootennis.com

click on a photo to enlarge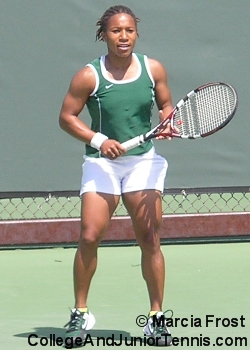 Megan Moulton-Levy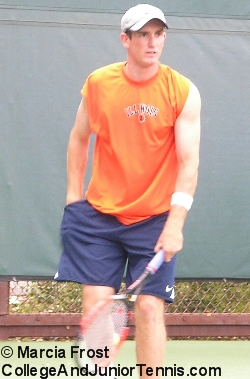 Ryler DeHeart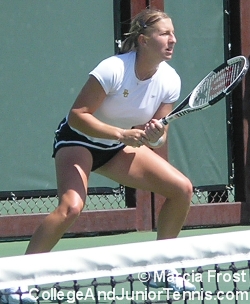 Taka Bertrand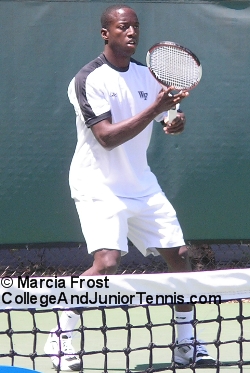 Todd Paul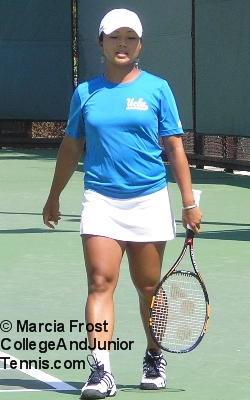 Riza Zalameda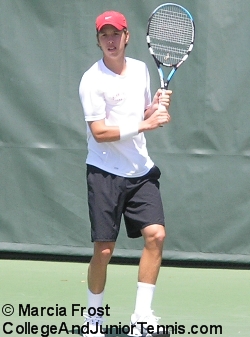 Matt Bruch
Federica Van Adrochem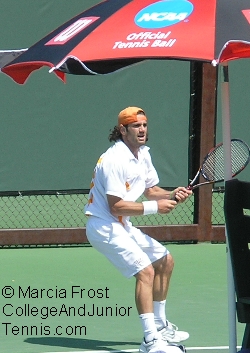 Rylan Rizza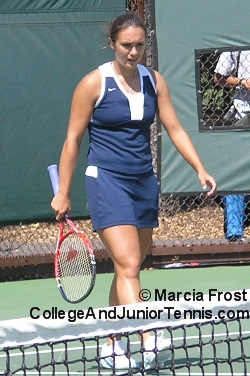 Kim Coventry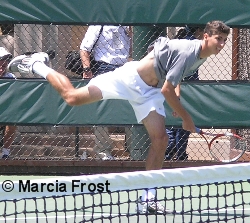 Luigi D'Agord









College Planning Made Easy...
Check out the Monthly Guide to College Tennis Planning





























Ibotta for Cash Back on Groceries AND Online Shopping
Return to:
College And Junior
Tennis Homepage