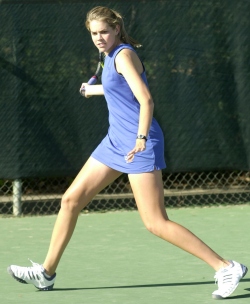 Mary Ellen Gordon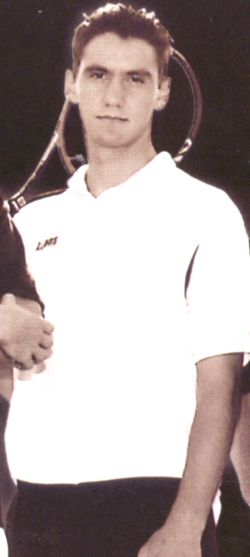 Amer Delic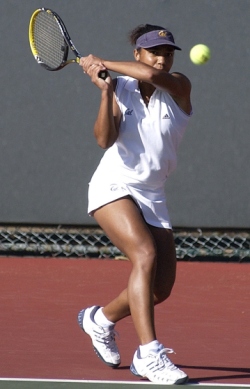 Raquel Kops Jones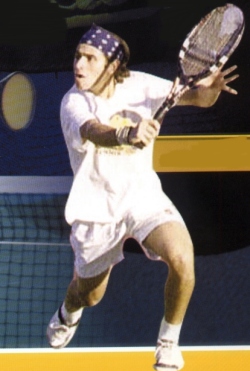 John Paul Fruttero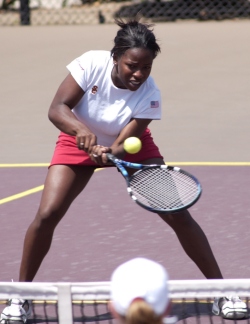 Jewel Peterson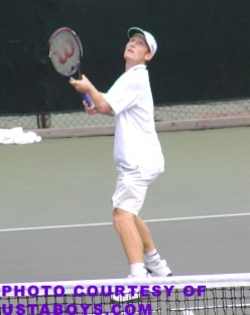 Todd Widom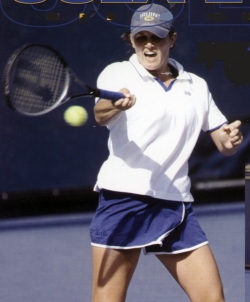 Sara Walker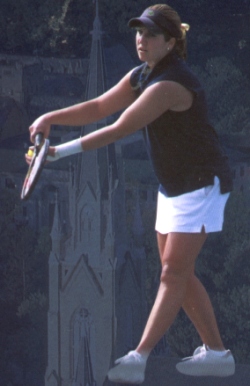 Katie Cunha
Players are needed for the U.S. team at the 10th Pan American Maccabi Games. The Maccabi Games is a competition that consists of events in 13 sports, including tennis, basketball and swimming. Jewish athletes from 20 countries will compete in Olympic-style games. The U.S. tennis team will be made up of six men and six women. For more information, call Janette Antiles at (973) 313-0450 or visit http://www.maccabiusa.com.

* * *
For over 40 years, the Kalamzoo Flying Dutchman remained undefeated in conference play. The longest winning streak in history came to an end when they dropped a dual match against Hope College, 7-2. The wins, which date back to April, 1962, included most of the 65th consecutive conference titles. Timon Corwin has been coaching the Kalamazoo team for the past 10 seasons.

* * *
The ITA has selected ten players and two coaches to represent the U.S. in a competition in Japan this summer. The ITA All-Star Team will face Waseda University in a format similar to World Team Tennis. The U.S. team has been comprised of players from all divisions and consists of: Adam Davidson, Azusa Pacific; Amer Delic, Illinois; Ryan Dunne, Florida Southern; John Paul Fruttero, California; Mary Ellen Gordon, Emory; Raquel Kops-Jones, California; Jewel Peterson, Southern California; Leslie Stewart, Tyler (TX); Sara Walker, UCLA; Todd Widom, Miami (FL). Bob Bayliss of Notre Dame and Ann Lebedeff of Pomona-Pitzer will be coaching the team when they travel June 12-16.

* * *
During the SEC Conference Women's Championships, Georgia coach Jeff Wallace achieved his 400th win. The Bulldogs were defeated by Florida in the championship finals.

* * *
TCU announced final approval to construction of a new tennis facility. The new building, funded by the Mary Potishman Lard Trust, will contain approximately 4,000 square feet of offices, team locker rooms, meeting room, equipment room, training room and storage area. It will be located next to the Bayard H. Friedman Tennis Center, a 22-court facility completed in 1976.

* * *
The Tennis Channel is getting ready for a May 15th launch. College Tennis will be featured on the channel and they are currently looking for videos from the college tennis scene. For more information, write to founder Steve Bellamy at sbellamy@thetennischannel.tv.

* * *
Notre Dame senior Katie Cunha received the Francis Patrick O'Connor Award in honor of the student-athlete who died in 1973. Since the inception of the award, more women's tennis players have earned the honor than any other sport. One of Katie's biggest achievement was founding and directing the "Ace for the Cure" benefit match in 2002 to raise money for cancer research. She is also a member of Notre Dame's Academic Honors Program for Student-Athletes and has been on the Dean's list for four years. Katie is graduating with a degree in Marketing.

* * *
Coaching Changes... Todd Chapman, currently the men's and women's coach at Texas-Pan American, has stepped down from his position. Coach Chapman, who also led teams at the University of Sciences and Arts and Cameron, will be coaching high school tennis in order to spend more time with his family.

* * *
Information on incoming freshman, transfers and players who have left school for the pro circuit is now in our Status Report section.
---
College Tennis Camps For Teens
---

---
---
---
---
---
---

---
The Mental Athlete
See A Review
---
---
Go Tennis
It's Tennis On The Net
---
---
---
---
Return to:
College And Junior
Tennis Homepage