Thursday, January 4, 2007-Day Three

The weather has cooperated here in Tucson, Arizona, and today was the best of all. My mind kept wondering to the beautiful pool at the Hilton El Conquistador, but at least my job brought me outside to some good tennis. Thursday that tennis was at the University of Arizona.
Once again the top seed finished before I got there. The good news is that means he's still in the tournament and I will get to see him another time. (F.Y.I. I tend to feature the players who didn't make it through in the photos on each day's columns because the others will be there tomorrow.) I still did get to see a number of matches.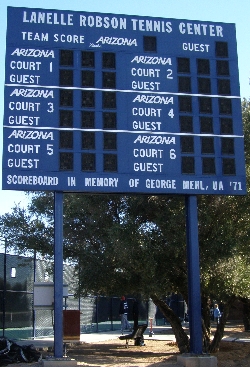 Everyone was talking about Aba Omodele-Lucien, including a few college coaches who were watching. He had made a name for himself in the few nationals he played and today it was Samuel Keeton he took out 6-4,6-2. I was a bit surprised how much baseline there was in that match when the Boys 18s have become such a serve and volley game. A good example of that was Isomu Tachibana, the seventh seed who quickly eliminated Richard Doverspike, using control and aces.
Joe Young and Reese Milner had a good match with a variety of shots the small crowd enjoyed (Reese won it 6-4,6-2). There were lots of long points with Bojan Temanovic and Neil Clausen, with Neil the 6-3,6-0 winner. Two seed battled it out as No. 14 Austin Klores and No. 2 Erik Hannah played a 6-0 first set before heading to a tiebreaker in the second which gave the higher seed the match.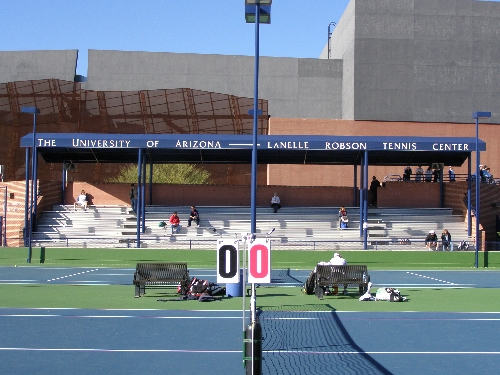 There was no question what the match of the day at the University of Arizona was. Fifth-seeded Matt Hansen and Daniel Moss played a crowd-pleasing, very long first set that was going on long after other matches had finished. Matt broke when Daniel was serving for the set at 5-4 and, with a tied score, the two played great points to the most incredible of all as they ran through the court making unbelievable shot after shot. Unfortunately, Matt hurt his shoulder on that point. After a delay to try to get him some medical attention, he decided to play it out, but he couldn't get through the pain and lost the set and the match, 7-5,6-1.
I ended the day watching an all Eastern doubles match that was fun as well as skilled. In the end James Crystal & Adam Donaldson were victorious over Coleman Crutchfield & Rajeev Deb-Sen, 8-6.

There was a major upset today as second-seeded Sekou Coker Bangoura fell to Christopher Freeman in the Boys 16s, 7-6(6),6-4. I wasn't there, but I'm hoping to catch up with Sekou in the consolations. On Friday I'm happy to say the sites condense and I will spend the day at the Hilton El Conquistador and the El Conquistador Country Club catching up with players I've missed.
Until Tomorrow,
Marcia Frost
click on a photo to enlarge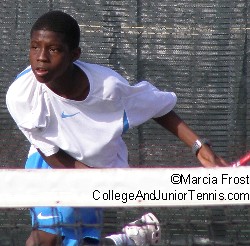 Sekou Coker Bangoura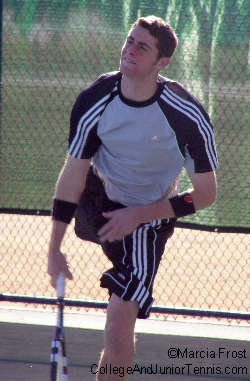 Matt Hansen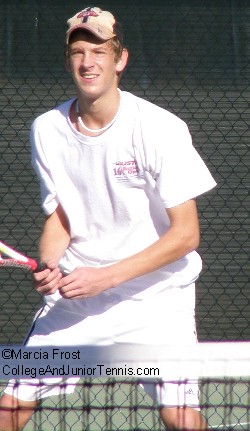 Samuel Keeton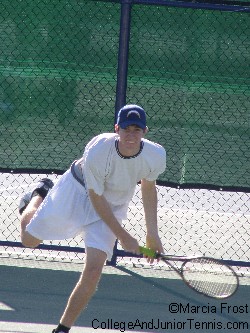 Richard Doverspike
Bojan Temanovic
Donald Van Velzer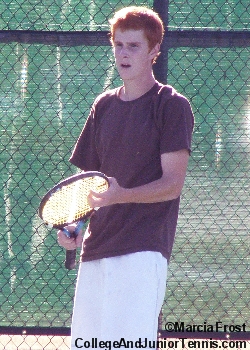 Joe Young
Austin Klores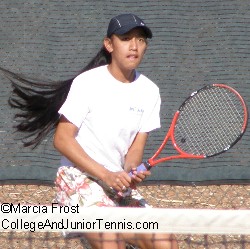 Mele Longi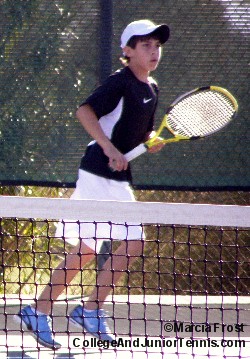 Joey Molina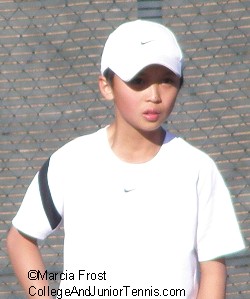 Samuel Lam
Christopher Jackman
Monthly Guides to
College Tennis Planning
Available in Kindle & Print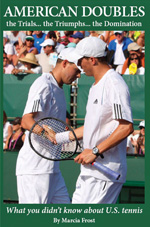 ---

Monthly Guides to
College Tennis Planning
Available in Kindle, Print & EBook
for H.S. Seniors
and H.S. Juniors
---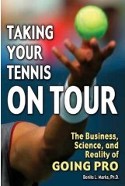 See a review of this book
---
---
---
---
---
Return to:
College And Junior
Tennis Homepage