Friday, January 5 2007-Day Four
Well, all good things have to come to an end and so did the perfect weather in Tucson. A chilly morning gave way to early afternoon wind and clouds and, finally rain. The matches were stopped just as I finally started watching the girls, but I did see a bit before rain cancelled the day.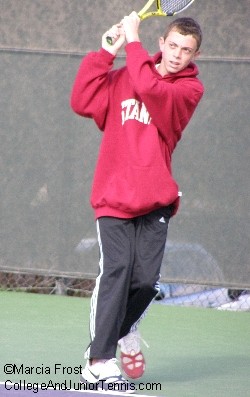 I went to the Hilton El Conquistador courts first to see the 12,14 & 16 boys. I saw a bit of the talented younger ones, with Zack McCourt (pictured right) and Shane Vinsant in a set that matched the close 6-4 score for Shane. (I didn't see any of the second, but he also won it 6-2.) It was a great match between sixth-seeded Dennis Novikov and Ricky Baylon. I knew from the very long, multiple deuce first game it would be a good one. Ricky showed some terrific serve and volley, but Dennis seemed to be one better all the time, especially with his great return. In the end it saved him, 2-6,6-1,6-1.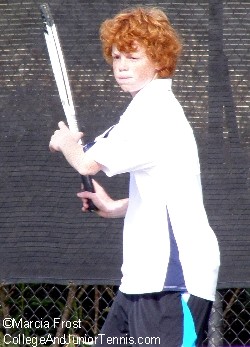 While I was waiting for some courts to go on, I watched some of a great consolation match between Kyle Berman and Cooper Maxwell (pictured left) which seemed closer than the 6-0,6-3 final score.
The boys matches were slightly behind and I was anxious to see the girls, so I headed over to the El Conquistador Country Club. Unfourtanely, the clouds and wind seemed to follow me and I didn't get to see much. I enjoyed some of top-seeded Laurianne Henry and No. 13 Lauren Ritz before the rain came in. Laurianne had won the first set and was up in the second.
It will be a full day on Saturday catching up from yesterday's rain. I'm not taking any chances on missing them this time and I'm heading right over to the El Conquistador Country Club to spend the day with the girls.
Until Tomorrow,
Marcia Frost
click on a photo to enlarge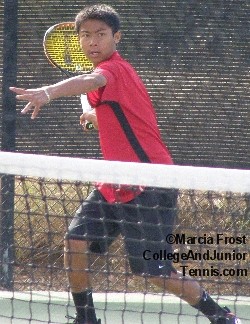 Ricky Baylon
Brandon Sutter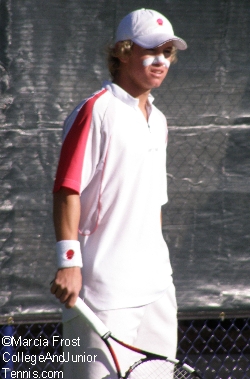 Daniel Moss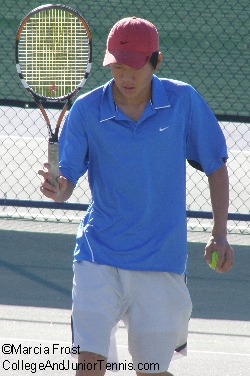 Isamu Tachibana
Cameron Ahan
Erik Hannah
Monthly Guides to
College Tennis Planning
Available in Kindle & Print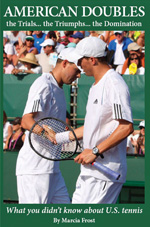 ---

Monthly Guides to
College Tennis Planning
Available in Kindle, Print & EBook
for H.S. Seniors
and H.S. Juniors
---
---
---
---
Return to:
College And Junior
Tennis Homepage