Friday, January 6, 2006-Day Six
Today I saw two matches that were among the best tennis of the tournament. That is certainly not shocking since we are down to the playoffs and the finals, but what is surprising is that both matches were won by 11 year olds.
The El Conquistador Country Club (above) was home today to all of the girls matches, including the finals and playoffs for the Girls 12s. It was here that I saw Julia Elbaba and Amanda Wickman (right) battle for fifth place. After all that has been said about the 12 and under set lobing the balls to no end (and I've said quite a bit myself), this match was certainly proof that it is not always the case. Eleven year old Julia Elbaba came back from a set down and four match points through a beautiful display of serve and volley to win the backdraw. It was no easy feat as Amanda Wickman showed quite a bit of talent herself, hardly missing a ball no matter where it landed. The final score was 3-6,6-1,12-10.

In the Girls' 12 final, unseeded Rio Kitagawa showed that she could take it all the way by adding the No. 2 seed to her list of conquests. Though she took the first set fairly easily (6-2), Layla Sandars put up a fight in the second, even taking a 5-3 lead at one point. She couldn't hold it against the Californian and succombed, 7-5. Desirae Krawczey and Sarah Gealer (left) played off for third place with the No. 3 Desirae taking it over the top seed, 6-3,6-4. Also at the Country Club were some great quarterfinal consolation matches with Mollie Anderson over Cierra Gaytan-Leach and Sarah Landsman over Kari Wig in the 16s. In the 18s, I really thought Stacey Lee would push Christina Keesey to a third in a very close match, but the No. 2 seed pulled it out in a tiebreaker.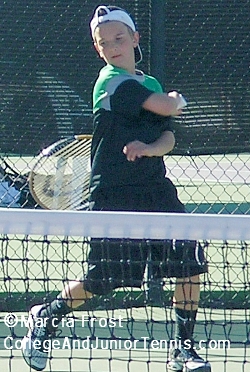 I got back to the El Conquistador Resort in time to see the best of Thomas (TJ) Pura (right) and David Blakeley. This was not my first time seeing TJ. After watching the then tiny nine year old two years ago with his one-handed backhand and first-pumping style, I was pretty much prepared for anything and that's just what I got. I came in after he had lost the first set (4-6) and was up 5-4 in the second. The points were long and the games seemed to go on forever as both boys chased the balls down and got them back from unimaginable positions. It was, however, TJ's will and very graceful volleys that pulled it out in the end, 7-5 in the second and 10-7 in the breaker. In fact, he knew just when he was going to clinch the match, announcing just before the winning point, "TJ, right here."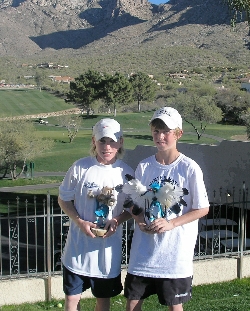 The Boys 12 third place playoff was not originally scheduled for today, but I'm glad I got to see it during this quieter afternoon. These 12 year olds impressed me with their stamina. The talented Ross Guignon kept the ball in play just where he wanted it and his opponent, Zach Morris, did not give up until the very last point. It was an exciting 6-2,6-2 finish.

The older set had a bit of excitement today too. In the boys 18s, both semis were three setters with No. 3 Jack Levis and unseeded Bozhidar Katsarov prevailing. No. 14 CC Sardinha beat Kendra Ivy, who was feeling ill and withdrew from tomorrow's playoff against No. 4 Chloe Jones (below),

who lost to No. 6 Noelle Hickey for the Girls 18s finalists. It will be No. 7 Dylan Pottish and No. 4 Jason Smith in the Boys 16 finals. The Girls 16s, the least predictable draw the whole tournament, will feature two unseeded players -- Rebecca Marino and Tanya Ryakova. The top seeds will have a chance to prevail in the Boys and Girls 14s. Sekou Coker Bangoura will now face No. 10 Nelson Vick and Lilly Kimbell plays unseeded Hideko Tachibana. Michael Chamerski (5) and Joseph Digiulio (3) will play for the Boys 12 trophy.




It's hard to believe that tomorrow is my last day in Tucson as the Copper Bowl comes to a close. There will be lots of faces, old and new, in the winners circle tomorrow, but one that I won't see is Emmett Egger (left). Emmett, who followed his Eddie Herr trophy with the singles and doubles here at the National Winter, succombed to Dante Terenzio (or maybe it was six weeks straight of top-notch tennis that finally did him in) today. I'm sure that we will all be seeing a lot more of Emmett this to come year.
Until Tomorrow,
Marcia Frost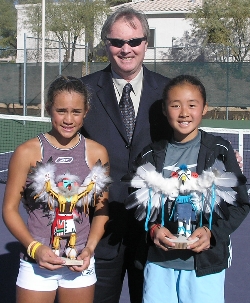 Girls 12 Singles Finalist Layla Sanders, Tournament Direction Don Dickinson and Winner Rio Kitagawa