FINAL DAY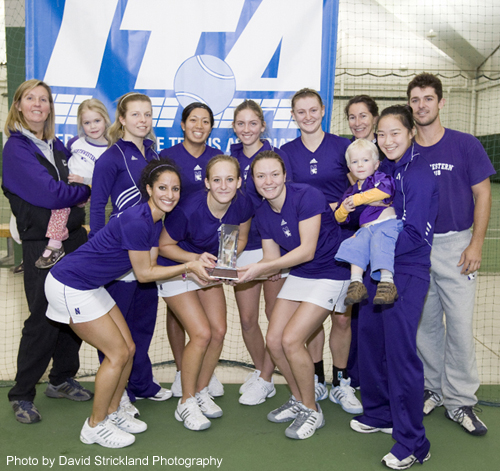 The top-seeded Northwestern women continued to impress as they took the Big Ten's first ITA National Women's Indoor Championship. On the road to their 4-1 win over the sixth-seeded Georgia, the only lost a total of five points, eliminating Miami and Notre Dame at 6-1 and 4-1 respectively. Their only tight match was against No. 8 Duke, but they prevailed 4-3 in the end.
Northwestern sophomore Lauren Lui received the ITA Sportsmanship Award.
Finals
Northwestern 4, Georgia 1
Chelsey Gullickson (G) defeated Maria Mosolova (NW), 6-4,6-3
Georgia Rose (NW) defeated Yvette Hyndman (G), 6-1,6-2
Samantha Murray (NW) defeated Nadja Gilchrist (G), 6-4,6-3
Lauren Lui (NW) defeated Monika Dancevik (G), 6-1,6-2
Nazlie Ghazal (NW) vs. Naoko Ueshima (G), 6-3,4-4 Did Not Finish
Cameron Ellis (G) vs. Keri Robison (NW), 7-5,2-2 Did Not Finish
Gullickson/Hyndman (G) defeated Lui/Rose (NW), 8-4
Robison/Mosolova (NW) defeated Gilchrist/Dancevic (G), 9-8(3)
Murray/Chernyakova (NW) defeated Ueshima/Ellis (G), 8-1
Order of finish (singles): 2,4,1,3
For more stories and full results, visit the official ITA Website.
Create an Amazon Wedding Registry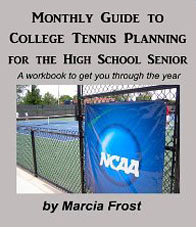 Monthly Guides to
College Tennis Planning
Available in Kindle, Print & EBook
for H.S. Seniors & Juniors
Return to:
College And Junior
Tennis Homepage