Saturday, August 9, 2008-Day Eight


It's been eight years since anyone won the singles and doubles at the Girls' 18 Nationals, and tomorrow there is a good chance it will happen again as Gail Brodsky and Coco Vanderweghe will face each other in both events.
The best word to describe the match between No. 3 Coco Vanderweghe and No. 13 Julia Boserup was unusual. It was full of contradictions, with long games and short points; winners and errors; and more double faults than I could count. Julia had been playing solid the last few days and I think I expected her to come out with confidence, but it was Coco who had it at the start and a nervous Julia dropped the first, 6-1. In the second, though there were still long games and that dangerous whip forehand from Coco that goes by at lightening speed, it was Julia in control and with her opponent double-faulting as much as three times a game, she had a 6-2 set.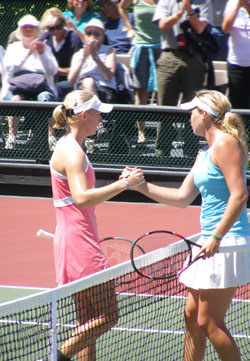 It was anyone's guess what would happen in the third and everything did. The two broke back and fourth and continued to both have service problems. In the end -- over two hours from the start -- it was one break that gave third-seeded CoCo her place in the final.
The semi between the two former New Yorkers started with friendly conversation and smiles for Irina Falconi (4) and Gail Brodsky (1), but it was all business on the court. It was a sign of things to come when the first game went on for nearly 20 minutes, and the ones to follow weren't much shorter. The early breaks went to Irina and she went up to a 4-1 lead. Then the momentum shifted and it was Gail leading the match. She won five games in a row for a 6-4 set, then took the first three games of the next. Irina did pick up one game for 3-1, but that was it and the next few flew by before Gail sealed the match.

I actually found better play (certainly much less errors and double faults) in the doubles this afternoon. In the first semifinal it was a second seeded Jamie Hampton & Coco Vanderweghe with a 6-3,6-4 win over No. 5 Mallory Burdette & Sloane Stephens. It was an interesting match up since Jamie was a doubles winner last year with Melanie Oudin and Mallory had been the 2006 winner with sister Lindsay. The second finalists were decided in a contest between top-seeded Gail Brodsky & Mallory Cecil over third-seeded Julia Boserup & Christina McHale. It was a fun one to watch as Gail & Mallory had the 6-4,6-2 win. Mallory Cecil also worked her way through the consolation and will meet Kristie Ahn in the final of that draw tomorrow.
It will be a long day on Sunday since the singles finalists are also both doubles finalists, but it will be worth the wait to them as they try to do what no one has since Kristen Schlukebir in 2000 -- earn the U.S. Open wildcard in singles and doubles.
Until tomorrow,
Marcia Frost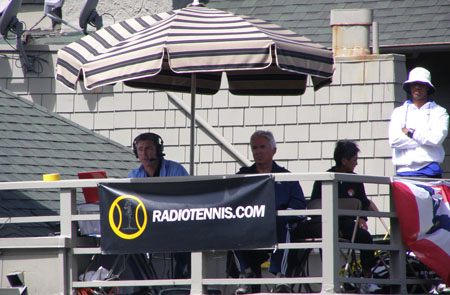 P.S. I had a great on air discussion today with Ken Thomas of Radio Tennis. He will be broadcasting live from the Girls' 18s Nationals again on Sunday. Be sure to tune in and follow the excitement live.
Click Here For The Official USTA Nationals Girls 18 Website
Click On A Photo To Enlarge
Gail Brodsky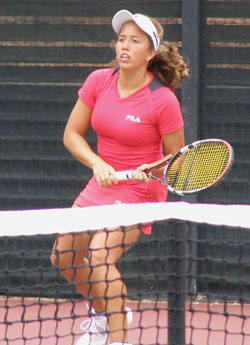 Irina Falconi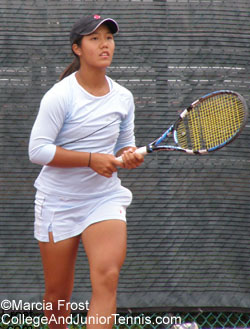 Kristie Ahn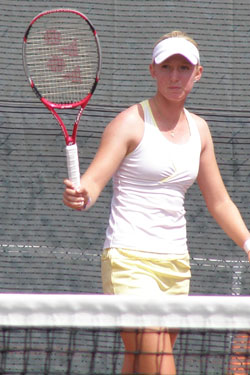 Julia Boserup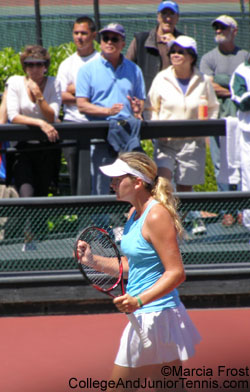 CoCo Vanderweghe
Blair Seideman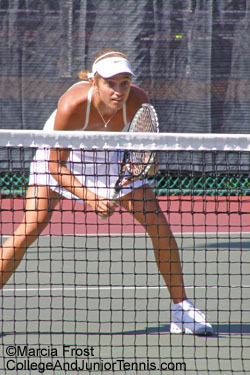 Jacqueline Cako
Create an Amazon Wedding Registry

Monthly Guides to
College Tennis Planning
Available in Kindle, Print & EBook
for H.S. Seniors
and H.S. Juniors
Create an Amazon Wedding Registry
Return to:
College And Junior
Tennis Homepage