Thursday, March 13, 2008-Day Five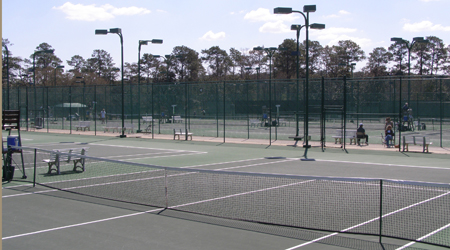 I left the National Spring Championships yesterday right after Lilly Kimbell's upset of top-seeded Christina McHale and missed the uneventful morning singles today (for more on those results, visit ZooTennis) to attend the beginning of the Blue-Gray Classic, but I was back in Mobile this afternoon for what was most certainly the match of the tournament. It was an incredible doubles match that seemed endless, however, it did end as the youngsters took it once again.
Just shy of her 14th birthday, Grace Min (pictured right) has been creating quite a stir in this tournament. She upset her way to the round of 16 in singles before falling to sixth-seeded Kristie Ahn. She is still alive in the consolation after two wins today. One of those wins was over Rachel Saiontz, the ninth-seeded singles player and member of the No. 1 doubles team with Lauren Embree. And Rachel had a second chance to beat Grace today in doubles.
The partnership of Grace Min & Lauren Herring is not a new one. In the last six months alone the two have teamed to win three national doubles titles. And today they got one step closer to another. It was an incredible match with some of the best doubles I have seen. Anyone who says that girls don't know how to play doubles was not there today. Led by the quick hands of petite Grace and the crosscourt magic of Lauren Herring, there was also some winning shots by Lauren Embree & Rachel Saiontz that seemed impossible for them to have gotten. All of this was exciting enough, but the most remarkable part was that the match just would not end!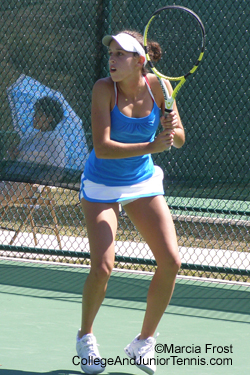 It started with the first set to Grace & Lauren on a point penalty when Rachel (pictured left) broke the Mobile Tennis Center's strict language rules. The second set was the same score for the top-seeded team. In the third, the level of doubles just got better as both teams traded breaks -- and match points. First it was Rachel & Lauren E. who had the opportunity to close it out at 5-3. There were two match points before Grace & Lauren H. came back and won the next three games. Then it was their chance to win through two match points, but they couldn't get past Rachel's serve and, after two deuces, it was into a tiebreaker.
The breaker seemed to belong to the younger duo and, at 6-2, they tried for it again, and again, and again... After a total of six match points for Grace & Lauren H., it went in the other direction for a third match point to the No. 1 seeds! When they couldn't do it at 7-6, a frustrated Lauren Herring took control and the seventh match point was the charm for a place in the finals. They will face second-seeded Kathryn Talbert & Keri Wong in the final. They had a much simpler 6-1,6-1 over Nida Hamilton & Jaime Yapp-Shing.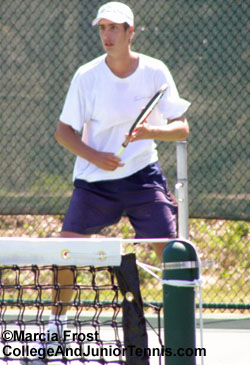 Compared to the girls, the boys doubles semis had a lot less excitement with the top two seeds set to play each other in the finals. In the top of the draw, Steve Johnson & Bradley Klahn defeated Charlie Jones & Ryan Lipman, 6-3,6-3. In the bottom half it was Evan King & Dennis Nevolo over Ian Chadwell/Patrick Whitner, 6-4,6-1. No matter who wins that one there will be a repeat champion as it was Bradley Klahn & Dennis Nevolo who won as a team last year. Both Bradley and Dennis are also playing singles semifinals. Top-seeded Bradley today defeated Alex Brigham, 6-1,6-3, while No. 2 Dennis beat Alex Domijian (pictured above), 7-5,6-3.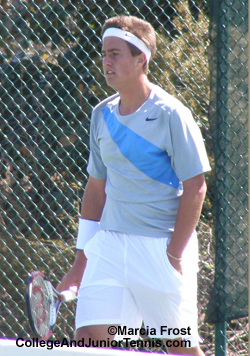 In the other semifinals, last year's champion Brennan Boyajian had no problem with David Nguyen, 6-1,6-2 and Drew Courtney just got by Steve Johnson, 6-3,2-6,7-6(3).
Eleventh-seed Lilly Kimbell, who was responsible for eliminating No. 1 seeded-Christina McHale yesterday, today advanced over alpha-seed Blair Seideman, 6-2,6-1. Tomorrow she will face No. 6 Kristie Ahn, victorious over Catherine Isip, 6-0,6-2. The other match will be between Hanna Mar and Lauren Embree. Hanna fought her way past Jacqueline Cako, 1-6,7-6(1),6-1. Lauren defeated Monica Chow, 6-1,6-2.
Weather permitting tomorrow will be another exciting day at the USTA National Spring Championships. And I don't expect to miss a moment!
Until Tomorrow,
Marcia Frost
click on a photo to enlarge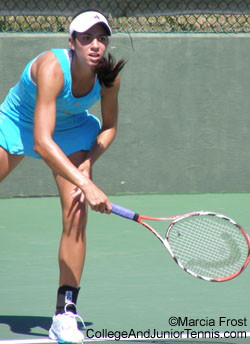 Christina McHale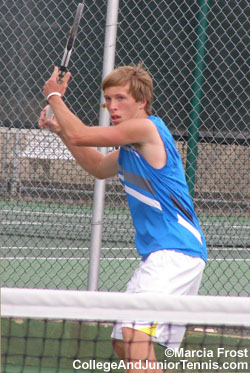 Spencer Smith
Blair Seideman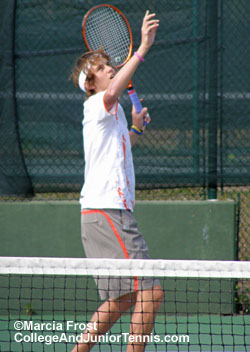 JT Sundling
Catherine Isip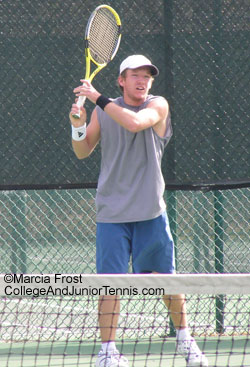 Patrick Daciek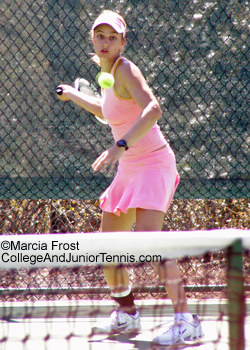 Jacqueline Cako
Alex Sarkissian
Courtney Dolehide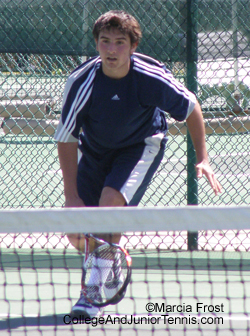 Marc Powers
Courtney Griffith
Ebie Wilson
Check the new TripAdvisor for great deals on hotels

Monthly Guides to
College Tennis Planning
Available in Kindle, Print & EBook
for H.S. Seniors
and H.S. Juniors
>






Create an Amazon Wedding Registry
Return to:
College And Junior Tennis