Friday, March 14, 2008-Day Six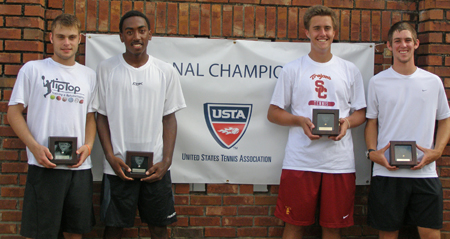 Boys Doubles Finalists Dennis Nevolo & Evan King and Winners Steve Johnson & Bradley Klahn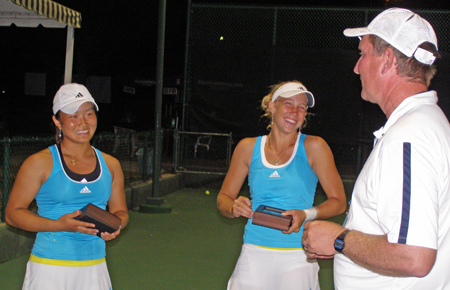 Girls Doubles Winners Grace Min & Lauren Herring with Tournament Director Scott Novak
It was a long day at the USTA Spring National Championships as the first Gold Balls were passed out -- some to the expected and others to surprises.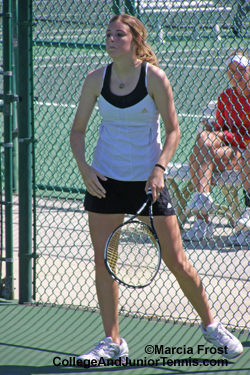 It was quite the unusual match between No. 6 Kristie Ahn and No. 11 Lilly Kimbell (pictured right). After shuting out her opponent in the first set, Kristie struggled with some great shots by Lilly, as well a bout with asthma, and dropped the second 6-3. After a brief rest with the trainer, she was back in top form and took the third 6-0.
Top seeded Lauren Embree, who was also a finalist last year, will have a chance at tomorrow's first place as she had no problem getting past Hanna Mar. The sixteenth seed did keep up a bit more than the 6-0,6-2 score showed, but Lauren definitely commanded the match.
Lauren carried the momentum into her third place doubles match, where she and partner Rachel Saiontz defeated Nida Hamilton & Jamie Yapp-Shing, 6-1,6-4.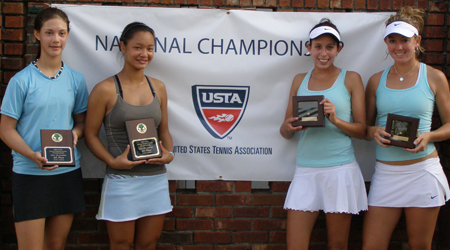 Nida Hamilton & Jamie Yapp-Shing and Rachel Saiontz & Lauren Embree
The boys matches were fairly quick affairs. I thought it would be a bit closer for Bradley Klahn-Brennan Boyajian than 6-4,6-0, but last year's champion could not get past the solid Bradley. The No. 1 seed will face last year's finalist, Dennis Nevolo, who didn't need much longer to take Drew Courtney (pictured left) 6-3,6-1. Bradley and Dennis had some practice on opposite courts today as they were against each other in the doubles final. As the humidity picked up so did the power of balls on the court flying by as Californians Bradley Klahn & Steve Johnson took out Illinois' Dennis Nevolo & Evan King, 7-5,6-1.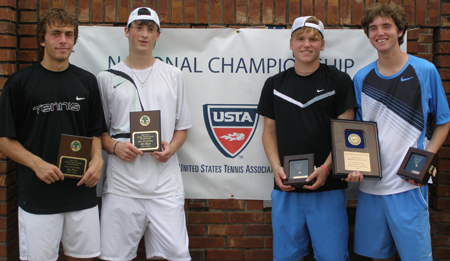 The boys Bronze Ball went to Charlie Jones & Ryan Lipman, winners over Ian Chadwell & Patrick Whitner, 4-6,6-2,6-2. Also, Alex Domijian will have a shot at a second consecutive fifth place when he faces Kevin King in the playoff.

They day finished with yet another exciting win by Grace Min & Lauren Herring. This time the youngest players got to take home a Gold Ball (and they only needed one match point to do it). The second-seeded Kathryn Talbert & Keri Wong were just edged as the four Southerners -- with only Keri not from North Carolina -- played to 5-7,6-4,7-5.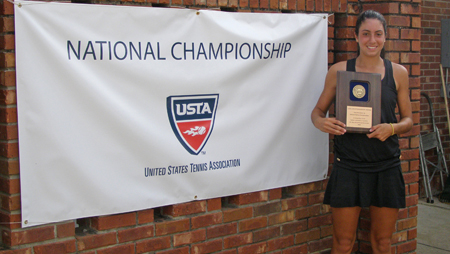 Christina McHale (above), who will be playing for 5th Place Saturday against Keri Wong, was the girls Sportsmanship winner. Ryan Lipman took the honor for the boys.
The singles matches were a bit less exciting than most days, but it was still a special time for those who took home their souvenir trophy pictures (courtesy of Tournament Directors Lorraine & Scott Novak).
Until Tomorrow,
Marcia Frost
click on a photo to enlarge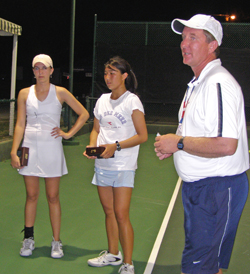 Doubles Finalists
Kathryn Talbert & Keri Wong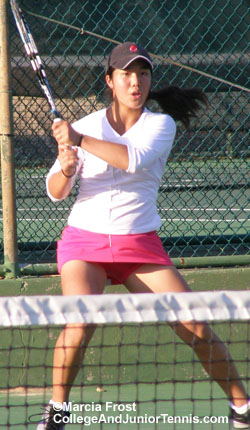 Kristie Ahn
Brennan Boyajian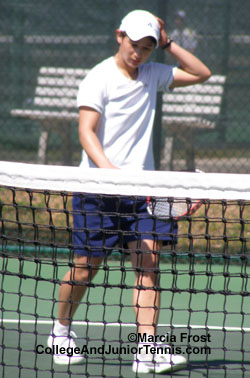 Hanna Mar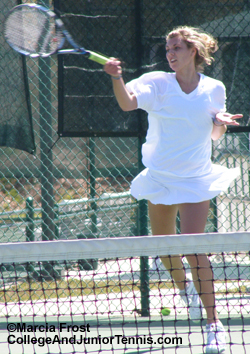 Rachel White


Monthly Guides to
College Tennis Planning
Available in Kindle, Print & EBook
for H.S. Seniors
and H.S. Juniors
>






Create an Amazon Wedding Registry
Return to:
College And Junior Tennis