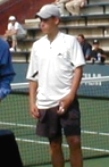 Tres Davis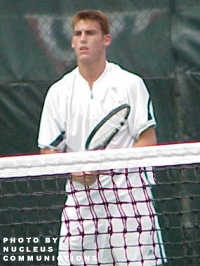 Robby Ginepri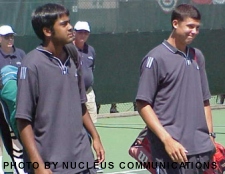 Rajeev Ram & John Stokke
Rick Leach
At The Open With Marcia Frost...
Friday, September 8th-Junior Singles, Day Six
It may sound redundant, but Robby Ginepri was once again the star of the day. He and partner Tres Davis, the Boys' 18 Super National doubles champs, eased past Rajeev Ram and Jonathan Stokke, the Boys' 16 Super National doubles champs. The elder duo used their experience to show up the talented youngsters, 6-1,6-3. According to Ginepri's father, he and Davis "both believe in each other and that makes a difference." It certainly shows in their teamwork. They will give top-seeded Lee Childs/James Nelson quite a challenge in the finals tomorrow.

Before his doubles match, Ginepri cruised past Roko Karanusic of Croatia. It took Ginepri just 49 minutes to serve and volley his way to match point. The 6-4,6-2 win puts him in a semifinal match tomorrow against fellow American and No. 12 seed Ytai Abougzir.

Abougzir did not have it quite so easy in his win. Through long rallies, questionable calls and serving problems, he fought it out with Benjamin Balleret. The match was even closer than the 6-3,6-4 score as Abougzir earned his spot in the semis.

The other semifinal boys singles match tomorrow will be a certain battle between No. 1 seeded Andy Roddick and No. 4 seeded Mario Ancic. In yet another quick match, Roddick beat Ivan Cerovic of Croatia, 6-4,6-2 before a large crowd. The highlight of the match, however, was not a power groundstroke to the other end of the court, it was Roddick hitting a powerful ball into the fence, nearly missing a spectator. Roddick was upset about a call that went against him.

The last of the American girls was eliminated from the Open. Ashley Harkleroad did not go out without a fight against Aniko Kapros. No. 2 seed Kapros broke serve in the third game and kept up the pressure. Harkleroad appeared to be struggling, but never gave up and shot winners until the end when Kapros moved to the semis with a 6-2,6-4 win. She will face Tatiana Perebiynis, the fourth seed. The other girls semi will be Maria Emilia Salerni (No. 1) vs. Galina Fokina. The girls doubles final will be between Gisela Dulko/Maria Emilia Salerni and Aniko Kapros/Christina Wheeler.

Tomorrow brings three American boys in the semifinals and the possibility of an all-American final. The last time that happened was in 1985 when Tim Trigueiro defeated Joey Blake. It actually only happened twice before that -- (1977) Van Winitsky over Eliot Teltscher and (1974) Billy Martin over Ferdi Taygan. Will we be able to add 2000 to the list?

And A Bit Of Nostalgia...
Today was the final Grand Slam doubles match for Rick Leach. Leach turned professional in 1987 and is finishing his pro career to act as Assistant Men's Tennis Coach at the University of Southern California. He will be working under his father, Dick Leach. In 1983 I paid a visit to the USC men's team as a proud Coach Leach welcomed son Rick on to his team. It was one of the best college teams at the time, featuring such top players as Matt Anger, Todd Witsken, Antony Emerson & Tim Pawsat. The college tennis world welcomes Rick Leach back full circle to Southern Cal.