At Wimbledon With Marcia Frost...
Wednesday, July 4th

There is something odd about watching the British flag fly on July 4th, but here I was at Wimbledon, watching the flag and -- for the first time since I arrived -- a full day of tennis.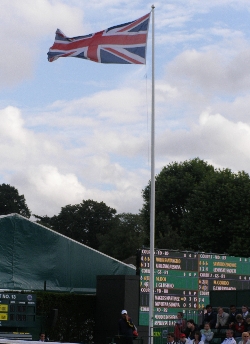 There was no doubt where I would head to first as fellow New Yorker Gail Brodsky (below) took the court against Great Britain's Tara Moore. Gail is one of those players whom I've watched since her age was not even in the double digits. Her size and her game have grown quite a bit and today she showed that to the crowd.
This is where I confess (gasp!) that there are times when I am bored to death with grasscourt tennis. It can be nothing but serves that can't be returned, leading to endless tiebreakers and few balls crossing the court. The match between Tara Moore and Gail Brodsky was definitely the exception. Gail took an early lead and, though she didn't keep that break, she did command the match and get it back for a 6-4 first set. Her well-rounded game seemed to adapt to the grasscourts with ease and Tara came back with her experience on this surface quite often. There was one point that had (I wish I had kept exact count) about a dozen deuces in the second set. When Gail took that game it appeared to be a defining moment for her 6-2 clinching set win.
Unfortunately, the other New Yorker on the court first up this morning was not so lucky. Scott Lipsky and partner David Martin -- both Stanford grads -- fell in straight sets to fifth-seeded Martin Damm & Leander Paes. It was a great run to the third round for the qualifiers.

My second match of the day was an entirely different affair from the first. American Mateusz Kecki took the court with Bulgaria's Valentin Dimov, with a solid serve and quick return that took him to a quick 6-2 first set. On serve at 2-1 there was a rain delay that seemed to lose a bit of the momentum in his return and the servers duel went into a tiebreaker which the American took 7-5.

It didn't take Madison Brengle long to win the first set (6-1) from GB's Jade Curtis and she was up 4-3 by the time I got over there. She struggled a bit, giving up two match points at 5-4, but came back for the 7-5 set that took it.

There was no real struggle for Donald Young, who came out with his ever-improving powerful serve against British wildcard Neil Pauffley. The match seemed to fly by as quick as Donald's serve. Despite a few deuces, Donald had his 6-2,6-3 win in under an hour.

I was finishing up my photos and watching the scoreboard at the end of the day when I saw that Reka Zsilinszka had lost the second set in her match with Argentine Tatiana Bua. I managed to make my way (which from the Press Room to Court 8 is not an easy feat) there for the deciding third-set tiebreaker, which Reka took 10-3. Not so lucky was her fellow American on the next court, Veronica Li, who just barely lost to No. 15 Bojana Jovanovski, 6-4,5-7,1-0(5)

In a fitting July 4th retribution, British wildcard Daniel Smethurst took out U.S. Open junior doubles winner Austin Krajicek, 6-7(6),6-3,1-0(9). Also falling from the United States in the boys singles was qualifier Ty Trombetta (to Tim Van Terrheijden from the Netherlands, 4-6,6-2,1-0(6)) and Johnny Hamui, who fell to Romania's Dragos Critian Mirtea, 6-2,7-5. The concentration for Thursday is to try to get into the round of 16 on singles and start the doubles.

I also got to spend a bit of time watching an incredibly fun match between Stan Smith/Ilie Nastase and Peter McNamara/Paul McNamee. I hope to see more of the Senior Invitational tomorrow, weather permitting. Afterall this is Wimbledon where you never take the schedule seriously until the clouds have spoken!

Until Tomorrow,
Marcia Frost
The Official Wimbledon site is one of the best around and also has coverage of the junior events. Be sure to check it out at http://www.Wimbledon.org