At The Australian Open With Marcia Frost...

Thursday, January 27th-
Main Draw, Day Eleven
Junior Championships Day Five
I had some difficulty finding hotels in Melbourne and an offer to go to Yarra Valley (I absolutely recommend the Healesville Animal Sanctuary) so I missed two days of the juniors at the Australian Open. I was excited to come back and find there were still three American players in the singles, but that was not the case at the end of the day.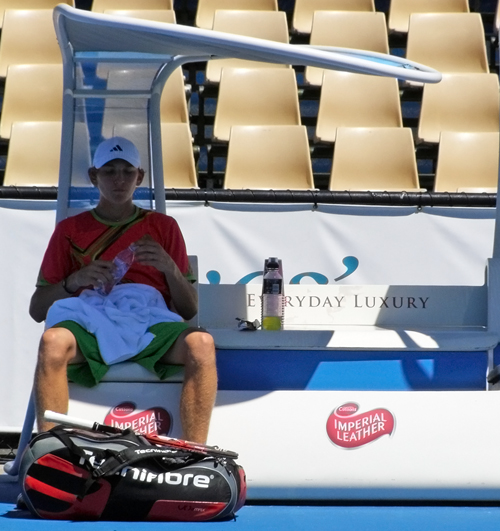 Texan Mitchell Kruger, who has played some tough matches throughout this tournament, had a real challenge in the quarterfinals as he faced top-seeded Jiri Vesely. It was probably the best 6-2,6-2 match I've ever seen as the two played through endless points and long games. It was the more experienced Jiri -- the top player in the world -- who prevailed with follow through on the breaks and some precise volleying. Mitch had some real winners and what looked like perfect drop shots, but Jiri was always right there. It was definitely the match to watch and I'm glad I got to sit through the whole thing.
It turned out to be a tough day all around for Mitchell Krueger as he and partner Karue Sell fell in a terrific doubles semifinal that went to Aussies Ben Wagland & Andrew Whittington. The third-seeded home team lost the first set in a tiebreaker, but came back for a 6-2 second and then squeaked by 11-9 in a third set match tiebreaker.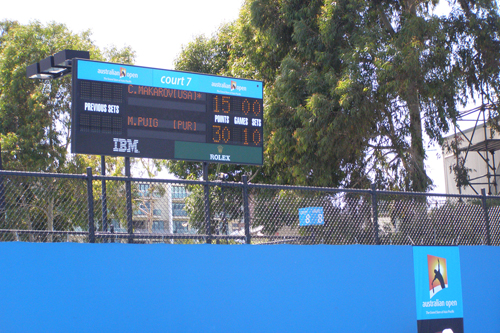 With two matches with Americans on courts in front of each other -- but not both visible from any spot -- I bounced back and forth for a little while. While Alabama native Mac Styslinger and sixth-seeded Roberto Carballes of Spain had some good points, it was the girls match that was clearly the one to watch so I left it before Roberto prevailed 6-3,6-2 to sit down for Christina Makarova and Monica Puig, just as Christina had a break for a 4-3 lead.
From what I had seen of the beginning of the match, fifth-seeded Monica, who has grown up in the U.S. but now plays for Puerto Rico, was struggling and Christina was confident and on with her game. That all changed in game nine as the 14 year old from San Diego tried to finish out the set. Two set points disappeared and then a third, and before the crowd (and Christina) realized it, the match was tied at 5-5.
Throughout this quarterfinal match in the hot sun, the points continued to be long and the games were almost all to deuce. Even after 17 year old Monica Puig had the 7-5 first set, there was still fist pumping effort from the youngest player in the draw, but it was overshadowed by enough spectacular game winning shots that Monica had a 3-1 lead. She held it to 4-1, and despite Christina's service problems, she did have that game in three deuces, but she didn't hold any more and it was Monica Puig who moved into the semifinals at 6-2.
I spent some time with Christina Makarova after the match. She, though definitely disappointed, realized she had plenty of years left in junior tennis. I have actually known this talented teen since she was a rambunctious nine year old. We shared a week's worth of Nutella breakfasts in Pula, Croatia, when she was part of the "Little Mo" team playing at the Smirkva Bowl in Pula, Croatia. I knew then that I'd see her play a lot more and I'm happy to say that one of those places was the quarterfinals of the Australian Open Junior Championships -- at 14.
The incredible run of Gustavus Adolphus graduate Eric Butorac and partner Jean-Julien Rojer ended on Thursday, but it ended all the way in the semifinals to two other former college players (who happen to be the number one team in the world). Bob & Mike Bryan have earned their way into another Australian Open final and will be going for their fifth title on Saturday.
Semifinals for the juniors will take place late afternoon on Friday, followed by the doubles finals.
A special thanks to Tourism Australia and Tourism Victoria for making my Australian Open coverage possible.
click on a photo to enlarge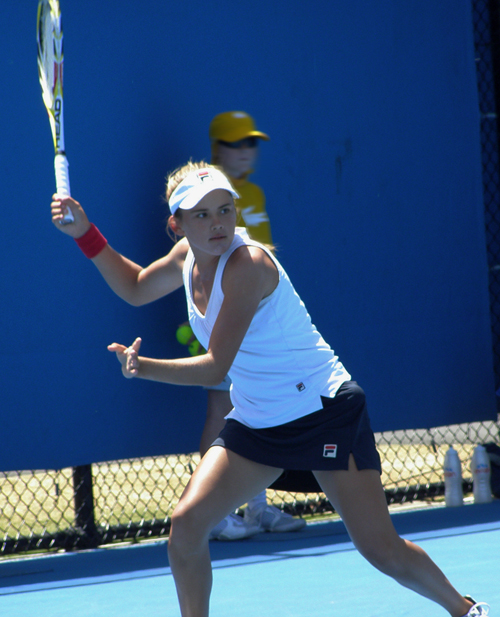 Christina Makarova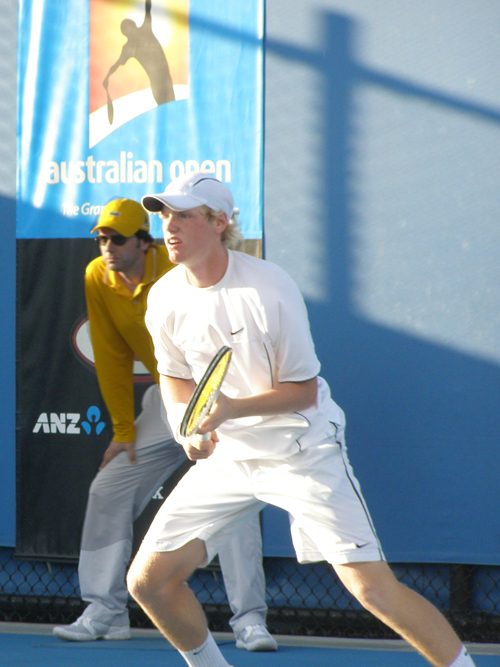 Mac Styslinger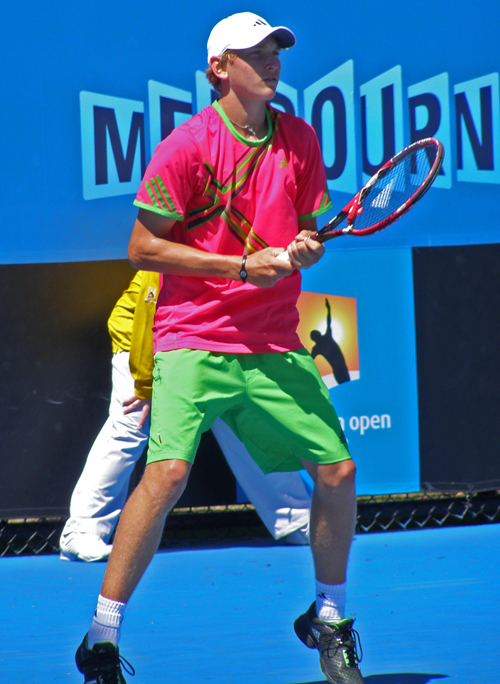 Mitchell Kruger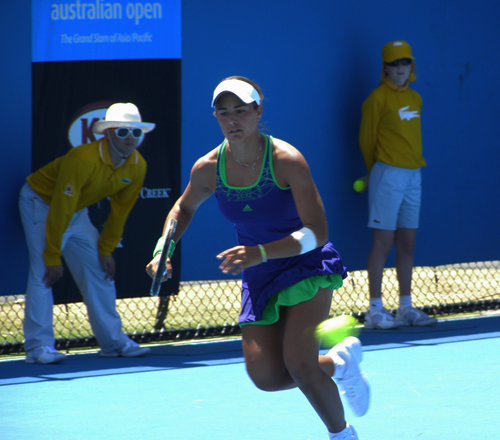 Monica Puig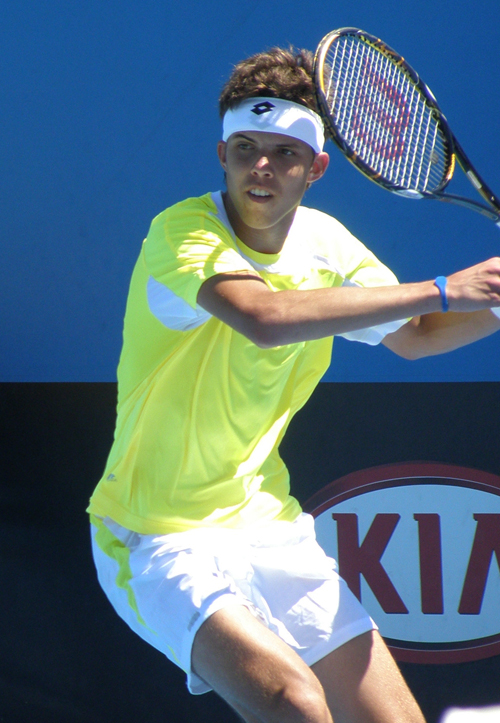 Jiri Vesely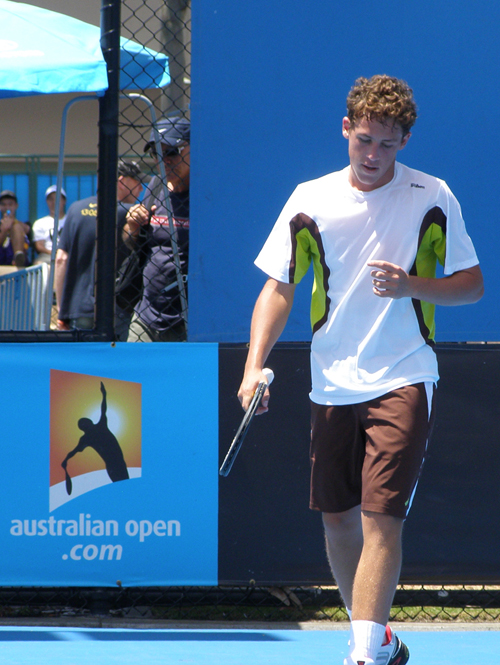 Roberto Carbelles
Inexpensive Grocery Delivery
At Instacart
---
<

Kindle version for only $4.99
Print version & Sr Guides coming soon
---
Monthly Guides to
College Tennis Planning
Available in Kindle & Print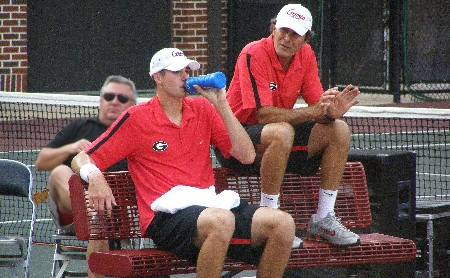 College Tennis featured in
American Doubles...


Create an Amazon Wedding Registry
Return to:
College And Junior Tennis