At The Australian Open With Marcia Frost...

Friday, January 28th-
Main Draw, Day Twelve
Junior Championships Day Six
The curiosity started years ago when Kim Clijsters and Justin Henin were at the top of the rankings about how the tiny little country of Belgium could produce two great tennis players, who never trained together. Here we are years later and Kim Clijsters is playing for another Grand Slam event title while a girl from Belgium is going for the junior sweep.


Even though she is the second seed in the tournament, Belgium's An-Sophie Mestach didn't even make the Junior Championships' book of "Top International Girls." Obviously, An-Sophie didn't read the book because she's been running through the draw in straight sets, the closest of which was was her 6-3,6-2 win over Caroline Garcia in Friday's semifinal (and she was actually down 1-5 in the second set).
Sixteen year old An-Sophie Mestach picked up the doubles title with partner Demi Schuurs of The Netherlands, with a 6-2,6-3 victory over Eri Hozumi & Miyu Kato. On Saturday she will be looking to add a singles trophy to that if she can beat Monica Puig. Sixth-seeded Monica has also been hot this tournament and her win over Eugenie Bouchard of Canada in the semis was tight at the beginning, but finished at 6-4,6-4. As she has done before, Monica became more determined as the match moved on and by the end of the match the only thing close about the two was that they were wearing the same dress.
We may also see a sweep in the Australian Open boys championships. Top-seeded Jiri Vesley of the Czech Republic won the doubles with partner Filip Horanksy over Aussies Ben Wagland & Andrew Whittlington. I was rather surpised to see Showcourt Two virtually empty while their home players put up a good fight before falling 6-4,6-4. The win came a few hours after Jiri dismissed Great Britain's George Morgan, 6-3,6-4.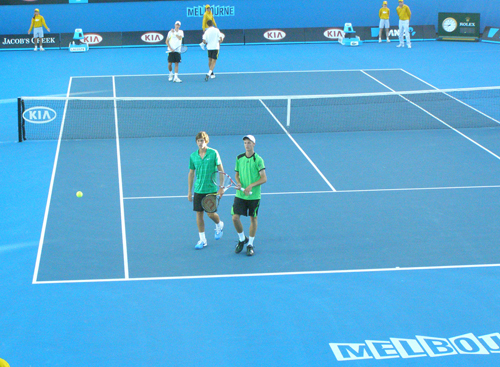 I do expect to see a local crowd turn out for the boys singles final on Rod Laver Arena that will feature one of their own, Luke Saville. The unseeded teen, who will be 17 next week, has an ITF ranking of 70 and this is only his second Grand Slam event (the first was last year's Australian Open and he only won one round). He's made it through the boys' singles draw with upsets over Dominic Theim (2), Nikola Milojevic (13) and on Friday, Roberto Carballes (6), 6-2,6-1. I have no doubt he's going to be making it tough for Jiri Vesley to finish that sweep and I'm looking forward to watching it.
Former NCAA champion Bryan Brothers will also play for their fifth Australian Open title on Saturday. The match isn't until after the women's singles final. I'm currently unsure of where I am staying tonight, but if I can stay in the area, I will definitely be in front of that match!
A special thanks to Tourism Australia and Tourism Victoria for making my Australian Open coverage possible.
Inexpensive Grocery Delivery
At Instacart
---
<

Kindle version for only $4.99
Print version & Sr Guides coming soon
---
Monthly Guides to
College Tennis Planning
Available in Kindle & Print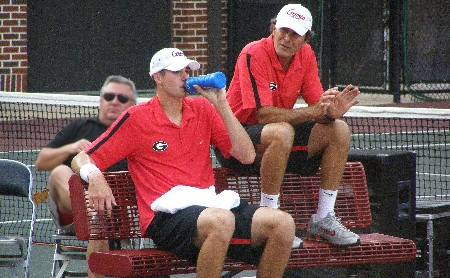 College Tennis featured in
American Doubles...
---
Return to:
College And Junior Tennis