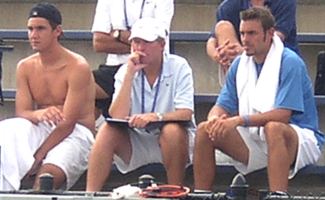 By far the biggest news in college tennis this past month has been the resignation of Illinois coach Craig Tiley. While it had been rumored that he was considering the newly created position at the USTA as "Senior Director, Junior and Collegiate Competition," Coach Tiley shocked everyone by instead accepting a position as the Director of Player Development for Tennis Australia. During his 12 year run at Illinois, Coach Tiley led his team to eight straight Big Ten regular season titles, eight Big Ten Tournament championships, two national indoor championships and the 2003 NCAA Men's Tennis Championship, where Illinois swept the singles, doubles and team events. There will be an announcement in the next two weeks regarding his replacement.

* * *
Georgia sophomore Shadisha Robinson, who led her team to a top ten ranking as she earned All-American honors in singles and doubles, was featured on BET's MAAD SPORTS. Shadisha appeared in a segment profiling elite student-athletes.

* * *
Before graduating from Washington this past month, Alex Vlaski set a new singles record of 111 wins. The previous record of 108 was held by Matt Hanlin.

* * *
Florent Girod and Jose-Carlos Pinto of Mississippi State have been named to the 2005 ESPN CoSIDA District All-Academic Team.

* * *
Texas A&M's Lauren Walker was selected to receive the 2004-05 Dr. Prentice Gautt Postgraduate Scholarship. The scholarship is given by the Big 12 Conference to honor two student athletes.

* * *
Coach Wayne Martin picked up his 100th career victory before finishing the 2004-05 season with Long Island University.

* * *
New Coaches For 2005-06:
Arizona Men-
Tad Berkowitz
Drake Men-
Chase Hodges
Ferris State Men-
Dave Ramos
Hawaii Pacific Men & Women-
Stefan Pampulov
Lander Men & Women-
Brett Simpson
Nazareth Men & Women-
Paul Waida
Wisconsin Men-
Greg Van Emburgh
* * *
Above Photo: Amer Delic, Coach Craig Tiley and Brian Wilson watch fellow 2003 Illinois Teammates Rajeev Ram at the U.S. Open.
---
Premiere private co-ed camp on mountain lake setting seeking tennis instructors. Wekeela offers execellent salary packages, top facilities, an international staff consisting of professionals, experienced teachers and collegians, a warm, friendly, professional atmosphere, excellent instruction and a beautiful lakefront setting. Applicants must be college-age and above, be responsible and knowledgeable, and have a strong desire to work with children. Apply online at http://www.campwekeela.com or e-mail campwekeela@aol.com. Dates: June 18-August 21. Have a summer of a lifetime in beautiful Maine!
---
If you have information for Campus Notes
Contact us:E-Mail: Marcia@MarciaFrost.com
FAX: 516-883-5241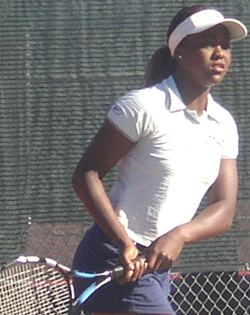 Shadisha Robinson
Alex Vlaski
Florent Girod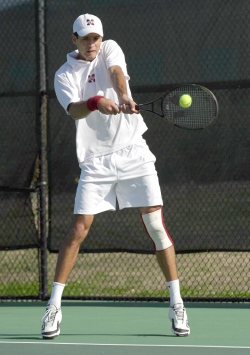 Jose-Carlos Pinto
Create an Amazon Wedding Registry





Join Fabletics & Get
2 Pairs High Quality Leggings for $24



Healthy Smoothies
Delivered to your home
Click for 55%
Return to:
College And Junior
Tennis Homepage