The heat index approached 100 degrees today and all the top players were tested throughout the courts. The youngsters made their mark on the tennis world today, starting with 14 year old Jessica Kirkland. In her first major tournament, Jessica upset the No. 5 seed, Theresa Logar, to take the Girls' 18s title. Jessica dominated the match for a 6-4,6-1 win as the surprised crowd asked who she was.
In the Boys' 16s final, No. 2 seeded Jarrett Chirico got by last year's Boys' 14s winner Timothy Neilly, a strong contender this tournament, 7-5,6-2. Though he lost, Timothy was presented with the inaugural Richard Lynch/Dick Schapp Travel Scholarship, named in honor of two great players who died this past year. Theresa Logar was the girls recipient.
Yevgeny Supeko took third place in the 16s past Brandon Wai while Vahid Mirzadeh placed 5th in the same age group. It was a battle of great shots for third place in the Boys' 18s as Sukhwa Young (barely) outhit Josh Cohen in three tough sets. An easier time was had by Julie Smekodub as she took fifth place against Whitney Deason.
Kristin Cargill was just slightly better than Iris Ichim for the third place Girls' 18 singles trophy. The Boys' 18 consolation final between James Wan and James Pade was an exciting round of power with a three-set win for Wan, but it was the Boys' 18 singles final that presented the most controversy of the day. As the coaches tried to out cheer each other, Nestor Bricenco, seeded only 25, tried to get past No. 2 Douglas Stewart. It was the higher seed who prevailed, and the battle left the players unwilling to pose for pictures together. Douglas also later won the doubles with partner James Pade.
Tournament Director Seena Hamilton, Assistant Marylynn Baker and the entire Easter Bowl staff managed to pull off another successful tournament. The event that has produced such winners as Andy Roddick, Jennifer Capriati, John McEnroe and Tracy Austin again spawned some stars of tomorrow.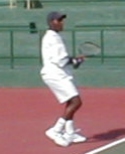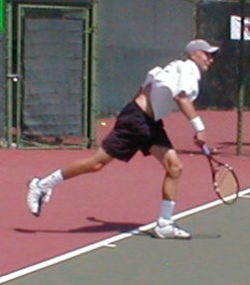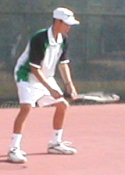 Timothy Neilly, Yvegeny Supeko and Brandon Wai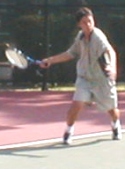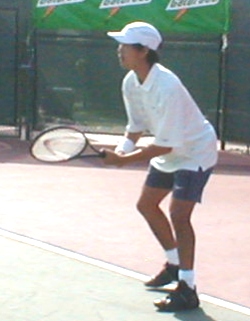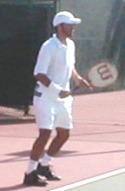 Vahid Mirzadeh, Sukhwa Young and Josh Cohen
Note: Over the next week look for stories to be compiled from completed interviews.