April 30, 2005-Day One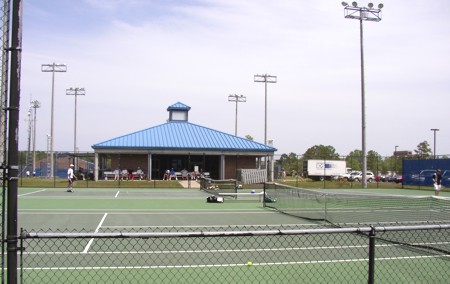 It's Gator Bowl time in Jacksonville and there is tennis everywhere! This event uses an unbelieveable five sites and I'm going to do my best to make it to them all. Today I stayed at the University of North Florida (above) where the Boys 18s & 16s, as well as the Girls 18s, were playing.
The big news here for today was the first round upset of No. 1 seed David Kwon in the Boys 18s. Jeff Dadamo took out the Virginian, 6-3,6-0, and then continued his way through the draw by next removing Daniel Gonzalez in straight sets. He is definitely going to be one to watch this tournament. The only other upsets in that draw were No. 5 David Mulligan (first round loss to Michael Starr) and seventh-seeded David Rosenfeld, losing in the second round to New Yorker Jason Morgenstern. Sixth-seeded Matthew Brewer was forced to default at the last minute due to food poisoning.
One look at the Girls 18 draw and you have to wonder if this is a USTA Level 3 or a major National. The event attracted the very top in the country, led by Lindsay Burdette. The top seed had no problems today making her way into the quarters. In fact, the only upsets there were the No. 7 & 8 -- Sierra Poske and Elyse Steiner to Jessica Preeg and Megan Broderick respectively. Considering the strength of the draw it was not surprising.
The final group at the University of North Florida was the one that provided the most excitement. Three-setters and dropping seeds were the norm in the Boys 16s draw. It was probably seventh-seeded Drew Courtney how garnered the most court time, first in a crowd-gathering 6-4,3-6,6-1 win over Austin Krajicek and then losing 4-6,6-1,6-1 to Jadon Phillips. Number three Brennan Boyajian fought hard before dropping to David Cotrone, 2-6,7-5,6-1.
At the other boys sites the day progressed, while the Girls 14s and 16s provided some surprises. The 16s lost four seeds, the most unexpected of which was Mallory Burdette's defeated at the hands of Alexa Guarachi, 5-7,6-1,6-1. The lone upset in the 14s was actually not a surprise to me as fellow Long Islander (NY) Blair Seideman got past second-seeded Julia Baltas, 6-4,2-6,7-5. Having seen Blair play a number of times I had no doubt that her transition into the 14s would make waves.
Fortunately, play was completed today before the rain and it looks like we will get through tomorrow as well. I'm going to try to catch as much of the action as possible tomorrow so check back for the update and photos.
Until Tomorrow,
Marcia Frost
| | | | |
| --- | --- | --- | --- |
| Virginia Berry | Drew Courtney | Ty Trombetta | Yumi Hasegawa |
Click On A Photo To Enlarge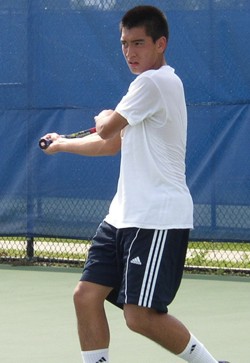 Peter Del Mora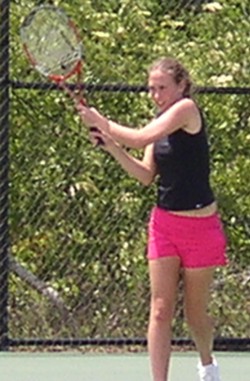 Mary Wilson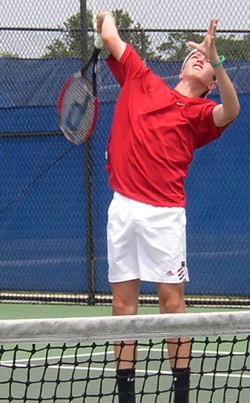 Rhyne Williams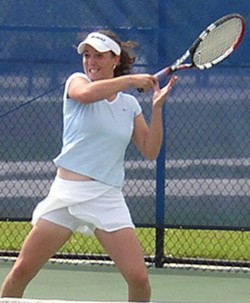 Priscilla Castillo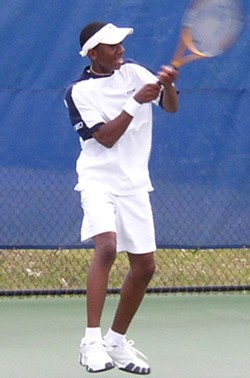 Jadon Phillips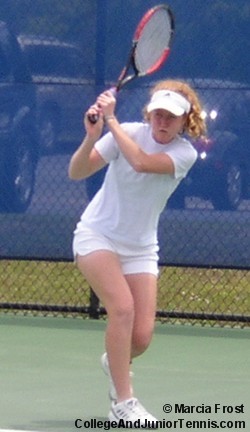 Sierra Poske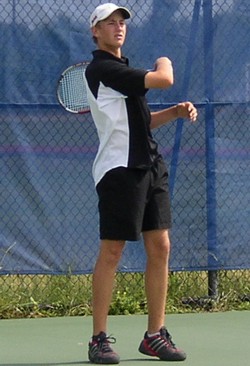 Joey Burkhardt
---
---
---
---
Return to:
College And Junior
Tennis Homepage