August 2, 2005-Day One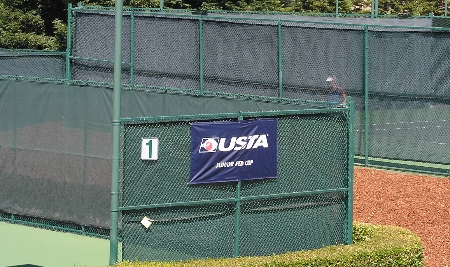 It's a far cry from the Claycourts as I'm welcomed to the Junior Fed Cup at the Blackhawk Country Club. The humidity is (thankfully) not to be found and the hospitality is everywhere as I quickly realize why so many girls have picked this tournament as their favorite. It's the perfect setting for some top-notch tennis between the mountains and the sunshine.
The Junior Fed Cup, known as the "Intersectionals" until 2000, is a team championship that brings together the highest six girls in every USTA section. This elite competition attracts the very best players in the country for four days of play. Since it is a compass draw format, each team is guaranteed play each day. This year the tournament has made it even more interesting by adopting college format -- six singles and three doubles per team, per day. Everyone gets to play and eight game pro sets within the doubles keep it from getting to grueling.
I spent this first day at the Blackhawk Country Club Tennis Villas where twelve of the sixteen teams played. It was interesting to see team coaches gave encouragement and advice during play (coaching during matches is allowed at the Junior Fed Cup). Many college coaches also arrived today to check out the players, but the stress level was generally low and the team spirit high.
Tomorrow I am going to head over to the Blackhawk Country Club's Sport Complex to catch some more of the action from another angle. And I'm happy to say, for one of the few times this year, the weather is predicted to be just perfect!
Until tomorrow,
Marcia Frost
| | | |
| --- | --- | --- |
| Alyssa Palen | Leigh Finnegan | Christian Tara |
Story & Photos From August 3rd-Day Two
Story & Photos From August 4th-Day Three
Story & Photos From August 5th-Final Day
Click Here For The Full Results