August 4, 2005-Day Three

As the draw winds down, the team spirit grows stronger at the USTA Junior Fed Cup Championships. Every match matters when the very top players compete for the number one position in the end.
Seeding does not always hold true and this was certainly true at this event. Although it was not a huge surprise that No. 3 Texas defeated No. 1 Southern, 5-2, to reach the finals, their opponent for that round was not expected. It will be the No. 6 Midwest who will try for that trophy. After taking out No. 2 Florida in the previous round (5-2) they today eliminated No. 4 Missouri Valley, 6-1.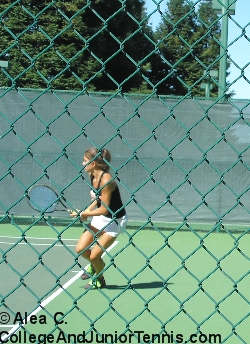 There are just so many matches at the Jr Fed Cup -- every team has six singles and two doubles each day -- that it's hard to concentrate on just one. I've just been taking in the excitement of the players and the multitude of college coaches around them while I try to catch as many as possible on camera. Tomorrow, however, I plan to concentrate on the finals and bring back some details!
Until tomorrow,
Marcia Frost
Note: we have been experiencing server problems this week, sometimes preventing webpages and photos from coming up. We are in the process of moving to a new, larger server. Please be patient while this is straightened out.
| | | |
| --- | --- | --- |
| Ashley Pane | Devin Peek | Kali Krisik |
Story & Photos From August 2nd-Day One
Story & Photos From August 4th-Day Two
Story & Photos From August 5th-Final Day
Click Here For The Full Results