August 3, 2005-Day Two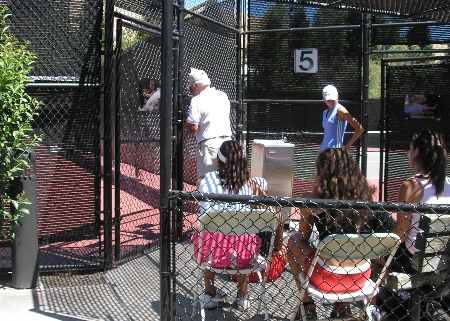 It was another beautiful Northern California day as I made my way to the Blackhawk Country Club Sports Complex for the USTA Junior Fed Cup. Though there were only two teams there this morning, you would have thought there was more by all the excitement.
The grounds of the Blackhawk Country Club are just incredible and even the cows (yes, cows) moo'd "good morning" to the players for a happy start. I ended up staying for the entire Southwest-Eastern match as controversy erupted on Court four between Claire Soper (below) and Lauren Cash. It was a rivalry that I'm told goes back awhile, but this time was fierce enough to bring the spectators (above) and Tournament Referee Pua Johnson. In the end Claire won it, 6-3,2-6,6-3. The match, however, was the only win for the Southwest team in this consolation bracket and not enough for them to move on in the west draw.
A personal emergency coupled with server problems prevented me from attending today's afternoon matches. I will be on hand at the Blackhawk Tennis Villas tomorrow to witness the semifinals -- Southern vs. Southern California and Missouri Valley vs. Midwest. The sixth-seeded Midwest today took out No. 2 Florida so I'm sure there will be plenty of good matches there.
The mercury is rising a bit, but as long as the humidity stays low (which it almost always does out West) we can enjoy another beautiful day here at the USTA Junior Fed Cup.
Until tomorrow,
Marcia Frost
Story & Photos From August 2nd-Day One
Story & Photos From August 4th-Day Three
Story & Photos From August 5th-Final Day
Click Here For The Full Results