March 2006
2006 represents the 30th anniversary of "Little Mo" and the 40th anniversary of the Maureen Connolly Brinker Foundation. The Foundation is planning a number of events this year to celebrate the anniversaries. For more information, visit the MCB Website.

* * *
Alejandro Gonzalez, the Columbian who won three consecutive ITFs at the end of last year, swept the trophies at the Inka Bowl in Peru. Also winning both singles and doubles at that event was Teliana Pereira of Brazil.

* * *
Eighteen year old junior Tim Smyczek won his first USTA Pro Circuit title. Tim took the doubles at the Harlingen Texas Futures with partner Brendan Evans.

* * *
Argentineans Emiliano Massa and Mailen Auroux were the singles Uruguay Bowl. Emiliano defeated Ilija Martinoski of Macedonia in the final while Mailen took out Great Britain's Michaela Ince. Ilija did prevail in the doubles final with partner Kristijan Mesaros. Malena Gordon & Denise Kirkbijikian were the girls doubles winners.

* * *
---
If you have information to be included in Junior News
Contact Us-Marcia@MarciaFrost.com
FAX-(516) 883-5241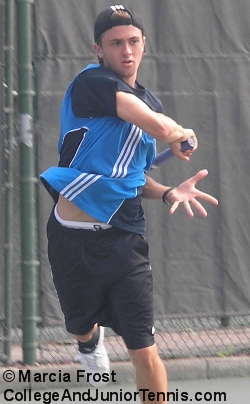 Tim Smyczek
Monthly Guides to
College Tennis Planning
Available in Kindle & Print
Return to:
College And Junior
Tennis Homepage