October 2004
The Spanish team used the hometown advantage to capture the Junior Davis Cup at the Real Club de Polo in Barcelona. The Spanish team of Roberto Batista and Pere Riba defeated the Czech Republic team of Miroslav Navratil and Dusan Lojda in the finals, 2-1

It was Argentina who dominated the Junior Fed Cup as Betina Jozami and Florencia Molinero topped Canada's Valerie Tetreault and Sharon Fichman in the finals, 2-0.

* * *
At the Pancevo Interantional Championships, the following players prevailed in the finals: Ivan Sergeev and Ekaterina Makarova of Russia in singles; Jochen Schottler & Kristofer Wachter; and Alexandra Dulgheru & Iona Raluca Olaru in doubles.

* * *
If you have information to be included in Junior News
Contact Us-E-Mail-Marcia@MarciaFrost.com
FAX-(516) 883-5241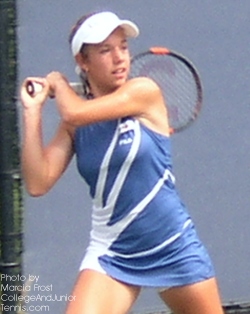 Sharon Fichman
---
---
---
---
See the Latest
at NIKE
---
---

---
Return to:
College And Junior
Tennis Homepage