Yan Chong Chen made it three titles on the Asian Autumn Circuit when she took the singles at the Thailand Junior Championships. Yan defeated Sheng-Nan Sun in the final, 0-6,6-2,7-5. Tai Wei Lu of Taipei was the boys singles winner over Pablo Figueroa, 6-3,6-1. The girls doubles title went to Moe Kawatoko and Ting-Weng Wang. Brendan Evans captured his third title in three weeks when he took the doubles with Christopher Singh. Earlier in the month Brendan had taken the singles and doubles (with Chris Kwon) at the Hong Kong International Championships.

* * *
For his seventeenth birthday, Juan Valverde won his third title of the year, the 18th Bahia Junior Cup. In her debut on the ITF Circuit, Carolina Salge was the girls winner at that event.

* * *
At the Mid Atlantic Championships, William Mertz took the Boys' 16s trophy with a 6-1,6-4 win over Brendan Lynch in the finals. In the Girls' 16s, Ragini Acharya edged past Jamie Caplan, 7-6(5),7-6(5).

* * *
Fifteen year old Shahzad Kahn successfully defended his title at the Pakistan International Junior Championships with a 6-3,6-2 win over Alamgir Wali. In the girls' singles final, Zhang Shu Al defeated Shuang Wu, 6-3,6-4.

* * *
Beginning in January, the USTA has changed the number of players accepted into a Super National Championship from the Selection List. In addition, players who do not have an ATP ranking of 1000 or better, a WTA ranking of 600 or better or an ITF ranking of 50 or better must play in at least three Level 1 through 5 tournaments, at least one of which must be on the National Junior Tournament Schedule and at least one of which must have a starting date during the 4-month period before the effective date of the Super National Selection list and must have at least one win over another player meeting these requirements. For more information, contact the USTA Junior Competition Department at jrcomp@usta.com.

* * *
If you have information to be included in Junior News
Contact Us-E-Mail-Marcia@MarciaFrost.com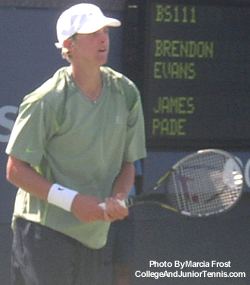 Brendan Evans
Chris Kwon





Use Dosh. It pays you automatically when you shop, travel, & dine out. Download app now. Link a card, and get a $5 bonus.










Return to:
College And Junior
Tennis Homepage