U.S. OPEN TENNIS CHAMPIONSHIPS
USTA Tennis Center - Flushing, New York
Qualifying: August 22-26, 2000
Main Draw: August 28-September 10, 2000
Junior: September 3-10, 2000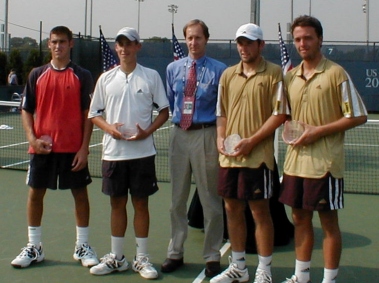 At The Open With Marcia Frost...
Saturday, September 9th-Junior Singles, Day Seven
The American Flag hung high today, as two boys represented the U.S. in the boys doubles final and as the Open prepares for tomorrow's final of two American boys for the first time in 15 years (Tim Trigueiro/Joey Blake).
Though they gave it their all, Tres Davis and Robby Ginepri could not get past Great Britain's Lee Childs and James Nelson. The unseeded American duo had served and volleyed their way here with fantastic teamwork, but Childs/Nelson had more advantage in size and experience. At 4-3 in the second set, there was almost a breakthrough for Davis/Ginepri as they brought the game point to five deuces. In the end Childs/Nelson took home the larger trophies, but Davis & Ginepri should be proud at how much they accomplished as an unseeded team. The final score was 6-2,6-4.
Robby Ginepri did come through in his singles match, however. Though Ginepri appeared to start out a little slow and allowed Abougzir a break in the third game, he quickly picked up momentum and dominated the match, 6-3,6-4.
In tomorrow's final, Ginepri will face Andy Roddick, who eliminated fourth-seeded Mario Ancic today. It looked like Roddick had finally met his match in the taller, powerful Ancic. The points were longer and closer than any match he had seen this tournament. Ancic did present a challenge to the top-seed, but Roddick earned his place in the final with a 6-4,6-3 win.
While the boys battled it out, the girls had some even tougher matches. Top-seeded Maria Emilia Salerni reached the finals by defeating undefeated Galina Fokina, 6-3,6-4. It was a fairly easy match for her and she was able to save her strength to face No. 4 seed Tatiana Perebiynis in the final. Perebyiynis, on the other hand, fought Aniko Kapros (second-seed) until the end for a 7-5,7-5 win.
The girls doubles final was an exciting match-up between Gisela Dulko/Maria Emilia Salerni and Aniko Kapros/Christina Wheeler. Though there was certainly not the strength and power shown in the boys' double, there was an amazing amount of skill out there. The match went on for 1 hour, 20 minutes. Dulko/Salerni prevailed and now Maria Emilia Salerni of Argentina can start her weekend with one trophy while she hopes for a second.
The final day of the U.S. Open Junior Championships will be free of charge to spectators. I hope to see many more people cheering on these hardworking, skilled teenagers. They may be on the outer courts today, but most of them will soon see the world from the court on Arthur Ashe Stadium.
Here's a complete rundown of the U.S. Open Junior results for September 8th:
Boys' Singles
(semifinals)Andy Roddick (1) defeated Mario Ancic (4), 6-4,6-3; Robby Ginepri defeated Ytai Abougzir (12), 6-3,6-4
Girls' Singles
(semifinals)Maria Emilia Salerni (1) defeated Galina Fokina, 6-3,6-4; Tatiana Perebiynis (4) over Aniko Kapros (2), 7-5,7-5
Boys' Doubles
(Finals)Lee Childs/James Nelson (1) defeated Tres Davis/Robby Ginepri, 6-2,6-4
Girls' Doubles
(Finals)Gisela Dulko/Maria Emilia Salerni (4) defeated Aniko Kapros/Christina Wheeler, 3-6,6-2,6-2
PAST WINNERS OF U.S. OPEN JUNIOR CHAMPIONSHIPS WINNERS
HOW CAN ANDY RODDICK PLAY THE JUNIORS?
---