At Wimbledon With Marcia Frost...
Thursday, July 5th

It's beginning to feel like November in New York around here. Just when you think it can't get any colder or wetter -- it does. Despite the gloom, there were quite a few matches completed before the heavy rains came.
I missed Kellen Damico yesterday so I made sure he was my first stop today. Kellen, who won the Wimbledon junior doubles title last year with Nate Schnugg, is finishing up his junior career and heading to the University of Texas this fall. He faced quite a challenge from India's Rupesh Roy. It was obvious that Rupesh is very comfortable on grass and, after losing the first set 6-3, commanded the second set to the dismay of a frustrated Kellen. He soon took it (also 6-3) and the two headed into the match tiebreaker instead of a third. There were some nice points and, though Rupesh led with at 5-3, it was the American who took it 10-6. The backlog of matches forced Kellen on the court just a short time later and he was not so fortunate in that deciding breaker, losing to Brydan Klein of Australia, 1-6,6-3,1-0(10/7).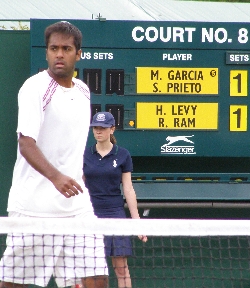 On my way to more junior matches, I took a quick detail to watch a little men's doubles. I am thrilled for NCAA champion (team & doubles, Illinois/2003) Rajeev Ram, who with partner Harel Levy is into the quarterfinals with today's win over Benjamin Becker -- also an NCAA champion -- and Petr Pala, 6-3,5-7,6-2,3-6,6-2.
A scoreboard caught my eye as I was walking through the back courts and I made a stop to watch No. 12 John Patrick Smith vs. British wildcard Marcus Willis. The former, an Aussie, had lost the first set 6-5 and was down a break in the second, but he broke back and forced it into a tiebreaker. It looked as if the seed would take it all the way as he won the first six points when suddenly a 6-0 lead slipped away through a series of winners from Marcus and errors from J.P. and the seed fell 8-6 in the tiebreaker.
Fellow New Yorker Gail Brodsky advanced once again, this time taking out the tenth-seeded Ksenia Pervak of Russia. I saw some of the tight match, with Gail's composure giving her the edge for a 6-4,5-7,1-0(10/6) win.
I got over to Court 17 when seventh-seeded American Madison Brengle was up 6-1,5-5, with a break for the winning set no where to be found. There was some good points as the two played a second set tiebreaker. Though France's Cindy Chala had a 5-2 lead it was the American who took the breaker 7/3.
The No. 3 seeded Donald Young lost a close 7-6 set to Belarus qualifier Andrei Karatchenia, coming back with 6-1 revenge in the second and then taking the deciding third 10-4. He was on the court again about an hour later with Indonesia's Christopher Rungkat, but the rain came and halted the match at 2-1.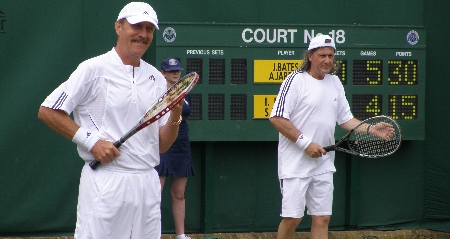 Before the sky opened up and finished the day's play at 4:00 pm, I was treated to another Stan Smith/Ilie Nastase Senior Invitational doubles. This time their opponents were Jeremey Bates & Anders Jarryd. It was lots of fun to watch -- a great break from the tense matches.
The tournament committee is confident that they can start doubles tomorrow. I'm trying not to be too optomistic, but the schedule for the next three days includes sun and no rain. I'm also putting in a request for a little July warmth, though -- and lots of junior tennis!
Until Tomorrow,
Marcia Frost
The Official Wimbledon site is one of the best around and also has coverage of the junior events. Be sure to check it out at http://www.Wimbledon.org