At The Australian Open With Marcia Frost...

Saturday, January 29th-
Main Draw, Day Thirteen
Junior Championships Final Day
The year was 1999 and the players were Jergen Melzer and Virginie Razzano. That was the last time a boy and a girl swept the Australian Open Junior Championships -- until today.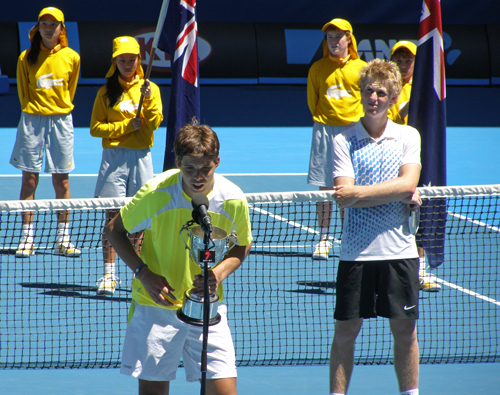 There couldn't have been two more different opponents in the boys final. Jiri Vesley is a 17 year old from the Czech Republic who, as the number one player in the world, is the top seed in the tournament. Luke Saville is from Adelaide, Australia, just a few hours south of here. He is only ranked at 70 by the ITF and a week shy of his 17th birthday. His best win to date was an ITF Grade 2. The two had only met one time before and that was at the 2009 Junior Davis Cup and Luke was actually the winner of that, but the odds were certainly stacked against him today.
There was a fairly decent crowd in Rod Laver Arena for a junior match, but I did expect to see more for the hometown player. I have to say the match was typical of what I had seen in Jiri Vesley matches over the last week. Players, like Mitchell Krueger the other day and Luke Saville today, come out swinging with no fear as they have nothing to lose. There are some good points, long games and Jiri Vesley manages to win almost all of them. It's almost a tease to the players as they bring out their best and he comes up with what's needed to win the important points. In the singles final it was 6-0,6-3, and like the other day, it certainly didn't look it.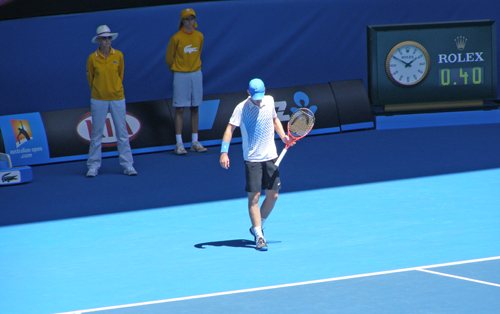 Jiri was thrilled with being a Grand Slam title holder, "It's something that you can't imagine before a tournament, because you go the Grand Slam and you have to win six matches. You play against the best guys in the world. Then, if you are the No. 1 seed, then there is a little more pressure on you to play against other guys." Jiri was definitely the one puting on the pressure as he didn't drop a set all week. I asked him if he knew that he was the first boy in 12 years to sweep the singles and doubles and he didn't, "When I play a tournament, then I always want to win the tournament. So I was going into the tournament that I wanted to win singles, but then we start playing doubles. We go match by match, and we won the (doubles) tournament, that was great yesterday. It got me a little more confident for the singles."


I don't think there was any lack of confidence in the match between An-Sophie Mestach and Monica Puig. Unlike the boys, the two had a lot more in common and had played each other twice in the last year, splitting wins with nearly identical scores. An-Sophie is from Belgium and at 16 she is ranked three in the world and was seeded two in the draw. Seventeen year old Monica, who is playing under Puerto Rico although she lives and trains in Florida, turned pro in the fall and came into the tournament as the No. 6 seed.
The final match was a battle from the start with long points and trading breaks. With two girls who aren't afraid to go to the net, the points were interesting and kept the crowd (which had grown a bit since the boys) at the edge of their seat. Even after An-Sophie broke at 4-4 and then served out the set, Monica Puig never lost confidence and never backed down. Unfortunately, it wasn't enough. As Jiri Vesley had done, she proved she was worthy of the sweep by just being a bit better than her opponent and when Monica double-faulted to give An-Sophie another break, it was the final one she would need before a 6-2 win.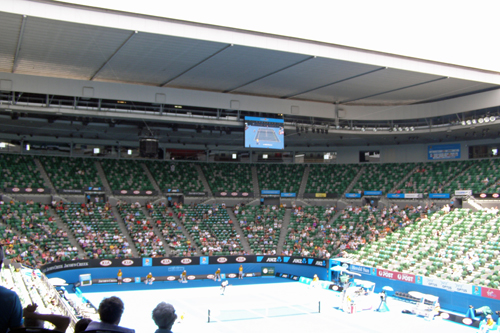 After the match, An-Sophie Mestach didn't have much to say other than defining it simply, "I think I played very well today and she played well also. I just think I played better today. So that's what happens." Monica Puig was visibly upset after the match, but she told me she will have to get back up and move on, "From here I have a week (off) and then I go to Arizona to play a $25K. I'm mainly just trying to focus on the WTA. I think I'm going to get wildcards into Indian Wells and Sony Ericsson. It's good for me to play WTA and get ready for the French Open Juniors and hopefully try to get to a Grand Slam final again. I have to be proud of myself for getting this far."
Check back tomorrow for my report on the Bryan Brothers, some more tournament photos and my thoughts on my first Australian Open.
A special thanks to Tourism Australia, Tennis Australia and Tourism Victoria for making my Australian Open coverage possible.
click on a photo to enlarge
Winner
An-Sophie Mestach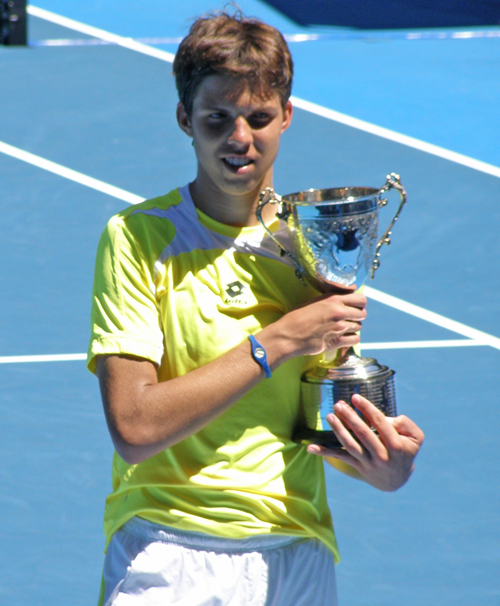 Winner
Jiri Vesley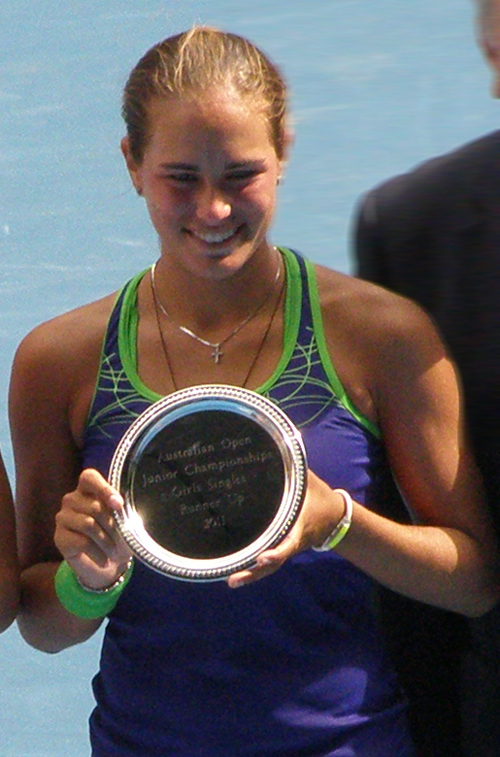 Finalist
Monica Puig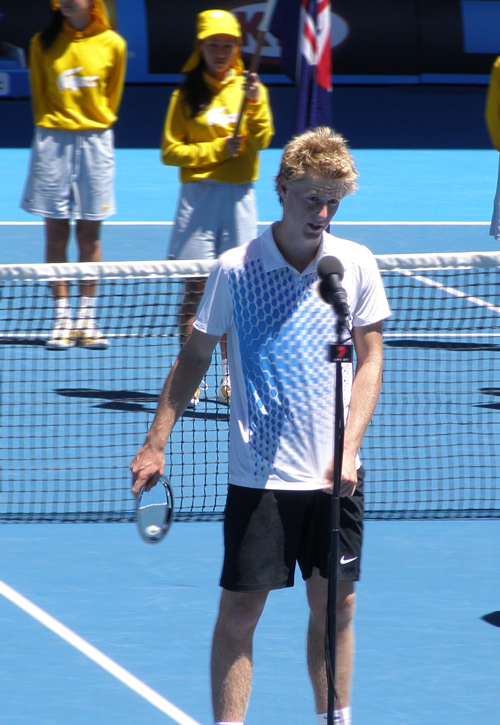 Finalist
Luke Saville
Inexpensive Grocery Delivery
At Instacart
<

Kindle version for only $4.99
Print version & Sr Guides coming soon
---
Monthly Guides to
College Tennis Planning
Available in Kindle & Print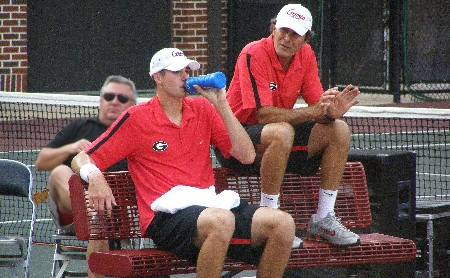 College Tennis featured in
American Doubles...


Create an Amazon Wedding Registry
Return to:
College And Junior Tennis