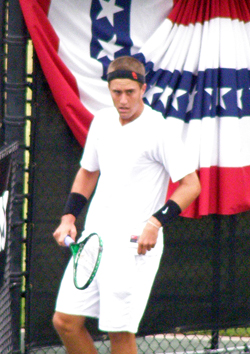 Steve Johnson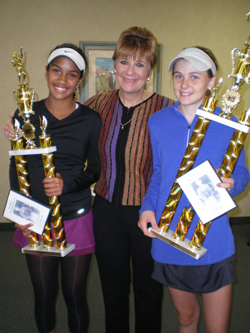 Alexis Pereira, Cindy Brinker & Erin Larner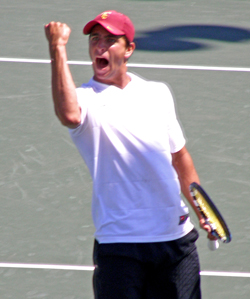 Robert Farah
The Pacific Coast Doubles Championship, held in California since 1860 and won by such legends as Stan Smith & Robert Lutz, was picked up the Southern California team of Robert Farah & Steve Johnson.The duo defeated top-seeded Bradley Klahn & Ryan Thacher of Stanford in the finals, 6-3,6-2.

* * *
Erin Larner of Portland, Oregon won the 39th annual Maureen Connolly Brinker Girls' 14 National Championship at T-Bar-M Racquet Club in Dallas, Texas. She defeated Alexis Pereira of San Gabriel, California for the title, 6-3,6-2.

* * *
College of Charleston student athlete Mary Zolga is the recipient of the Family Circle Cup Scholarship Grant, worth $5,000. The grant is for "outstanding female student-athletes who excel both on and off the playing field."

* * *
World TeamTennis is now accepting applications from youth tennis players with diabetes for the Novo Nordisk Donnelly Awards. The awards give out $15,000 each year in scholarships for education, tennis development and/or medical care. For an application and more details on the Novo Nordisk Donnelly Awards, visit http://www.WTT.com/DonnellyAwards or contact Diane Donnelly Stone at dstone@wtt.com or 212-586-3444, x. 2on0.

* * *
Prince is the new sponsor of the Easter Bowl Championships, to be held in Rancho Mirage, California April 11-18, 2010.

* * *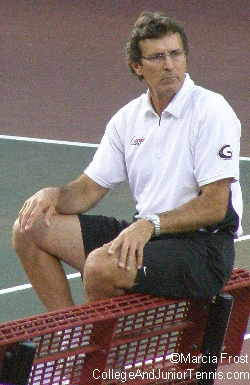 Coach Manny Diaz
Raony Carvalho
Georgia head men's coach Manny Diaz won his 500th career match with a win over Vanderbilt, 4-3Diaz is in his 22nd year at the helm of the Bulldogs.

* * *
Check out The Koz's Tennis Hotline from the SEC.

* * *
With the homecourt advantage in their favor, the Broncos won the Boise State/Marriott Springhill Suites Tennis Classic. They defeated the Idaho Vandals in the finals, 4-0.

* * *
Vanderbilt Coach Ian Duveghage picked up his 400th win when his men's team took out South Carolina, 6-1.

* * *
Texas Tech beat off Oklahoma in a tight 4-3 championship match to claim the 2010 Blue Gray National Tennis Classic title. Tech's Raony Carvalho was named tournament MVP. For complete results, visit the tournament's official website. Next year's event will feature both men and women's teams