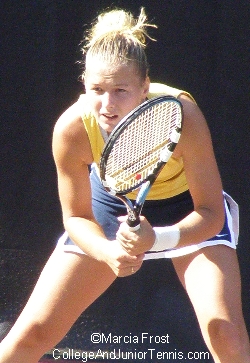 Kristi Miller
Dr. Ann Pittman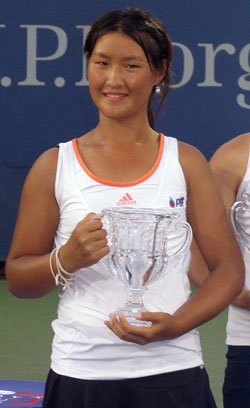 Noppawan Lertcheewakam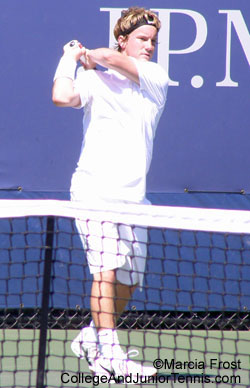 James Seal
Georgia Tech's six-time All-American Kristi Miller has been named one of eight recipients of the 2009 Today's Top VIII Award by the NCAA. The award recognizes eight student-athletes from every sport in every division who have completed their athletics eligibility. They are judged on their success n the sport, the classroom and in the community. Recipients will be honored at the NCAA Honors and Delegates Celebration on in Washington, D.C. Past winners of this award include Archie Griffin, Doug Flutie, Jenny Thompson and Rebecca Lobo.

* * *
Dr. Anne Pittman, Arizona State's women's tennis coach for 30 years, passed away soon after celebrating her 90th birthday. Coach Pittman was a fighter for women's opportunities in athletics, as a player, coach, educator and national leader in the sport.

* * *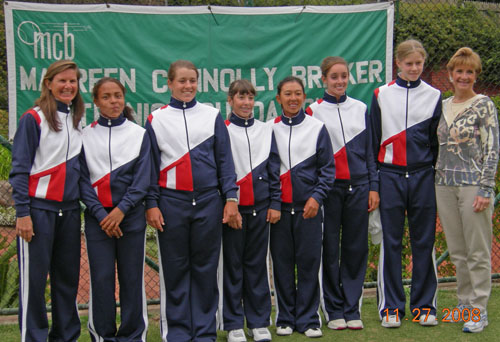 Meredith Geiger-Walton (USA Team Captain), Jerricka Boone, Blair Shankle, Brooke Austin, Ashley Dai, Julia Jones, Jacqueline Crawford, Cindy Brinker Simmons

The United States defeated the Australian team 20-7 in the 22nd Annual Bonne Bell Maureen Connolly Brinker Cup international girls' team competition. The event was held this year at the Royal South Yarra Lawn Tennis Club in Melbourne, Australia from November 27-29, 2008. The competition included six girls from each country who are 14 years of age or younger. Each played two matches per day. This year's participants were: United States-Blair Shankle, Ashley Dai, Julia Jones, Jacqueline Crawford, Jerricka Boone and Brooke Austin;Australia-Viktorija Rajicic, Molly Polak, Teiwa Casey, Azra Hadzic, Kassandra Dunser and Stefani Stojic.

The United States team has won the competition every year except 1980, 1987 and 2002, for a 19-3 lead. The event location alternates each year between Australia and the United States. The silver bell trophy is a replica of the Liberty Bell and was created for the competition in 1977 by Jess Bell, chairman of the Bonne Bell Company, the title sponsor of the event.

* * *
Washington State University women's coach Lisa Hart was named USTA/ITA Community Outreach Award and Bill Macom, the Director of Tennis and coach of men's and women's tennis at Florida Institute of Technology was the winner of the USTA/ITA Campus Recreation Award. Both coaches were honored at the ITA Coaches Convention.

* * *
Tsung-Hua Yang of Chinese Tapei and Noppawan Lertcheewakarn of Thailand are the 2008 ITF Junior World Champions. They are the first ever Asian players to receive this honor.

* * *
At the Yucatan World Cup, Great Britain's Heather Watson beat Romania's Ana Bogdan for the title. Guillaume Rufin of France was the boys singles winner over Kevin Krawietz of Germany. The doubles titles went to three out of four Americans as James Seal & Harry Fowler were winners along with Mallory Burdette and Croatian Ajla Tomljanovic.

Coaching Changes... UMBC has named Rob Hubbard as head men's and women's coach for the Retrievers...

* * *
Monthly Guides to
College Tennis Planning
Available in Kindle & Print
Check the new TripAdvisor for great deals on hotels

Monthly Guides to
College Tennis Planning
Available in Kindle, Print & EBook
for H.S. Seniors
and H.S. Juniors
Monthly Guides to
College Tennis Planning
Available in Kindle & Print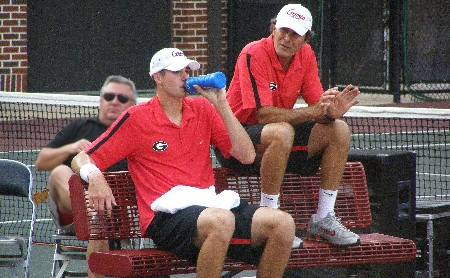 College Tennis featured in
American Doubles...












Monthly Guides to
College Tennis Planning
Available in Kindle & Print

Sibling Pairs featured in
American Doubles...





Return to:
College And Junior Tennis