College players are continuing to have success on the USTA Professional Circuit this summer. Lindsey Nelson of the University of Southern California and Anne Yelsey of Stanford -- who are playing together on the USTA Collegiate Summer Team -- teamed to win the $75,000 event in College Park. The two defeated second-seeded Chin-Wei Chan & Natalie Grandin in the finals.

Also making her mark on the circuit is Riza Zalameda. The UCLA sophomore won the singles title at the Edmond, Oklahoma, tournament.

* * *
Rutgers University has announced the elimination of six sports, including men's tennis. The team will be allowed to compete through the 2006-07 season.

* * *
Coaching Changes... Brandon Stokes is the new Assistant Men's Coach at Central Florida... The University of North Carolina-Asheville has appointed Larry Hubbard as the Head Men's & Women's Coach... Amanda Augustus is taking over as Head Women's Coach at the University of Michigan... Greg Munoz has been named Men's & Women's Coach for George Washington University... After 10 years of building the Texas A&M Men's program to the top of the rankings, Tim Cass has resigned to accept the position of Senior Associate Athletic Director of the University of New Mexico, his alma mater.

* * *
---
The Professional Tennis Registry has launched the PTR on Campus program to encourage students (aged 16-23) to consider part-time jobs and full-time careers teaching tennis. Full-time students can receive a Free, 10-hour PTR Teaching Essentials Exchange. For more information, contact Geoff Norton at geoff@ptrtennis.org

* * *
---
Contact us:E-Mail: Marcia@MarciaFrost.com
FAX: 516-883-5241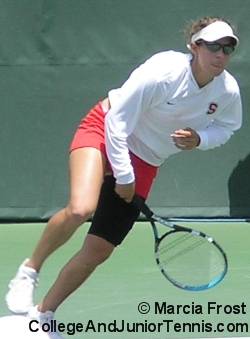 Anne Yelsey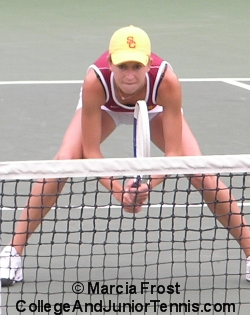 Lindsey Nelson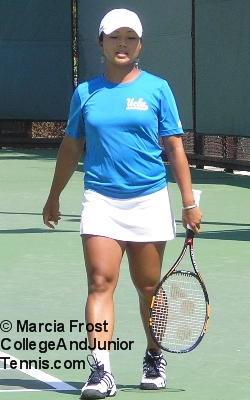 Riza Zalameda
---
---
Monthly Guides to
College Tennis Planning
Available in Kindle & Print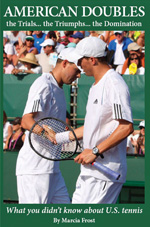 ---
---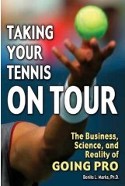 See a review of this book
---
Return to:
College And Junior
Tennis Homepage