The majority of the world does not distinguish athletes as professional or amateur. That is not the case in the United States. Though the USTA has passed a "Call Item" to allow professional players 18 and under to compete in USTA National events, the NCAA still has very specific guidelines on amateur status.
The purpose of the College And Junior Tennis Status Report is to help everyone keep up with who's turning pro and who's signed to attend a specific college or transferred from one to another. Information on this page is updated as soon as we receive it.
Note: to prevent confusion and duplication, the Status Report will begin corresponding its pages to the college signing periods. This page will continue through the August signing period for the upcoming season, as well as January signings. A new page will be created for November & April-August signings for the 2006-07 season.
---

Ohio State-Joining the Buckeyes this January will be top German Steven Moneke.

---
Jennifer Magley-The University of Florida three-time All-American has decided to skip her senior season. She will graduate in December and join the professional tour immediately after.

---
Hannah Grady-The English native has signed with Long Beach State to begin playing in January 2006.

---
Florida-Coach Andy Jackson inked Ryan Sweeting, recent winner of the U.S. Open Junior Championships. The Bahamian is set to start with the Gators in January.

---
Kelly Stewart-Princeton Coach Kathy Sell has signed the Californian to her team.

---
Fred Duncan-The Eastern player has signed with Saint Joseph's University.

---
Betsey Sawyer-The Mississippi native will play for Spring Hill College.

---
Stetson University-Coach Pierre Pilote has announced the addition of freshman Serguei Boulanov, Eddie Majcher and Peter Dzuba. Luka Cerenko will also be transferring from Arizona.

---
Nolan Polley-The sophomore is transferring from Kentucky to Wisconsin.

---
Drake-Coach Chase Hodges had added Maor Zirkin of Israel and Ivan Mendoza of New Zealand to his roster.

---
Alicia Ford-Brenau has signed the Georgian to stay close to home.

---
Saint Mary's-The Gaels are adding local Californian Alp Ozpinar and Germany's Achim Christner to their men's team.

---
Anna Sydorska-TCU has picked up the Ukraine native for September.

---
Penn State-Coach Jan Bortner has inked Adam Slagter and Brendan Lynch to join previous recruit Alex Mast next season.

---
Luigi D'Gord-The University of Alabama standout has transferred to Miami.

---
Columbia-Lin Waterford is joining Nina Suda as an incoming freshman.

---
Gian Hodgson-The Aruba native, who graduated from Saddlebrook Academy, will play for Wisconsin in the fall.

---
Memphis-Top Southern player Matt Brewer has signed with the Tigers.

---
Elizabeth Carpenter-The Californian is heading to the midwest to play for the University of Wisconsin-Madison.

---
Harvard-The Crimson have added four new freshman to their fall lineup -- Chris Clayton, Sasha Ermakov, Nick Savage and Michael Kalfayan.

---
Michael Look-The No. 2 player in Australia has signed with UCLA.

---
Texas A&M-All-American standout Sarah Foster has transferred from Kentucky to the Aggies.

---
Taylor Fogelman-The winner of the 2004 Copper Bowl as well as a National Open Championship signed with the University of North Carolina-Chapel Hill.

---
Fresno Pacific-Keba Baird, who led her Templeton High School team to two Central Section Titles, will be playing for the Lady Sunbirds.

---
Audra Cohen-After an incredible freshman year that included All American honors, the ITA Rookie of the Year Award and a final ranking finish of three in singles and two in doubles, Audra has left Northwestern and transfered to the University of Miami.

---
Long Beach State-The 49ers announced the signing of two London natives -- Jessica Weeks and Katy Williams.

---
Coe College-The Kohawks have added San Zerbib for the fall.

---
Mykyta Kryvonos-The 18 year old has turned professional

---
Duke-Coach Jamie Ashworth has added two more players to his 2005-06 roster. Daniela Bercek (a transfer from UCLA) and Tara Iyer will join incoming freshman Jessi Robinson and Melissa Mang.

---
Jamie Nelson-The winner of national singles & doubles titles has signed with the University of Wyoming.

---
William & Mary-The Tribes, who have been having an incredible year, have also planned a great incoming team and just added two more -- top singles and doubles player Lauren Cash and Poland's Klaudyna Kasztelaniec.

---
Nicole Leimbach-After a freshman year that included the Pac-10 Player of the Year Award and a No. 8 national finish, Nicole has decided to switch from the University of Southern California to TCU for next year.

---
North Carolina State-Coach Jon Choboy announced the signing of Jay Weinaker and Christian Welte.

---
Florida-The Gators have added Keri Robison to their fall roster.

---
Branden Joost-The top Missouri Valley player has signed with Arkansas.

---
Washington-Coach Matt Anger has signed Andrew Gerst, David Chu and Patrick Fischer to the 2006 freshman class.

---
Alexa Glatch-The fifteen year old who has one countless USTA and ITF Junior titles, as well as a number of Pro Circuit events, has turned professional and joined the Octagon team.

---
Binghamton-The Bearcats will welcome Nicole Scarangella this fall.

---
George Entis-The top singles and doubles player is going to play at California-Berkeley.

---
Illinois-After a year off to compete (as an amateur) around the world, Marc Spicijaric- has decided to play for Illinois. Also joining the team will be Ric Mortera.

---
Virginia Tech-The Hokies will add Brandon Corace in addition to their previous recruits (see below).

---
James Roesch-The Florida High School State Team champion has signed with the University of Central Florida.

---
Zachary Wolfe-The Californian is heading east to play for Boston College.

---
University of San Diego-Sophia Vogt has signed a letter of intent to play with the Toreros.

---
Jonathan Tragardh-The Californian who is strong in both singles and doubles has chosen LSU.

---
Colorado-The University of Colorado has given its upcoming team a boost with the addition of Samantha Orline and Monica Milewski.

---
Connor Pollack-The recent National Open doubles winner has signed with Texas A&M.

---
Ohio State-The Buckeyes have inked Bryan Koniecko and Mike O'Connell.

---
Luis Flores-The NCAA will not grant a waiver to Luis after he inadvertently violated a new rule when he participated in a tournament in August. He will be allowed to practice with the Georgia team and receive financial aid, but he can not compete until January 2006.

---
Michigan-Andrew Mazlin, Peter Aarts and Scott Bruckmann will join the men's team in the fall.

---
Erin Young-The California will remain in her home state and play for St. Mary's.

---
Nina Suda-The Eastern player has decided to stay close to home and play for Columbia.

---
Boston College-The Eagles are boosting their women's team with the addition of four new players -- Dasha Cherkasov, Sventlana Krasnopolsky, Alina Sullivan and Sarah Svoboda.

---
Michael Sherman-Last year's New York State Doubles Champion will be playing tennis next year for Bates College.

---
Yale-Coach Alex Dorato has signed three freshman for next year -- Michael Caldwell, Jeff Dawson, Joshua Lederman.

---
Jessica Nguyen-The winner of two pro circuit events last year, Jessica has decided to remain amateur and play for Stanford next year.

---
Purdue-The Boilmaker coaches have been very busy. Griffin Nienberg, Kelubia Mabatach, Kurt Zaske and Patrick Rose have been signed to the men's fall team. Anya Dzeva, Randi Schuler and Mallory Voelker will play for the women in September.

---
Vanderbilt-Three of the top girls in the country will be playing for the Commodores starting in the 2005-06 season -- Maggie Yahner, Liberty Sveke and Courtney Ulery.

---
Nazlie Ghazal-The Californian who finished last year ranked in the top twenty nationally has signed with Northwestern.

---
Maryland-Trey Taylor, a winner of numerous New Jersey state titles as well as a top nationally ranked doubles player will join the Terps in September

---
Cory Parr-The holder of four high school championships who also finished 2004 third in the USTA National Junior Rankings (B16) has signed with Wake Forest.

---
Bucknell-Ashley Globerman will be playing for the Bison in the fall.

---
Scott Oudsema-The top-ranked junior who in 2004 achieved the almost Grand Slam in doubles has ended months of speculation on whether or not he would retain his amateur status by signing with SFX.

---
Georgia-Coach Manuel Diaz has added the Luis Flores to his current roster while women's coach Jeff Wallace has picked up Kelley Hyndman for the spring.

---
Virginia Tech-The Hokies are adding quite a few players to their men's team. Albert Larregola, Matthieu Leboucher and Alexei Sergeev have just joined the team. David Rosenfeld and Christian Guevera will come in next fall.

---
If you have information to be included in the Status Report, please send it to: Marcia@MarciaFrost.com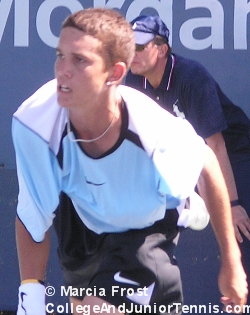 Ryan Sweeting
Elizabeth Carpenter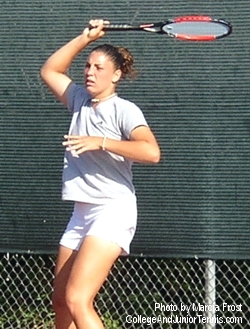 Audra Cohen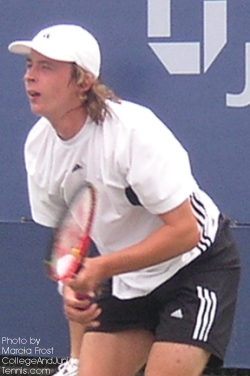 Mykyta Kryvonos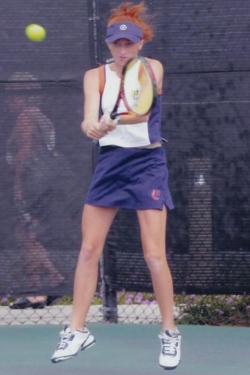 Jamie Nelson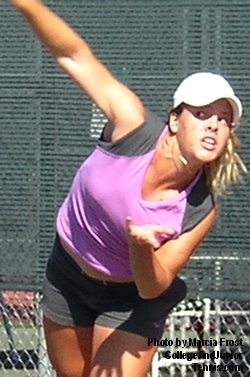 Nicole Leimbach
Branden Joost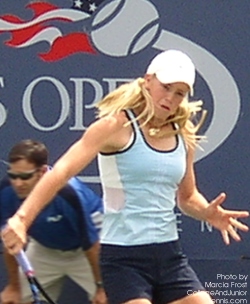 Alexa Glatch
George Entis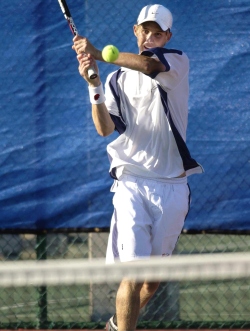 Jimmy Roesch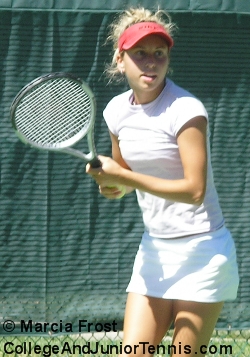 Lauren Cash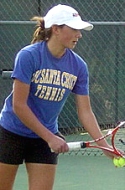 Sophia Vogt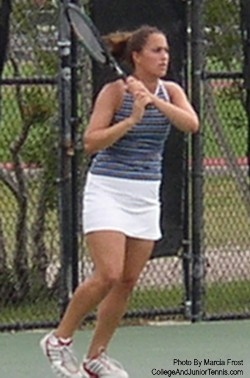 Samantha Orlin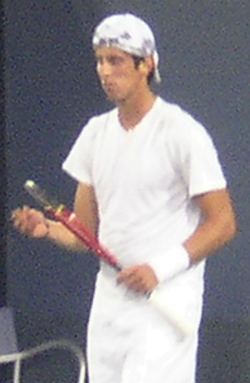 Luis Flores
Erin Young
Dasha Cerhkasov
Alina Sullivan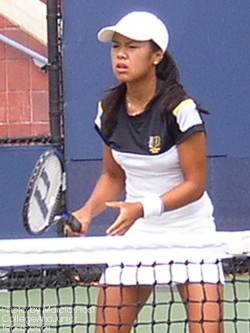 Jessica Nguyen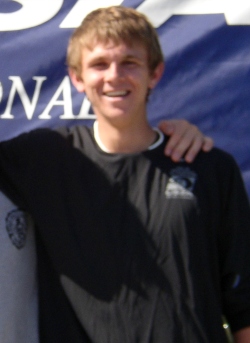 Patrick Rose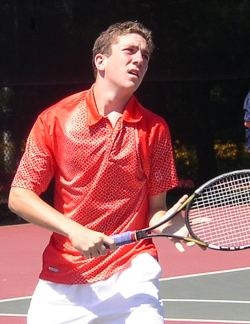 Alex Mast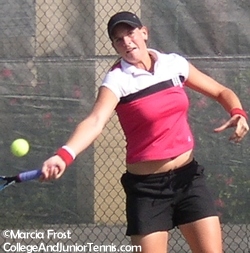 Maggie Yahner
Courtney Ulery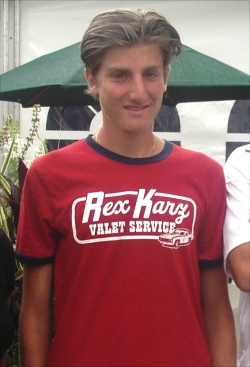 Cory Parr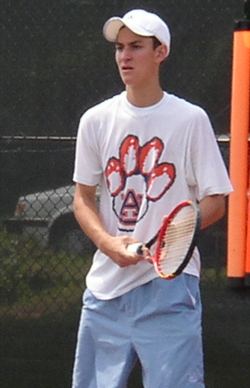 Trey Taylor
Ashley Globerman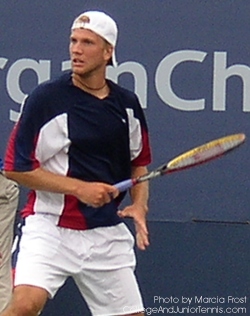 Scott Oudsema
---
Monthly Guides to
College Tennis Planning
Available in Kindle & Print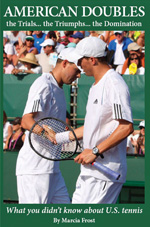 ---
---
---
---
---
---
Monthly Guides to
College Tennis Planning
Available in Kindle & Print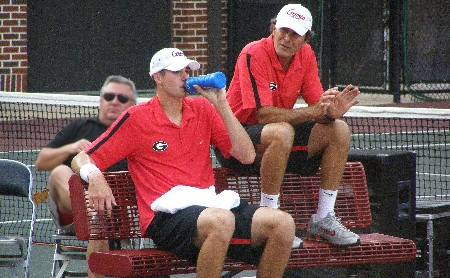 College Tennis featured in
American Doubles...
---
---
Return to:
College And Junior
Tennis Homepage