At Wimbledon With Marcia Frost...
Friday, July 6th
It was a blustery July day (yes, you read that right), but at least there was no rain in sight as it looked more like a marathon run than a Grand Slam tennis event. I'm not sure how they did it, however, it's looking like this tournament my finish on time thanks to some junior players who are playing their tails off.
I ran from court to court today unsure what round I was watching most of the time. There were first rounds (doubles), quarterfinals and everything in between being played at the All England Club. The majority of players had at least two matches to play. I heard few complaints. After sitting around watching the rain fall for days, everyone was just anxious to get back on the court.
By the end of the day, the American girls were down to one as Madison Brengle was the only one to survive her singles (over Alison Bai and Bojana Jovanovski, the latter a tough 5-7,6-3,1-0(50/5) finish).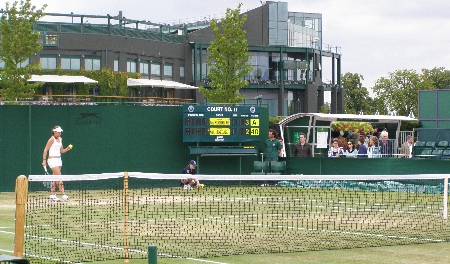 Unseeded Gail Brodsky had two tough ones today, surviving the first (though it took eight match points) over Katerina Vankova 4-6,7-6,1-0(12-10) and dropping the second to Britain's Anna Fitzpatrick. Reka Zsilinska ended her run to top seeded Anastasoa Pavlyuchenko.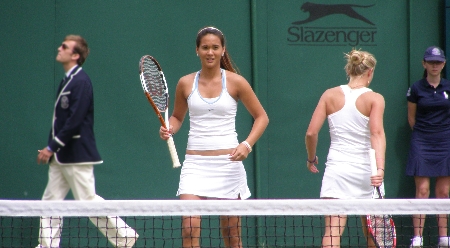 Kristy Frilling & Mallory Cecil (above) lost a tough doubles match to Broady/Moore, 6-3,4-6,1-0(20/7). Madison & Chelsea Gullickson are the only American girls left in doubles.
Donald Young is into the semifinals, but it hasn't been an easy journey. His 6-1,6-1 win over Christopher Rungkat this morning was actually his easiest match in awhile. This afternoon it was Germany qualifier Dimitris Keftakos that pushed im to 3-6,6-1,1-0(10/8). In addition to the two singles matches, Donald also played one doubles with Johnny Hamui they won that and will be part of an all-American second-rounder Saturday against Austin Krajicek & Devin Britton (pictured right).
Saturday will be another long day with a round of semifinal singles and two rounds of doubles, but word is the sun will be shining and the temperature will improve.
Until Tomorrow,
Marcia Frost
The Official Wimbledon site is one of the best around and also has coverage of the junior events. Be sure to check it out at http://www.Wimbledon.org