April 23, 2008
Grace Min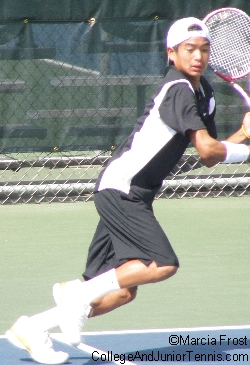 Raymond Sarmiento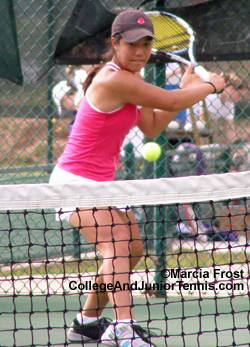 Kristie Ahn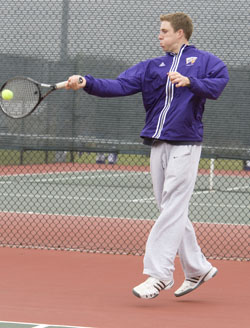 Sean Ragee-Nelson
Baylor Assistant Director of Men's Tennis Kyle Spencer and UCLA's Assistant Women's Head Coach Rance Brown have been chosen as the coaches of the USTA Summer Collegiate Team.
The selections of the team members will be announced following the NCAA Championships. The USTA Summer Collegiate Team consists of training and pro circuit tournament play for top American collegiate tennis players. It began in 1996 and is funded by the USTA.

* * *
The USTA has chosen the following players to repsent their country in next month's regional qualifying in Montreal:
14s World Junior Tennis Competition Alexios Halebian
Christian Harrison
Tyler Gardiner
Madison Keys
Kyle McPhillips
Grace Min
Kent Kinnear will coach the boys and Jai Dilouie the girls

16-and-under teams for Junior Davis Cup and Junior Fed Cup qualifying
Jordan Cox
Evan King
Raymond Sarmiento
Kristie Ahn
Brooke Bolender
Beatrice Capra
David Roditi will coach the boys and Robin White will coach the girls

* * *
At the 2008 USTA National Campus Championships the Texas beat California 22-16 in the finals. It was the fifth final for the Longhorns., but this was their first win. This was the first finals appearance for California. The USTA National Campus Championship dates back to 2000. It provides a national championship for non-varsity club and intramural tennis programs.

* * *
The University of Illinois-Chicago womenís tennis team reached 100 consecutive Horizon League wins when they defeated Butler, 5-2, on April 19th. The winning streak dates back to April 21, 1996, when the team fell to Wisconsin-Green Bay.

* * *
The Tennessee menís team swept the weekly SEC awards as they announced Kaden Hensel as Player of the Week and Matteo Fago as Freshman of the Week.

* * *
Duke's Ellah Nze has been selected as the Atlantic Coast Conference Womenís Tennis Player of the Week.

* * *
Rice's Bruno Rosa and Tulsa's Will Gray share this week's Conference USA Men's Tennis Player of the Week.

* * *
William & Mary's Kavi Sud earned Player of the Weekand the Hofstra duo of Luka Djordjevic and Andy Cha earned doubles honors from the Colonial Athletic Association. Women's honors went to Hofstra's Christie Gattelaro and the Georgia State team of Dariana Kozmina and Kiara Powell.

* * *
Western Illinois junior Sean Ragee-Nelson was named the Summit League Player of the Week.

* * *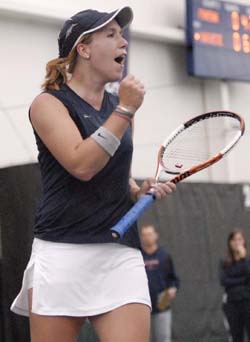 Megan Fudge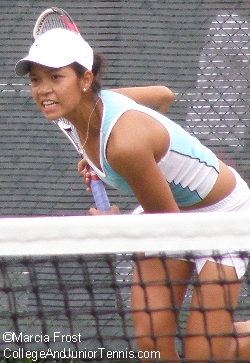 Hilary Barte
Megan Fudge of Illinois was named Big Ten Player of the Week.

* * *
The Big West Conference has named Pacific's Moritz Starke (Bamberg, Germany) Player of the Week.

* * *
TCU senior Cosmin Cotet was chosen as the Mountain West Conference Menís Tennis Player of the Week for the fourth time this season.

* * *
Hilary Barte has been named Pac-10 Player of the Week.

* * *
The Missouri Valley Conference has announced that Drake's Maor Zirkin as the State Farm/MVC Men's Tennis Player of the Week.

* * *
Stony Brook's Ivan Rummel has been named the America East Performer of the Week.

* * *
April 16, 2008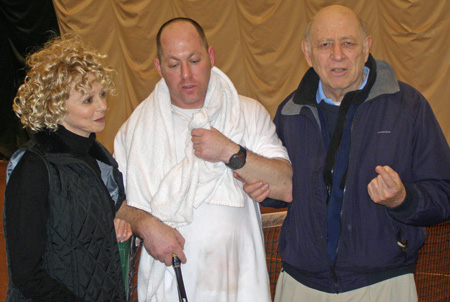 David Fischbach (center with Madeline Fischbach and Dr. Mortimer Lacher) was the organizer of a Lymphoma Foundation Pro-Am Fundraiser at the Bethpage State Park Tennis Center. Assisted by friend Keith Kambourian, with whom he was part of the East's top-ranked doubles team in the juniors, David raised about $40,000 for research on the disease his mother has been fighting. Additional donations will be appreciated and they can be made out to the Lymphoma Foundation and sent to David Fischbach at 125 Main Street-Apt 3L, Port Washington, NY 11050.

* * *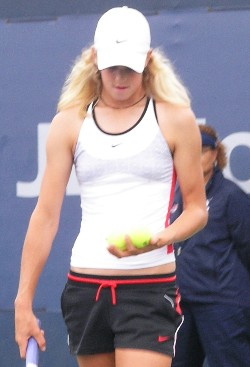 Alexa Glatch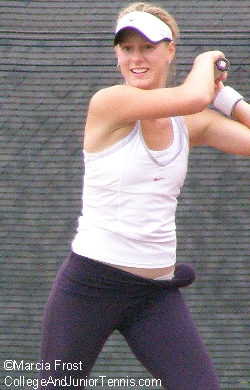 Alison Riske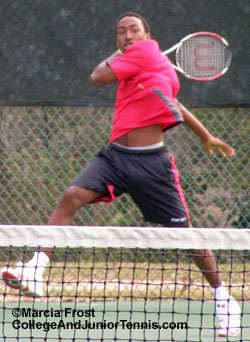 Evan King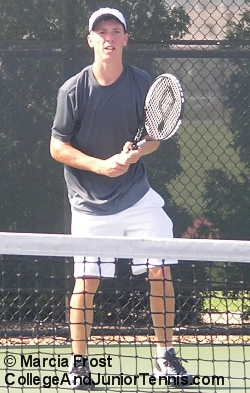 Michael Sicora
The USTA, in partnership with the International Tennis Hall of Fame, will present the Bill Talbert Jr. Sportsmanship Award to "four junior players who exemplify the finest qualities of sportsmanship in tournament play." The honorees for 2007 are Alexa Glatch of Newport Beach, CA, Alison Riske of McMurray, PA, Evan King of Chicago, IL, and Michael Sicora of Buffalo, MN.

* * *
Diana Martinez & Maria Herrera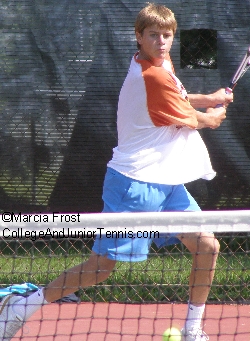 Ryan Harrison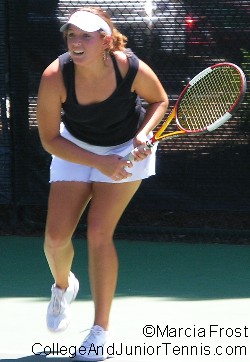 Noelle Hickey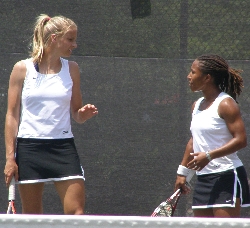 Katarina Zoricic & Megan Moulton-Levy
The University of South Carolina Upstate women's tennis teamed clinched the Atlantic Sun Conference regular season title with a 7-0 win over Campbell. The team ends their first year in NCAA Division I tennis 17-3 overall and a perfect 11-0. Unfortunately, they are not eligible to participate in the Atlantic Sun Conference Championships until the 2010-11 season.

* * *
Virginia, Illinois and Texas A&M remained the leaders in the ITA Attendance Race. On the men's side, Virginia continues to lead in overall attendance with 5,424 fans through March. Illinois has maintained its lead in average attendance with 560 spectators per match. Texas A&M registered the highest single match attendance with 766 turning out for the men's match against Oklahoma. The Aggies also lead all the categories in women's attendence.

* * *
Fifteen-year-old American Ryan Harrison became the third youngest player in the open era to notch an ATP match win when he defeated Uruguayan Pablo Cuevas, 6-4,6-3, at the U.S. Men's Clay Court Championship. The two players who were just months younger than Ryan are Richard Gasquet and Rafael Nadal. Ryan's second round opponent is James Blake.

* * *
The University of Rhode Island Men's Varsity Tennis program is the latest to be cut. If you would like to help in the fight to save future programs in jeopardy, please join the College Tennis Advocacy.

* * *
Former women's tennis player Jill Craybas is being inducted into the Florida Athletics Hall of Fame.

* * *
At the Asia/Oceania Closed Junior Championships Thailand's Noppawan Lertcheewakarn retained the girlsí title while Peerakit Siributwong claimed the boysí singles. This is Noppawans third win in a row.

* * *
UNLV Senior Elena Gantcheva has become first player in history to be named Women's Tennis Player of the Week eight times by the Big West Conference.

* * *
Alex Skrypko of SMUís is the Conference USA Menís Tennis Player of the Week while Memphisí Ashley Murdock garnered the women's honor.

* * *
Georgia Tech freshman Noelle Hickey has been selected Atlantic Coast Conference Womens Tennis Player of the Week.

* * *
Neil Lesinski of Western Illinois has been named The Summit League Player of the Week.

* * *
William and Mary duo Megan Moulton-Levy & Katarina Zoricic were named Colonial Athletic Association Women's Doubles Team of the Week. The Tribe also took the men's honors, going to Alex Cojanu & Dominic Pagon.

* * *
Aurelija Miseviciute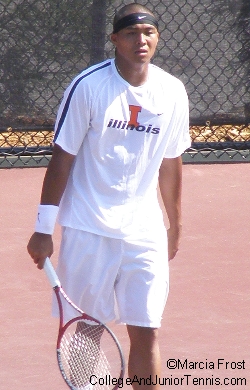 Ruben Gonzales
The Big 12 Conference has selected Texas sophomore Dimitar Kutrovsky as its Menís Tennis Player of the Week.

* * *
UALR's Marko Ballok was named Sun Belt Conference menís Player of the Week.

* * *
The Southeastern Conference named University of Arkansas' Aurelija Miseviciute their Women's Player of the Week.

* * *
Illinois' Ruben Gonzales earned Big Ten Player of the Week.

* * *
Samford player Jordan Delass has been chosen as the Ohio Valley Conference Menís Tennis Player of the Week.

* * *
Anna Novo wrapped up a record-breaking year with a perfect 11-0 slate in the conference and with a school-record 29 wins. She was rewarded with another Atlantic Sun Conference Player of the Week. honor.

* * *
Coaching Milestones: VCU's Paul Kostin registered 800 wins and Pomona-Pitzer's Ann Lebedeff reached her 500th.

* * *
The USTA Eastern Multicultural Participation Committee will present the 10th annual Camp A.C.E. at Colgate University, Hamilton, New York. The camp was created to provide young players of ethnically diverse backgrounds an opportunity to improve their tennis skills in a camp environment with players of similar age and skills. Camp is limited to 48 participants. If demand is high, another week of camp will be added. This is an overnight camp. The participants will be housed in the dorms on the college campus. This yearís camp will feature: Parent/Student/Coaches Orientation; Daily Tennis Instruction with Experienced Tennis Professionals; Coaching with Local Coaches; Fitness/Nutrition/College Prep/Career Counseling/Etiquette/Financial Literacy Workshops; College Tour; Swimming; Community Activities; Fitness and Fun It will take place from July 27 through August 2, 2008 and the cost is $500 per camper. A limited number of scholarships are available.For more information, contact Linda Mann at mann@eastern.usta.com. The deadline for submission is Friday, June 20th

* * *
April 8, 2008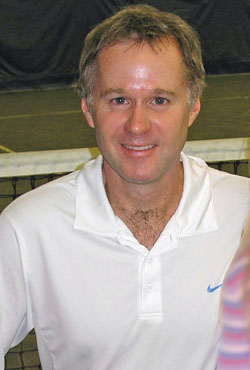 Patrick McEnroe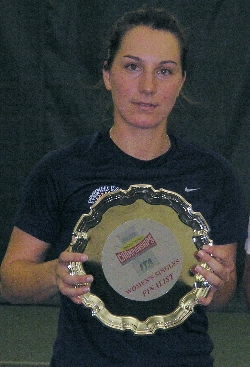 Jelena Pandzic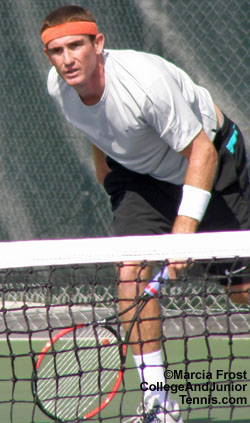 Ryler DeHeart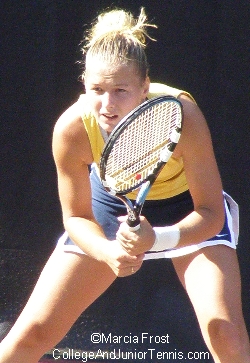 Kristi Miller
Patrick McEnroe, current Davis Cup Captain and former top junior, college (Stanford) & professional player, has been named the new General Manager, USTA Elite Player Development. Coach McEnroe will be overseeing the USTA's initiative to produce more top American professionals while continuing his Davis Cup duties.

* * *
Former University of Southern California player and assistant coach Roger Knapp passed away as a result of complications from an aortic aneurism. The 48 year old was a nationally ranked junior who played the professional tour for several years after college. More recently, he was Director of Knapp Properties.

* * *
University of Miami women's coach Paige Yaroshuk-Tews was inducted into the Dade County Tennis Hall of Fame and was honored for this achievement during the Sony Ericsson Open.

* * *
World TeamTennis has finalized its 2008 rosters and quite a few former college players will be on this year's teams, including Jelena Pandzic (Fresno Pacific), Ryler DeHeart, (Illinois), Raquel Kops-Jones (California) and Eric Butorac (Gustavus Adolphus). For more information on WTT schedules and rosters, visit their website.

* * *
Student-athletes from Duke University and the University of North Carolina at Chapel Hill will participate in a program being launched this summer that uses sports camps to inspire and prepare youth around the world for higher education. The Coach for College program will be piloted for six weeks this summer in Vietnam. It will involve student-athletes working alongside host-country college students majoring in physical education. Together they will conduct sports clinics for middle-school children ages 11-15 over two three-week camps, using a multi-function ďall-sports courtĒ built on the grounds of the partner middle school before the program begins. The concept of Coach for College was developed by Parker Goyer, a 2007 Duke graduate and former member of the Blue Devils womenís tennis team.

* * *
Tennis player Grace Hedstrom was chosen to represent the University of Rhode Island at the 2008 NCAA Student-Athlete Leadership Development Conference, to be held May 25-29 at the Walt Disney World Resort in Lake Buena Vista, Florida. Seven hundred student-athletes nationwide will participate in the conference daily exercises and activities designed to enhance individual development as well as group involvement. The student-athletes will also have an opportunity to openly discuss issues that may affect them on their campuses and within their communities, while enhancing their leadership, communication, decision-making and problem-solving skills.

* * *
Clemson's Carol Salge and Georgia Tech's Kristi Miller have been tabbed Atlantic Coast Conference Women's Tennis Co-Players of the Week.

* * *
Ana Mungo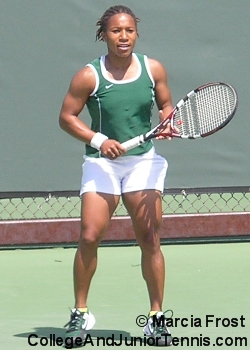 Megan Moulton-Levy
UMBC swept America East tennis honors as David Jackson and Ana Mungo have been named the Men's and Women's Tennis Performers of the Week.

* * *
Megan Moulton-Levy of William & Mary was named the Colonial Athletic Association Singles Player of the Week, while Alex Cojanu and Dominic Pagon from the men's team received the Colonial Athletic Association Doubles Team of the Week honors. Also for the CAA, Hofstra's Luka Djordjevic and James Madison's Jared Robinson shared the men's Player of the Week.
* * *
Jelena Rajic of South Carolina and Karen Nijssen of Ole Miss were named SEC Co-Freshman of the Week.

* * *
Daniela Lovera of South Carolina-Upstate was the Atlantic Sun Player of the Week.

* * *
TCU senior Cosmin Cotet was named the Mountain West Conference Menís Tennis Player of the Week, while fellow senior Kewa Nichols earned MWC Womenís Tennis Player of the Week.

* * *
Texas A&Mís Morgan Frank has been named the Big 12 Womenís Tennis Player of the Week.

* * *
Robert Farah garnered his first career honor as Pac-10 Menís Tennis Player of the Week.

* * *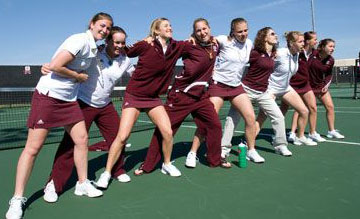 The Christopher Newport men's and Texas A&M (above) women's tennis teams have been honored as March's recipients of the Intercollegiate Tennis Association (ITA) National Team Sportsmanship Award.

* * *
Attention College Coaches: There will be a camp this summer for players who are interested in playing college tennis (grades 9-12). Each day they will have a different college tennis coach run the program. The program runs 12:00-5:00 at the Glens Falls Tennis & Swim Club. The dates are June 30, July 1, July 2, and July 3. Any coaches interested should contact Peter Green at (518) 229-0323.

* * *
April 1, 2008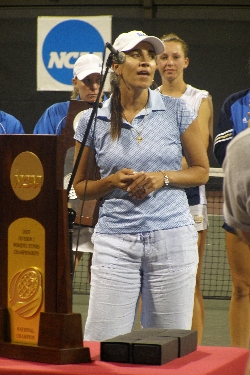 Stella Sampras Webster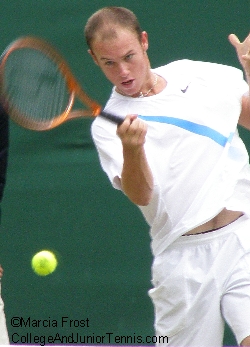 Kellen Damico
Cami Hubbs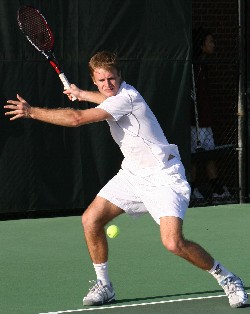 Ivan Beljica
TCU head coach Dave Borelli earned win No. 400 in his 20th season of collegiate coaching.

* * *
Pacific University in Oregon picked up its first win in four year when the men's team defeated Lewis and Clark, 5-4, in a five and a half hour match. Their last victory was on April 18, 2004.

* * *
Noppawan Lertcheewakarn of Thailand picked up her second consecutive singles title at the Mitsubishi Lancer in the Philippines. Korea's Soong Jae Cho was the boys singles winner there and doubles trophies went to Borut Puc/Kittiphong Wachiramanowong and Timea Babos & Reka-Luca Jani.

* * *
UCLA women's coach Stella Sampras Webster reached her 200th coaching win when the Bruins defeated Oregon in Los Angeles.

* * *
Host school University of Arizona swept the events at the Collegiate Wheelchair National Championships. In the women's singles, Jackie Cimino defeated Grand Valley's Jessica Sporte. Eric Daniels was the men's winner over Grand Valley's Scott Cole. Both singles winners also won doubles, with Eric teamed with Noah Yablong and Jackie taking it with Laurie Zalmanowitz.

Texas players Kellen Damico and Vanja Corovic were chosen as the Big 12 Tennis Players of the Week.

* * *
TCU's Macall Harkins was picked as the Mountain West Conference Womenís Tennis Player of the Week.

* * *
Freshman Cami Hubbs of Ohio State was named the Big Ten Womenís Tennis Athlete of the Week.

* * *
Ivan Bjelica of the Mississippi State has been given the Southeastern Conference Men's Tennis Player of the Week honor.

* * *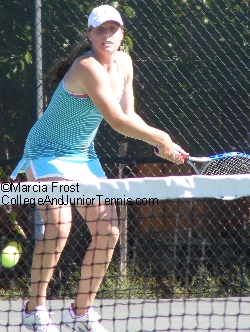 Kelcy McKenna
Kevin Anderson
Arizona State freshman Kelcy McKenna has been named Pac-10 Womens Tennis Player of the Week.

* * *
Atlantic 10 chose Jeff Cote of Rhode Island and Chris Herrlinger of Xavier as their Co-Players of the Week.

* * *
Former Illini Kevin Anderson upset No. 3 Novak Djokovic in the second round of the Sony Ericsson Open after qualifying for the event.

* * *
The USTA Eastern Section has camp scholarships available for the summer. For more information, visit their website.

* * *
Coaching Changes... Kelly Jones, a former No. 1 collegiate and professional doubles player, will serve as a Volunteer Assistant Coach for the South Florida women's team.

* * *
---
If You have any information to be included, contact us:E-Mail: Marcia@MarciaFrost.com