The purpose of the College And Junior Tennis Status Report is to help everyone keep up with who's turning pro and who's signed to attend a specific college or transferred from one to another. Information on this page is updated as soon as we receive it.
The Status Report now corresponds its pages to the college signing periods. This page will continue through with the April signing period for the 2006-07 season and players who sign for January of 2007. For players who already signed during the end of 2005, or turned professional before January 2006, click here.
The majority of the world does not distinguish athletes as professional or amateur. That is not the case in the United States. Though the USTA has passed a "Call Item" to allow professional players 18 and under to compete in USTA National events, the NCAA still has very specific guidelines on amateur status.
---
Note: The College And Junior Tennis Status Report is based on confirmations from schools and agents, not player decisions. Players will not be included until they have made written commitments.

| | | | |
| --- | --- | --- | --- |
| Steve Foreman | Lauren Albanese | | |
New Mexico State-Serbian player Luka Stupar is joining the men's team for the 2006 Spring Season.

---
Steve Foreman-The top junior will be joining Wake Forest in January

---
Middle Tennessee-Coach Dale Short announced the signing of South African Richard Cowden for the spring of 2007.

---
Lauren Albanese-After a fairly successful run through the Qualifying at the U.S.Open, the 16 year old has turned professional.

---
| | | | |
| --- | --- | --- | --- |
| Houston Barrick | Michael Shabaz | Vania King | Deandra Saddler |
University of Virginia-In addition to the players coming in this fall, the Cavaliers are bringing in some major players in January. Houston Barrick, Michael Shabaz and Tulane transfer Ted Angelinos will be joining the team.

---
Vania King-The Southern Californian held out for quite awhile, but the No. 72 WTA player in the country did turn pro this July

---
Mississippi State-Coach Tracy Lane has just added Valeriya Makarycheva to this year's squad. She had previously signed Deandra Saddler, who only dropped seven matches in four years of high school tennis.

---
| | | | |
| --- | --- | --- | --- |
| Jamie Haar | Travis Helgeson | Leigh Finnegan | Kristina Minor |
Jamie Haar-The Easterner is on her way to play for Middlebury College.

---
Travis Helgeson-The NCAA quarterfinalist has transferred from the University of Texas to the University of Georgia.

---
University of Illinois-Women's Coach Michelle Dasso has inked three new players for this coming season -0- Megan Fudge, Leigh Finnegan and Kristina Minor.
Illinois native Billy Heiser-is joining the 2006-07 men's team.

---
Alex Seaton-The junior has changed schools from Colgate to Minnesota.

---
Middle Tennessee-Coach Alison Ojeda has announced the signing of Purdue transfer Hala Sufi, as well as incoming freshman Stephanie Parkison and Shannon Hartmann.
| | | | | |
| --- | --- | --- | --- | --- |
| Luke Rassow-Kantor | Jennifer Stevens | Mikayla Rogers | | |
Florida Atlantic-Kenny McGovern will join FAU in September.

---
Williams College-Newcomers this fall include Genevieve Loomis on the women's team and Jeremy Weinberger on the men's.

---
Kenneth Nordheim-The Norway native will be playing for the University of Louisville.

---
Goucher College-Coach Michael Van has signed up Andrew Ortiz and Michael Brooks.

---
Georgia Tech-Coach Kenny Thorne picked up Luke Rassow-Kantor, Austin Roebuck and Eric Molnar for his fall roster.

---
University of Memphis-Coach Paul Goebel has signed a trio of transplants. Jimmy Khougassian has left the University of Arkansas for Memphis, while Amrit Narasimhan and Benedikt Fischer are coming in from Tyler Junior College.

---
University of Virginia-Jennifer Stevens has been added to the list of previous recruits for the fall.

---
Daniel Hangsteffer-Lipscomb University Coach Lynn Griffith has picked up the Tennessee native.

---
Mikayla Rogers-The top Oregon high school player will join the University of Minnesota team.

---
Fairfield University-Coach Jeffrey Wyshner has picked up Paulina Rys & Dana Postupack. Gretchen Amberg committed to the team in November.

---
Keri Robison-The Illinois native is heading back to the Midwest with a transfer from the University of Florida to Northwestern University.

---
Florida Atlantic-Coach Dave Komie announced the signing of Olivier Sajous, Osvaldo Benitez, Lawrence Harradine & Daniel Vardag.

---
Phil Orno-The Denmark native will play for Cleveland State.

---
| | | | |
| --- | --- | --- | --- |
| Sam Querrey | Nate Schnugg | Magdalena Bresson | Ryan Chow |
Sam Querrey-The 18 year old has decided to change his mind about attending the University of Southern California and has instead signed a contract with SFX and turned professional.

---
Fairfield University-Coach Jeffrey Wyshner has added Paulina Rys, Dana Postupack and Gretchen Amberg.

---
Georgia-Coach Manuel Diaz has confirmed that Nate Schnugg will be joining his team next January.

---
William & Mary-Women's coach Kevin Epley has added Magdalena Bresson and Carmen Pop to the players he has already slated for next season.Coach Peter Daub has signed Canadian Keziel Juneau to the men's team.

---

John Hughes-After four years leading Massachusetts H.S. tennis, John is heading to Quinnipiac.

---

Ryan Chow-The Canadian will play for Bloomsburg University of Pennsylvania in the fall.

---

Bernard Tomic-The 13-year-old Australian has signed with IMG.

---

Megan Mars-The Kentucky native will stay in her home state and play for Georgetown College.

---

Johnson County Community College-The Caviliers picked up Ross Gelina, Dylan Gaton & Andrew Shipp.

---

Montana State-Coach Jerry Peach has signed Zach Buenger.

---
If you have information to be included in the Status Report, please send it to: info@amerdoubook-20tennis.com

---
Monthly Guides to
College Tennis Planning
Available in Kindle & Print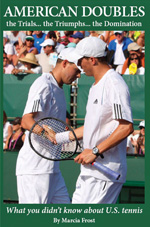 ---
CHECK OUT OUR
TENNIS SHOE STORE
---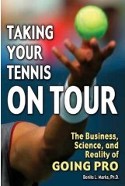 See a review of this book
---
---
---
Check Out
TENNIS WEEK
---
---
---
---
---
---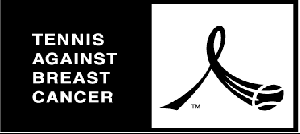 ---
---
---
---
Return to:
College And Junior Tennis