At Wimbledon With Marcia Frost...
Saturday, July 7th
Flashback Summer 1981: Dick Zausner of the Port Washington Tennis Academy convinces me to bring my (entertainment) writing experience to the world of College And Junior Tennis. As part of my job interview, he took me to watch Tracy Austin,* a frequent guest in Port Washington, win her second U.S. Open Women's Championship. A professional then, Tracy had been a Junior Wimbledon champion in a decade when nearly half of those junior grasscourt titles were won by Americans. That ended in that summer of 1981 -- the last time there was an American girl and an American boy in the Wimbledon Junior Finals. It took Twenty-six years (of course, Tracy & I were very young then) for it to happen again.
At this point in the tournament, the grass has worn down and the event takes a different turn. It is no longer as necessary to be a "grasscourt expert" as the ground looks and plays almost like a hardcourt -- a surface American players are all too familiar with. For the few that have made it this far in the rain soaked week there is hope.
Seven is the lucky number for Donald Young. Today, July 7, 2007, after winning his semifinal match over Australia's Greg Jones, 6-4,7-5, Donald then won two doubles matches on Court 7.

It was an all-American doubles match on Court 7 as Donald Young & Johnny Hamui faced Austin Krajicek & Devin Britton. Considering the fact that Donald and Austin both have U.S. Open Junior doubles trophies, I had no doubt in the quality of doubles that would be out there. I was not disappointed as the four held serve to a tiebreaker. That was where age took over experience and Donald & Johnny took it 7/3. The second set was a bit more one sided, but there were some great points and lots of close games for the match at 6-3. After an hour's rest, the pair were back out for a quarterfinal against Dylan Arsenov & Mateusz Kecki. The match mirrored the first in both the score and the talent and Donald Young had his place in the doubles semifinal as well as the singles final on Sunday.
I didn't get to see Donald Young's semifinal match because I was watching Madison Brengle on the other side of the All England Club. It was finally a beautiful day here and I enjoyed being able to take off my coat and actually need sunblock. The players were also more comfortable with the 70 degree temperatures and the flatter grass. It certainly showed in the longer points and games. The match between Madison and unseeded Katarzyna Piter of Poland, who had taken out No. 3 Evgeniya Rodina and No. 8 Petra Kvitova, was very close as both players wanted that chance at the final. Madison squeaked out the first set at 7-5 and was up 3-0 in the second when a medical timeout for Katarzyna seemed to come with a second wind. She broke at 3-1 and held for three more games before Madison broke back. The points continued to get longer and the multiple deuces came until the tiebreaker. It was that extra point at 3-2 that gave the American the momentum and she carried it through to 7/3.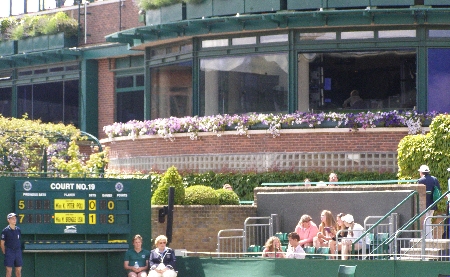 Madison Brengle and partner Chelsea Gullickson did not make it through in doubles, though, losing to top-seeded Anastasia Palyuchenkova & Ursula Radwanska. Ursula will be joining Donald as the only player with a chance at two trophies. She defeated Britain's Anna Fitzpatrick (another unseeded player who had a terrific run), 7-6(3),6-3, to earn her place in the singles finals and will then play doubles semis and (quite possibly) doubles finals. In the other boys semi, Vladimir Ignatic, the No. 1 seed from Belarus, took out Lithuania's Ricardas Berankis, 7-5,3-6,6-1.
Oh, and by the way... Those American juniors in 1981 -- Zina Garrison & Matt Anger -- won the titles.
Until Tomorrow,
Marcia Frost
*Click here for my conversation with Tracy Austin on why there haven't been Americans in The Championships in recent years.
The Official Wimbledon site is one of the best around and also has coverage of the junior events. Be sure to check it out at http://www.Wimbledon.org