May 9, 2008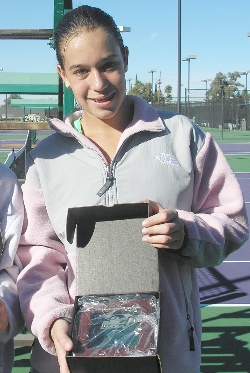 Beatrice Capra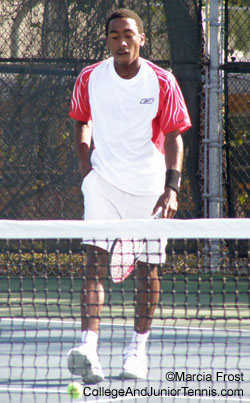 Evan King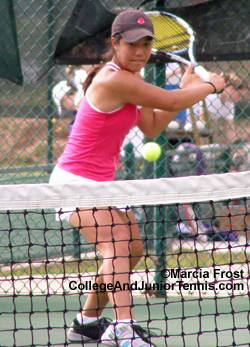 Kristie Ahn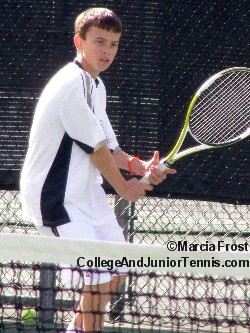 Tyler Gardiner
Amy Brown of Stanford and Jared Karlebach of Skidmore were chosen as the winners of the 2008 Wilson/Intercollegiate Tennis Association (ITA) Internship Award Program. The program recognizes individuals who promote and support the game of tennis at the collegiate level. They will receive a paid summer internship at Wilson's global headquarters in Chicago.

* * *
All four United States teams finished a perfect weekend 3-0 in both World Junior Tennis (under 14) and Junior Fed & Davis Cup (under 16). It was a dramatic finish in Junior Fed Cup with a final match over Canada when Brooke Bolender & Beatrice Capra topped Canadians Gabriela Dabrowski & Katerena Paliivets, 7-6(3),6-7(4),6-2. Kristie Ahn also played for the Junior Fed Cup, while Jordan Cox, Evan King and Raymond Sarmiento were on the U.S. winning Junior Davis Cup team. In the younger division, it was Tyler Gardiner, Alexios Halebian and Christian Harrison for the boys and Madison Keys, Grace Min and Kyle McPhillips for the girls. The Junior Fed Cup & Davis Cup Finals are to be held in Mexico this September. The World Junior Tennis Finals are in the Czech Republic in August.

* * *
The Grossmont women's team clinched the Southern California Regional Dual Team Championship, beating No. 1 Orange Coast College, 5-2, and ending OCC's undefeated season.

* * *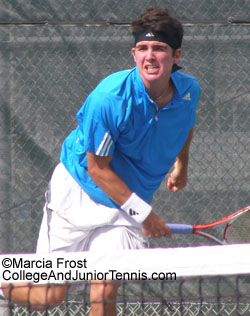 Chase Buchanan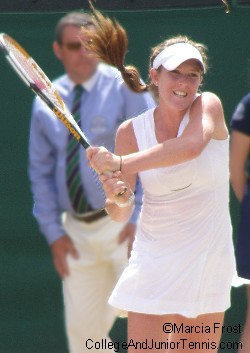 Madison Brengle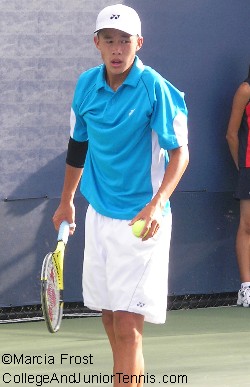 Jason Jung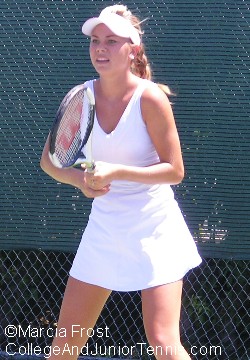 Mc Call Jones
The Sonoma State men's and Tuskegee women's teams have been honored as April's recipients of the Intercollegiate Tennis Association (ITA) National Team Sportsmanship Award.

* * *
Sixteen year old Chase Buchanan won his first Pro Circuit Event when he squeezed by Jose De Armas in Vero Beach, 4-6,7-5,7-6(2).

* * *
The Big South Conference honored Radford women's tennis player Cassandra Price with the prestigious George A. Christenberry Award for Academic Excellence.

* * *
At the International Juniors de Beaulieu sur Mer German Cedrik-Marcel Stebe and Alexandra Damaschin of Romania claimed the titles. Doubles went to Korneel Sanders & Yannick Vandenbulcke in the boys and Amandine Hesse & Kristina Mladenovic for the girls.

* * *
Former University of Illinois player Cary Franklin launched the new website company called Sneaky Sunday with recommendations for the best restaurants, bars, hotels and leisure activities in over 90 cities across the U.S.

* * *
Madison Brengle defeated Ahsha Rolle to earn the U.S. wild card into the French Open. Winning the men's playoff was Wayne Odesnik.

* * *
Virginia Commonwealth men's tennis coach Paul Kostin claimed his 800th victory, making him only the fifth head coach in Division I to reach that milestone.

* * *
Jason Jung and Mc Call Jones have earned spots into the USTA 50K Men's & Women's Challengers through a wild card tournament.

* * *
Miami Coach Paige Yaroshuk-Tews became the school's winningest women's tennis coach on April 12 when she earned her 132nd victory since being promoted to head coach in 2001.

* * *
---
If You have any information to be included, contact us:E-Mail: Marcia@MarciaFrost.com