May 2, 2005-Final Day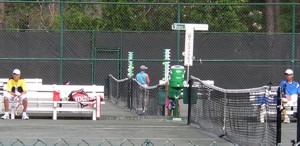 I don't know which I found more full of surprises on Monday -- the excitement at the Gator Bowl finals or my attempt to get back to New York through cancelled and overbook flights. To the tennis fan, it's not contest. There was no doubt that this Gator Bowl provided some unexpected faces in the winners circle.
The Deerwood Country Club was the site for the Boys 14s & 12s and the Girls 14s finals. Though there was disappointment that there was little viewing for some of the finals, there was still a lot of great tennis. The most fascinating sight to all was the dramatic difference in player sizes between the Boys 14s & 12s as they played on adjoining courts. It suddenly didn't matter after just a few minutes of watching the battle between ten year olds Thai Kwiatkowski and Kenneth Sabacinski when the crowd saw an incredible level of play that had nothing to do with height. Thai squeezed out that quarterfinal playoff match, 6-4,7-5. While those two held close to their fourth and fifth seeding, many of the others did not. Unseeded Venkat Iyer made it all the way to the finals of the 14s before losing to second-seeded Adam Bernstein, 7-5,6-0, and unseeded Sam Wells was a sixth-place finisher after losing two tiebreak sets to No. 4 Spencer Wolf. The Boys 12s held pretty true with No. 2 Quinton Vega over No. 1 Spencer Newman, 6-3,6-0.
The Girls 14s finished in a predictable manner as the top prize went to third-seeded Christina McHale over No. 5 Connie Hsu, 7-5,2-6,6-1, while No. 4 Ebie Wilson took third over No. 6 Jill Saunders, 6-4,6-3. Top-seeded Kathryn Talbert brought home the fifth place trophy.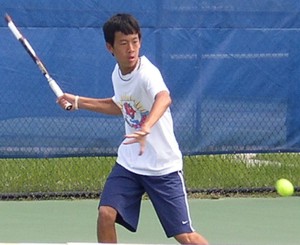 I made it over to the University of North Florida in time to see unseeded Jonathan Wong -- pictured left -- take the Boys 18s consolation final over Christoper Motes (also unseeded). The top winners in that draw were also unseeded as Vlad Mavropulos Stolyarenko defeated Alexander Kharkevitch, 4-6,6-3,6-4.
While the number one Lindsay Burdette reigned in the Girls' 18s without a final match (Kristen McVitty defaulted with an injury), it was unseeded Sacha Jones who stormed through the consolation draw. (The New Zealander has recently relocated to Bolletieri's.) Chelsea Preeg and Laura Reichert held true to their 3rd and 4th placings.
In the Boys 16s it was not far from order as No. 2 Peter Rispoli defeated No. 1 Jonathan Wolff in the main draw; No. 4 Rhyne Williams took out unseeded David Cotrone for third; and two unseeded players, Jadon Phillips and Alexander Domijan, finished the quarterfinal playoff.
Over at ATP Headquarters, Joanna Mathers earned her top seeding by defeating the next seed, Alexis Dorr, 6-1,6-1. At the last of the sites, Queens Harbor, Danielle Collins (3) topped Noel Scott (1), 6-2,6-4.
This year's Gator Bowl was certainly a lot different from the rain soaked 2004 event. The only thing that could have made it better would have been more time and less sites, but it's impossible to do it all in just three days. I'll be back next year to try again to see them all.
Until Next Year,
Marcia Frost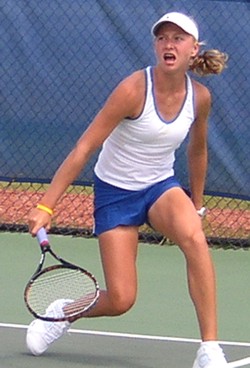 Sacha Jones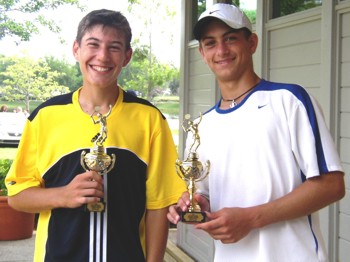 Sam Wells & Spencer Wolf
P.S. I would like to give a special acknowledgement to Janis Smith, who does an incredible job in gathering results from all the sites and getting them on line. She may not always be visible at the Gator Bowl, but she is indispensable!
Story & Photos From May 1st-Day Two
Story & Photos From April 30th-Day One
Click On A Photo To Enlarge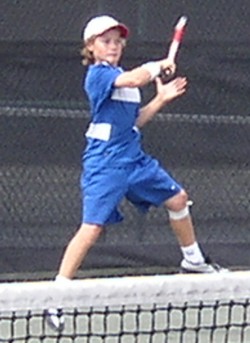 Spencer Newman
Amanda Schwartz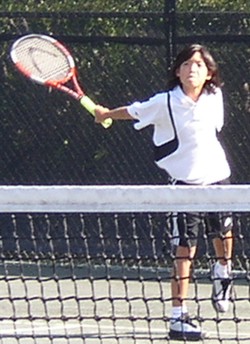 Thai Kwialkowski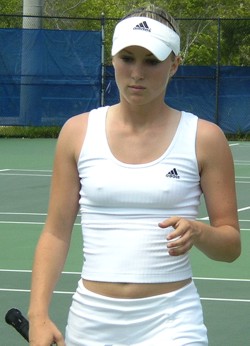 Katja Decker-Sadowski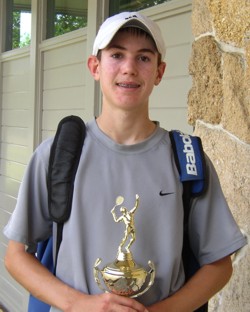 Nicholas Gutshe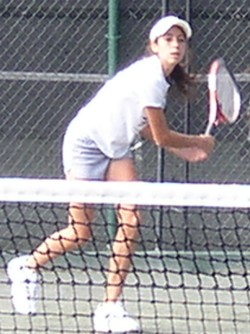 Christina McHale
Adam Bernstein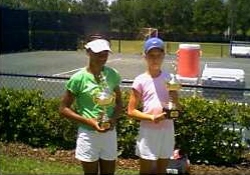 Noel Scott & Danielle Collins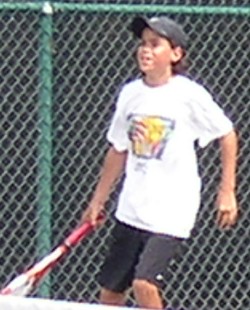 Quinton Vegas
Connie Hsu
Christopher Motes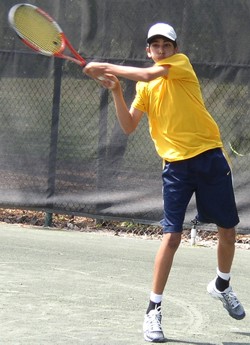 Venkat Iyerus
Denis Kudla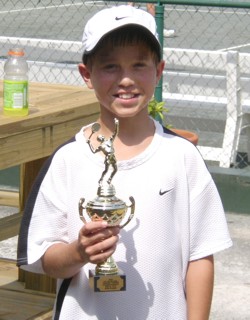 Kenneth Sabacinski
Blair Seideman
---
---
---
---

---
---

---
---
---
Return to:
College And Junior
Tennis Homepage