The USTA Prospective Student-Athlete Database is now up. The Database is available to all USTA Junior Players and College Coaches. It is FREE to all players who are members of the USTA. To be part of the database:

Players go to USTA College Tennis
and click on Player Database

Coaches E-Mail: CollegeTennis@usta.com

This will be the most complete database available to coaches, allowing players to enter all of their information free of charge and allowing coaches to look at the information without any cost. Additional Collegiate information is also available at the USTA College Tennis site.

* * *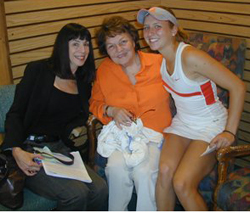 Laurel Springs School announced the creation of the Seena Hamilton Scholarship Program "to benefit extraodinary tennis players who require financial support to continue their education," according to the school's founder and executive director, Marilyn Mosley Gordanier. Easter Bowl Tournament Director and Founder Seena Hamilton presented the first award to Gail Brodsky. Laurel Springs is an accredited private school that deliuvers personalized K-12 distance-learning programs with a commitment to academic and creative excellence. There is currently a student population of more than 5,000.

* * *
Unseeded Ryan Harrison won the Osaka Mayor's Cup boys singles trophy. Kurumi Nara took the girls.

* * *
Canadians Milos Raionic & Gabriela Dabrowski captured their first ITF titles in their home country at the ITF World Ranking Event. Milos also won the doubles with Nathaniel Gery.

* * *
John Austin has opened the $7.4 million Surprise Tennis and Racquet Club in Arizona. The facility boasts 25 tennis courts and a 9,000 square-foot building that includes two indoor racquet ball facilities and table tennis courts.

* * *
Check out TennisLessons.com, a new site with with free information for coaches and players.

* * *
At te Advanta WTT Smash Hits charity event, John Isner outserved Andy Roddick to lead Team Elton John to victory over Team Billie Jean. The night raised more than $400,000 for the Elton John Foundation and Philadelphia's ActionAids. Junior Madison Brengle also participated.

* * *
The 5th Annual Family Circle Cup T-Shirt Design Contest is open to artists ages 13 and up. The goal is to submit a design to capture the image and excitement of the 35th Anniversary of the premier women's event. The winning artwork will be featured on the 2008 tournament's official t-shirt. Complete entry information is available at http://www.familycirclecup.com

* * *
---
If you have information to be included in Junior News
Contact Us-Marcia@MarciaFrost.com
FAX-(516) 883-5241