July 21, 2008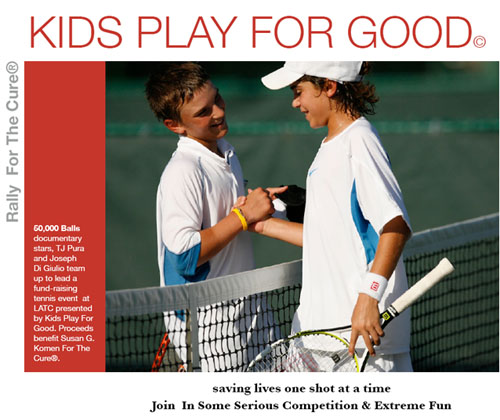 Juniors TJ Pura & Joseph DiGiulio (above) are lending their time and racquets to a good cause. The two players, both featured in the documentary 50,000 Balls, are serving as Inaugural Ambassadors for Kids Play For Good (KPFG) founded by Lynn Morrell of Baltimore, Maryland. The two will lead and participate in tennis rallies across the United States to support a cause they select. TJ and Joseph have chosen the Susan G. Komen Foundation, which fights to elimate breast cancer. Their event will take place on Saturday, September 13th at the Los Angeles Tennis Center (LATC) and will feature events and match play for junior and adult players. To register and/or donate, visit http://www.kidsplayforgood.org or write Lynnmorrell@mac.com.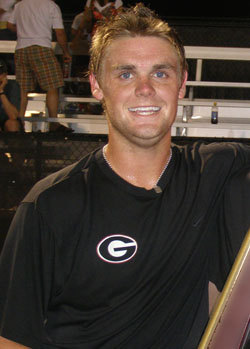 Travis Helgeson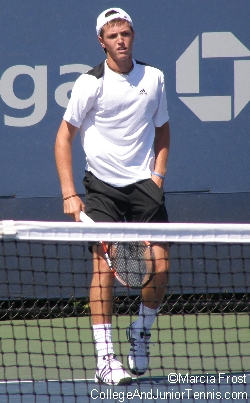 Rhyne Williams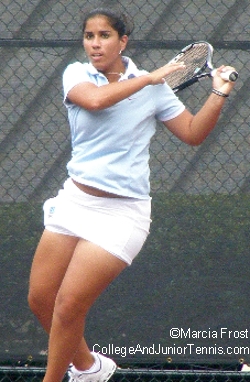 Sanaz Marand
Adam El Mihdawy
Current and former college players have been proving themselves on the USTA Professional Circuit. NCAA winner Somdev Devvarman took the singles title over Travis Helgeson of Georgia, 6-3,6-1, at Futures in Pittsburgh. Just as he had done the week before, he also won the doubles title with former teammate Treat Huey. The duo prevailed in the finals over juniors Adam El Mihdawy & Rhyne Williams. At the Sugar Creek Tennis Experience in Atlanta, Georgia, unseeded Amanda Fink of the University of Southern California -- who had made the finals the previous week at The Mecco Cup in Allentown, Pennsylvania -- won the singles while the University of North Carolina's Sanaz Marand and recent Georgia Tech grad Kristi Miller took the doubles. And, at the Futures event in Peoria, Illinois, Florida's Jean-Yves Aubone defeated Ohio State's Bryan Koniecko in the finals.

* * *
Incoming Long Beach State freshman Julie Luzar won the Ventura, California, ITA Summer Circuit event this past week. For more on the ITA Summer Circuit, visit the Intercollegiate Tennis Association website.

* * *
InsideOut Sports & Entertainment announced that the Turpin Tennis Stadium on the campus of Southern Methodist University will be the new home of the Stanford Championships, one of eight events on the 2008 Outback Champions Series, the international champions' tennis circuit featuring the greatest names in tennis age 30 and over.

* * *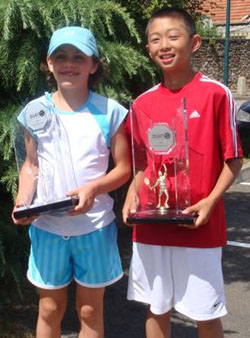 Ingrid Neel & Justin Lee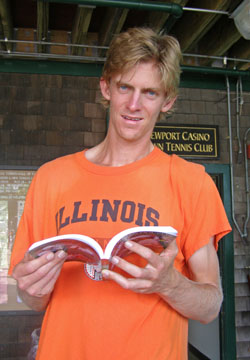 Kevin Anderson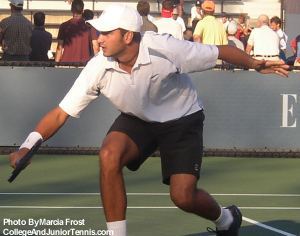 Bo Hodge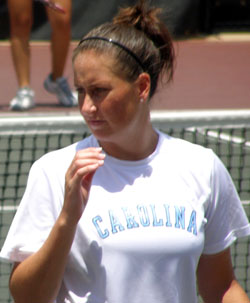 Sara Anundsen
After participating in the "Little Mo/Smrikva Bowl, both Ingrid Neel and Justin Lee won their 10 and under age grin the world finals of the Ouatt Cup in France. Along with their trophies, they received sponsorships from Babalot and Mouratoglor Tennis Academy.

* * *
Former Illini Kevin Anderson has been chosen to represent his native South Africa in the Olympic Games.

* * *
Check out Short's Sports Minute at OnTheBallMag.com

* * *
The Incline Village Tennis Center is hosting a special event on to benefit the junior tennis program for North Lake Tahoe. Former top 50 player and current TV tennis commentator Justin Gimelstob will play an exhibition match with Paul Goldstein on August 2nd. The weekend will start with a "Meet the Pros" sit-down dinner on Friday, August 1st. For more information on the events, call the Tennis Center at (775) 832-1235. Admission is to the exhibition match is free for ages 14 and under and $5 for ages 15 and over.

* * *
Middle Tennessee's tennis teams will host the 22nd Annual Wally Tidwell Pro-Am on September 5-6 with a dinner and exhibition on Friday evening at Stones River Country Club and a men's and women's doubles tournament Saturday at the Buck Bouldin Tennis Center. For more information, contact David McNamara at mcnamara@mtsu.edu or Alison Ojeda at aojeda@mtsu.edu.

* * *
Coaching Changes... 2007 NCAA doubles champion Sara Anundsen has returned to the University of North Carolina as the women's assistant coach... Recent graduate (and newlywed, after marriage to fellow college player Andy Connelly), Brook Buck-Connelly is the new Assistant Women's Coach at the University of Oklahoma... Former Georgia standout Bo Hodge joined the University of Alabama men's team as the Assistant Coach... Kevin Epley has resigned as Head Women's Coach at William & Mary to "pursue other career opportunities."

* * *
July 3, 2008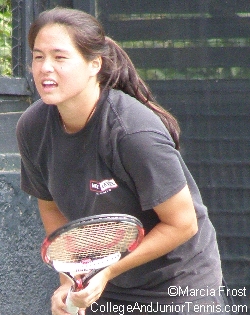 Jamie Hampton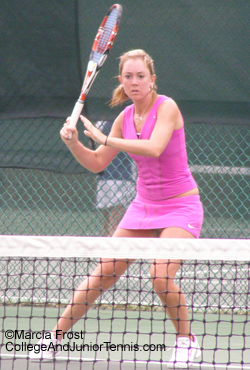 Lauren Embree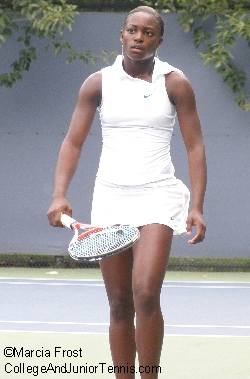 Sloane Stephens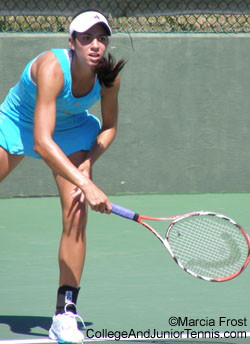 Christina McHale
Former Vanderbilt player Amanda Taylor is one of the 58 student-athletes (29 men and 29 women) to receive an NCAA Postgraduate Scholarship.

* * *
Madison Keys won the ITF event in the Bahamas, where Christian Harrison reached the final. The boys winner at that event was Japan's Yasutaka Uchiyama.

* * *
Amateur Junior players dominated the Via Christi Pro Tennis Classic, with Lauren Embree taking the singles over Jamie Hampton and Sloane Stephens & Christina McHale the doubles winners.

* * *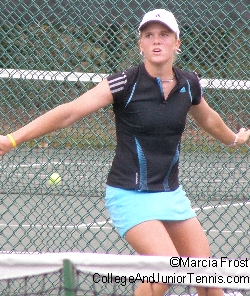 Melanie Oudin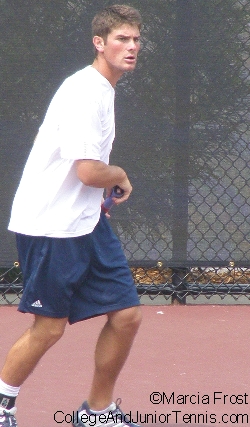 Stephen Bass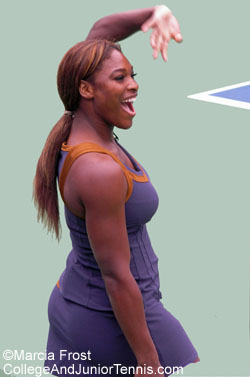 Serena Williams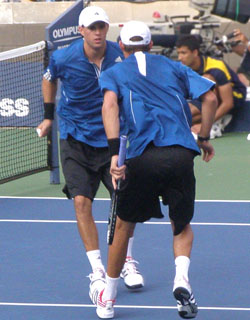 Mike & Bob Bryan
Two-time NCAA singles champion Somdev Devvarman made his professional debut after his University of Virginia graduation with singles and doubles (with former teammate Treat Huey) titles at the USTA Pro Circuit event in Rochester.

* * *
At the LTA Roehampton,, Melanie Oudin of the United States and France's Guillaume Rufin were the singles winners. Doubles trophies went to Henri Kontinen & Christopher Rungkat and Jade Curtis & Noppawan Lertcheewakarn.

* * *
Former Notre Dame player Stephen Bass won back-to-back circuit titles in Japan.

* * *
Bob & Mike Bryan, James Blake, Sam Querrey, Robby Ginepri, Serena & Venus Williams, Liezl Huber and Lindsay Davenport have been chosen to represent the U.S. on this year's Olympic team. Rodney Harmon and Zina Garrison will serve as coaches.

* * *
Check out On The Ball Magazine and their new short videos.

* * *
Coaching Changes... The men's team at Duke has had a major overall. Jay Lapidus has moved on to Director of Tennis; Ramsey Smith is the new Head Coach; Josh Goffi will be the new Assistant Coach; and KJ Hippensteel is coming in as the Volunteer Assistant Coach... Tulane University is restarting their men's tennis team and announced the hiring of Mark Booras as the new head coach.

* * *
---
If You have any information to be included, contact us:E-Mail: Marcia@MarciaFrost.com