September, 2008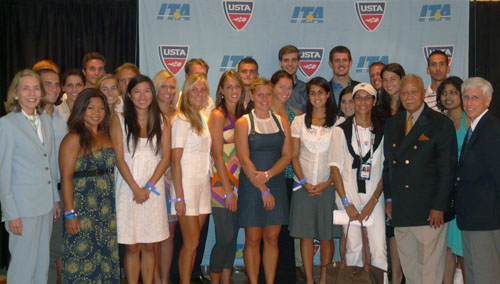 During the U.S. Open, the ITA All Stars were honored with a luncheon along with the junior recipients of the ITA/Arthur Ashe Leadership and Sportsmanship Award. Those players were:
Brook Buck & Kelcy Tefft-Notre Dame, Siobhan Finicane-Pomona-Pitzer, Melanie Gloria & Tinesta Rowe-Fresno State, Monika Lalewicz-Abraham Baldwin, Tracy Lin & Riza Zalameda-UCLA, Amanda McDowell-Georgia Tech, Ani Mijacika-Clemson, Aurelija Miseviciute-Arkansas, Moacir Santos-Laredo, Delia Sescioreanu-Auburn-Montgomery, Iuliia Stupak-Armstrong Atlantic State, Jonas Berg & Erling Tveit-Mississippi, Robert Farah & Kaes Van't Hof-Southern California, Michael Greenberg-Kenyon Alex Grubin-Concordia, Travis Helgeson-Georgia, Mislav Hizak-Embry-Riddle, Treat Huey-Virginia, Oleksandr Nedovyesov-Oklahoma State.
(Arthur Ashe Award Winners)Shefat Baishakhi-Lewis-Clark State, William Blake Sherman-Meridian, Jonathan Bowman-Point Loma Nazarene, Trish Devine-Wellesley, Dan Gal-Bloomsburg, Natalie Kelley-Santa Monica, Kristi Miller-Georgia Tech, Kelly Nugent-Bentley, Lars Poerschke-Baylor and Josh Williams-Wheaton.

* * *
Check out David "The Koz" Kozlowski's Inside Tennis With The Koz on IndieTennis.com for some great shows. Among the latest are a piece on CBS's reality show Kid World star Kennedy Womack, a junior player from Kentucky, and a recap of the Girls' 18 National Hardcourts.

* * *
The Maccabi Games will be held in Israel July 13-23, 2009. It is the world's 3rd largest international sports event, featuring 9,000 Jewish athletes from 60 countries. Qualifying will begin in November for players from 14-34 years of age. If you are interested, contact the Maccabi USA office at 215-561-6900 or visit http://www.maccabiusa.com.

* * *
The 14th Annual Smrikva Bowl will be held next year in Pula, Croatia from June 24-28, 2009. The tournament, which boasts the top 10 and under players from arond the world. will once again be held at the Smrikve Tennis Club. On the 28th of June they will also host the 8th annual "Little Mo"/Smrikva Bowl. This event combines the top players in this younger group from the United States and the Smrikva Bowl finalist playing against each other. There is a detailed presentation and application form on http://www.smrikve.com/smrikva-bowl/.

* * *
Julie Coin, a former Clemson player, made history by defeating the U.S. Open's top Seed Ana Ivanovic. Julie, who had made it through the Qualifying, eventually lost in the third round to Amelie Mauresmo, 6-4,6-4.

* * *
Former TCU women's tennis head coach Roland Ingram has been selected to be inducted into the Texas Tennis Hall of Fame.

* * *
The 1st Ojakian Tennis Celebrity Pro-Am to End Multiple Sclerosis Event will be held October 10th & 11th at UCLA. For more information, visit OjakianTennis.com

* * *
Tennis Against Breast Cancer will hold the Rock n' Pink Tennis Doubles Challenge & Round Robin on Sunday, November 16th at Roosevelt Island Racquet Club in New York. Join Tennis Against Breast Cancer supporters for an afternoon of tennis, music, drills, exhibition matches, round-robins, raffles, gifts, food and refreshments For more details to register or to make a donation to TABC, visit http://www.TennisABC.org.

* * *
Former University of Virginia player Sheridan "Sherry" Snyder has been named the winner of the 2008 Intercollegiate Tennis Association (ITA) Achievement Award.

* * *
Team Southern defeated Youth Tennis San Diego to defend their title at the World TeamTennis Junior Nationals presented by Advanta at the George E. Barnes Tennis Center in San Diego. It was the third title for Team Southern in the event's 13-year history, having previously won the championship in 2005 and 2007.

* * *
Fifteen year old Hadrien Saperstein, a nationally ranked junior, was struck with an unknown virus and became paralyzed from the waist down. Read more about him and what you can do to help at http://www.hadriensapersteingiftfund.org/.

* * *
Coaching Changes... Meredith Geiger-Walton was hired as the new William & Mary women's coach... The Arizona State Women's program announced that former men's player Clint Letcher will be joining the coaching staff as an Assistant Coach... Former Harvard assistant Julia Scaringe has taken the same job at Notre Dame, where Elizabeth Schmidt left that position to become head coach at Rice. Another former member of the Fighting Irish, Brook Buck, is now the Assistant at the University of Oklahoma.

* * *